The Knot Gala 2016 Had a Ladurée Pop-Up, Live Portrait Artists, a Culinary Silent Disco and More!
Read all about the seventh annual The Knot Gala for some incredible wedding planning inspo you'll want to steal.
by Maggie Seaver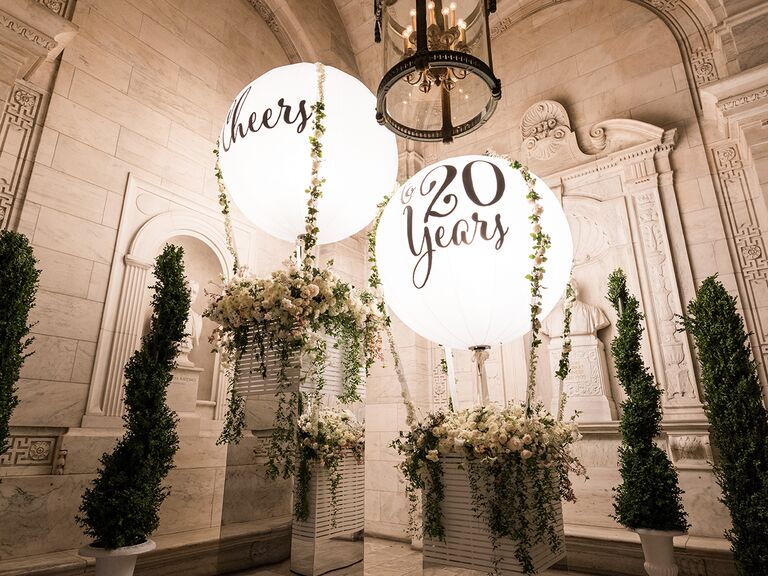 5ive 15ifteen Photo Company
Oh, what a night! To celebrate 20 incredible years in the wedding business and the close of Bridal Fashion Week, The Knot held its seventh annual gala at the iconic New York Public Library in Manhattan—and, if we do say so ourselves, it was one beautiful bash. Seamlessly coordinated and executed by Strawberry Milk Events, the evening's theme was a decadent Fêtes des Rêves, an elegant and whimsical party of dreams, transporting every guest to an enchanted garden inspired by the Tuileries in Paris.
Complete with delicious, cutting-edge fare (think: a silent-disco-inspired culinary experience and hanging hors d'oeuvres), black swan ballerinas and a portrait lounge, The Knot Gala 2016 was truly the party of the year. See all of our favorite moments below, captured by 5ive15ifteen Photo Company, and let the evening's amenities inspire your own unforgettable fête.
A Dream Setting
Standout Stationery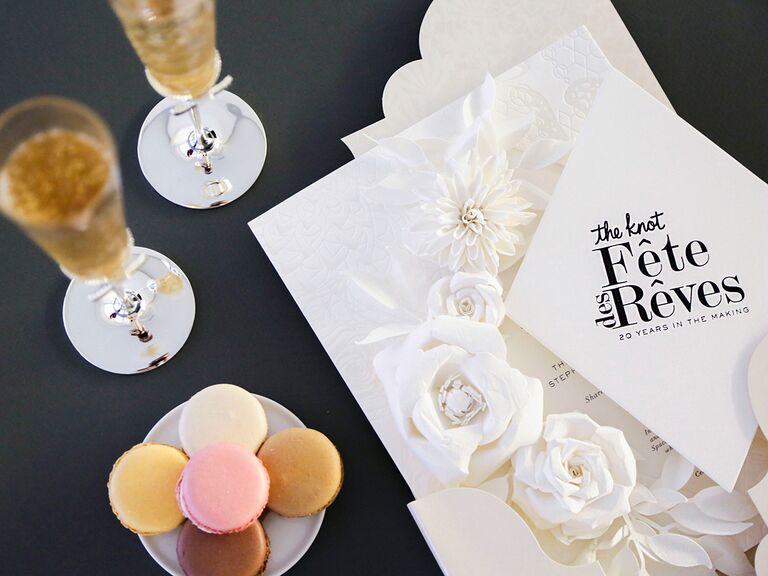 To set the tone for this season's party of dreams, stationer CECI New York provided whimsical, all-white invitations embellished with intricate 3-D paper flowers. Nothing like the right, elegant invites to get you in the mood.

Fanciful Fixtures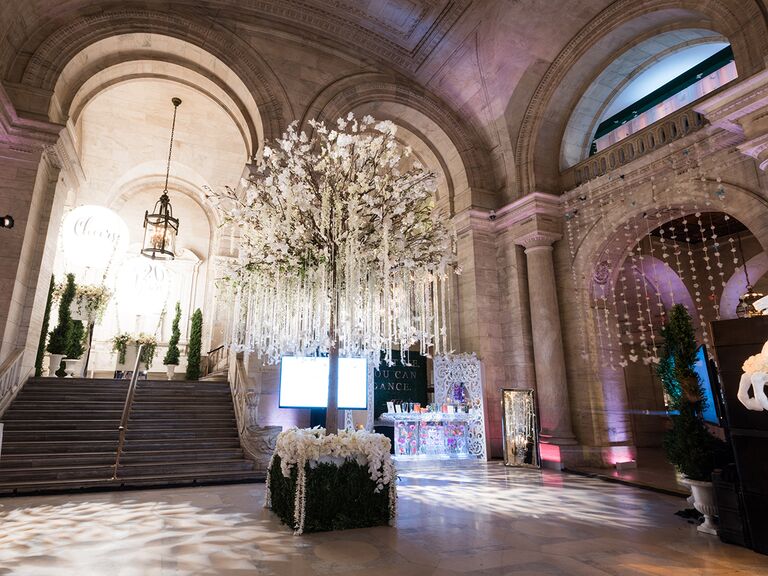 Thanks to Revolution Events' décor, Bentley Meeker's romantic lighting, DJ Jacob Towe's environmental projections and jaw-dropping florals by Tantawan Bloom and Edge Floral, The New York Public Library was transformed into a lush, twilit garden bursting with life.

Extravagant Entertainment
Luxe VIP Lounge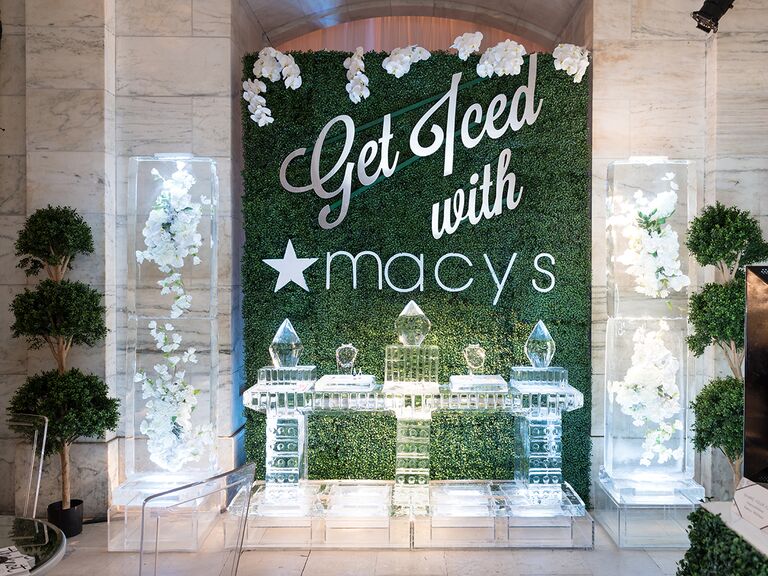 In the The Knot and Macy's VIP Lounge, guests could admire Macy's Fine Jewelry laid out in ice sculpture displays by Okamato Studio and get equal parts silly and glamorous in an animated GIF photo booth.
Live Walkabout Entertainers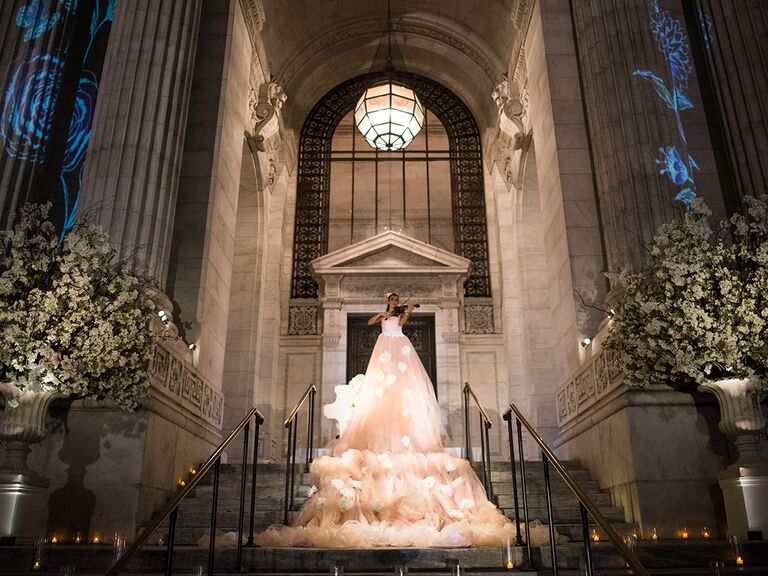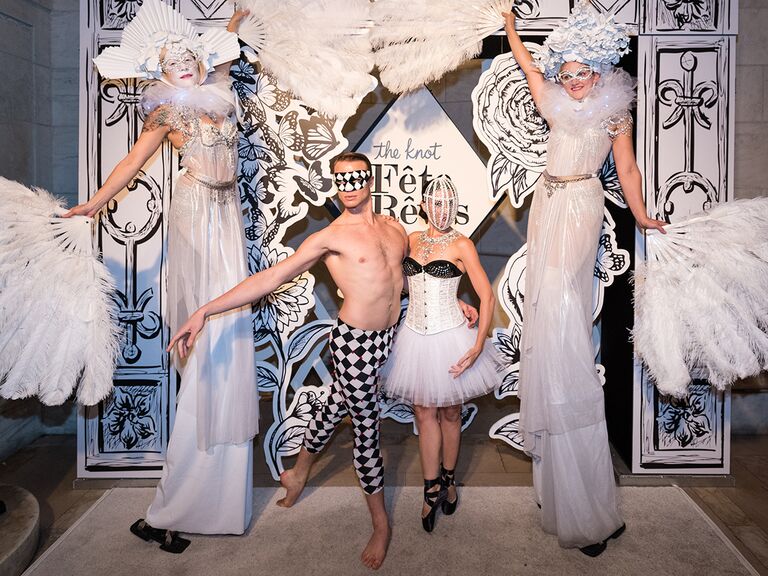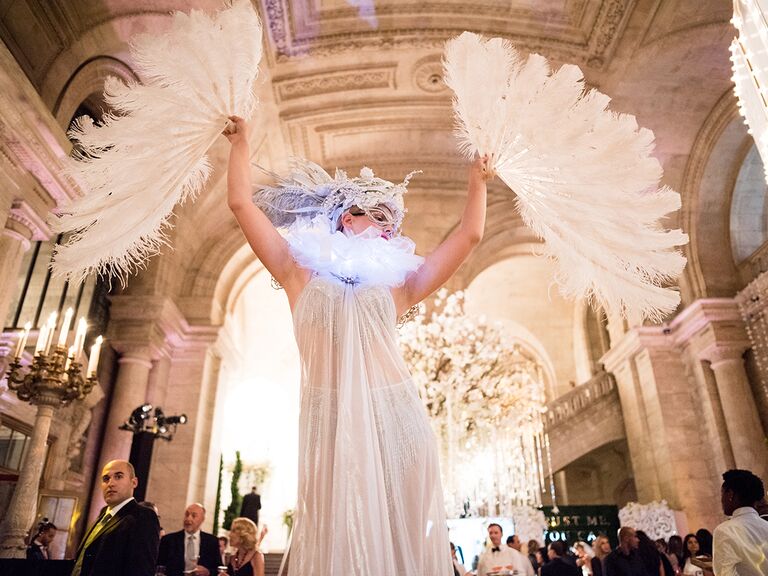 Wow your guests with out-of-the-box live entertainment walking throughout the event space, like the incredible performers from Scarlett Entertainment and Shien Artists who brought the gala to life. Think: electric violinists and hypnotic carnival characters—stilts, masks, feathers and all. Guests will have an amazing time interacting and snapping photos with them all night.

Two Live Bands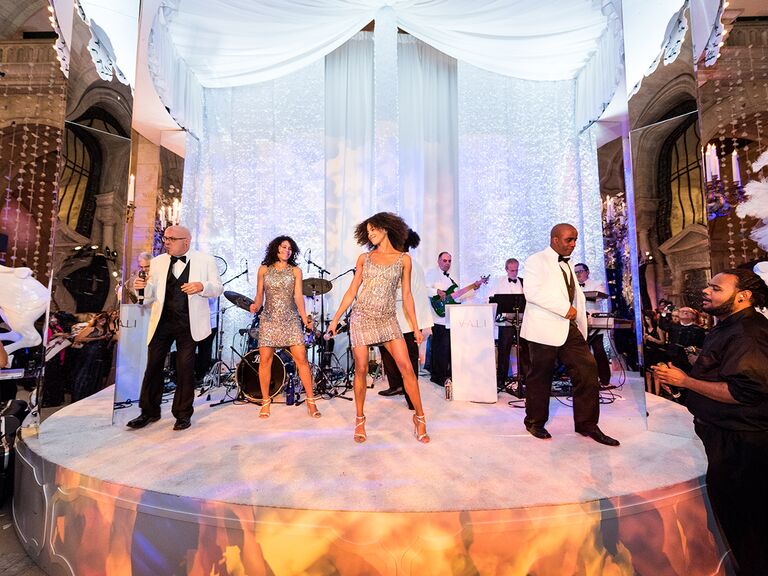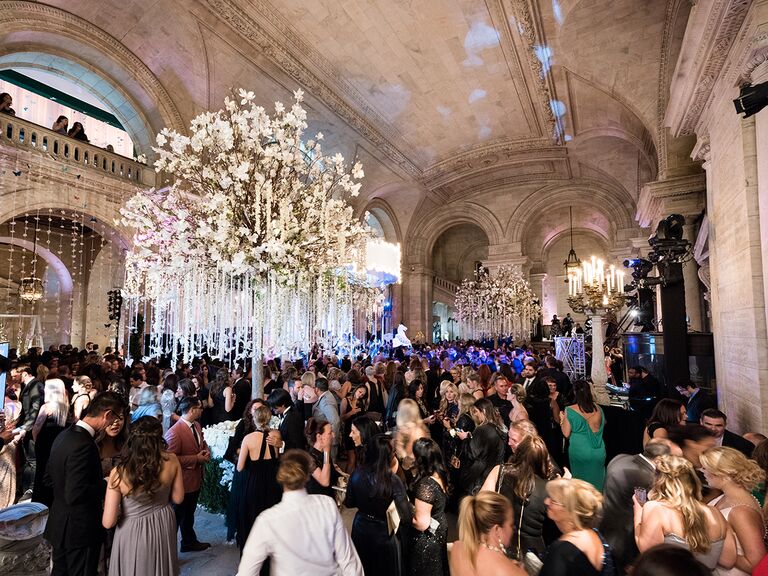 Gala guests danced for hours in the library's grand Astor Hall to sensational live music by two different bands from Vali Entertainment. From contemporary hits to familiar dance floor staples, there was never a dull moment. 

Incredible, Edible Attractions
Ladurée Pop-Up Patisserie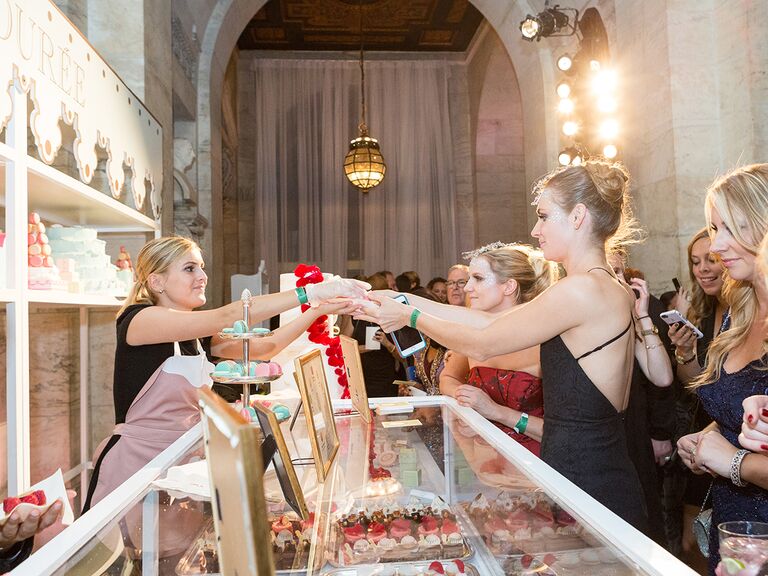 Attendees enjoyed the sweetest treats of all from Ladurée, the luxury French pastry shop renowned for its double-decker macaron. Luckily for us, Ladurée has a location in New York City and spoiled us with a special taste of Paris in Midtown Manhattan.

Specialty Food Stands
As if guests didn't already feel like they were strolling through Paris, Whole Le Crepe, Le Puf and Sigmund's Pretzels set up specialty food carts throughout the venue to surprise guests in every corner with their unique bites.

Hanging Hors D'oeuvres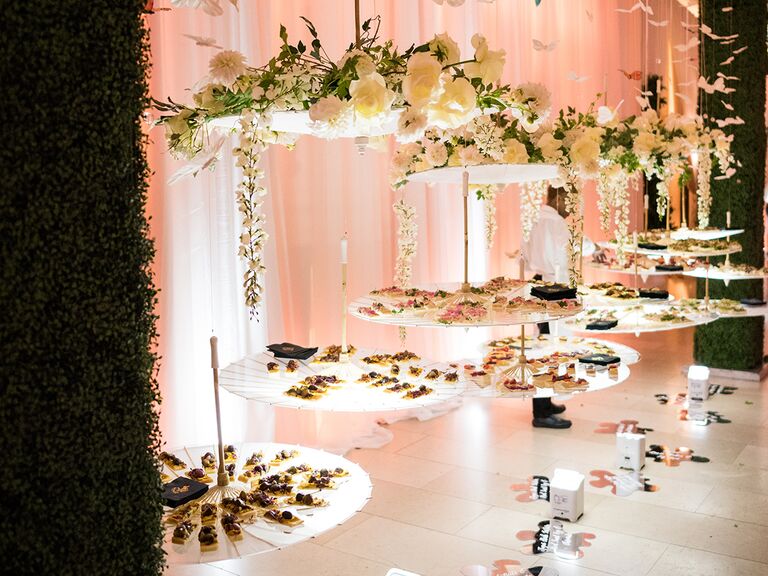 If you're struggling to find an innovative way to present food at your wedding, look no further. Pull inspiration from the Revolution Events' decadent display of hanging hors d'oeuvres. Suspend serving platters (or, something on-theme, like these upside-down parasols) from the ceiling and top with delicious eats, like these chic tartines catered by Great Performances. Lay playfully designed food descriptions on the floor to complete this dynamic foodie experience. 

"Noir" Gastronomy Experience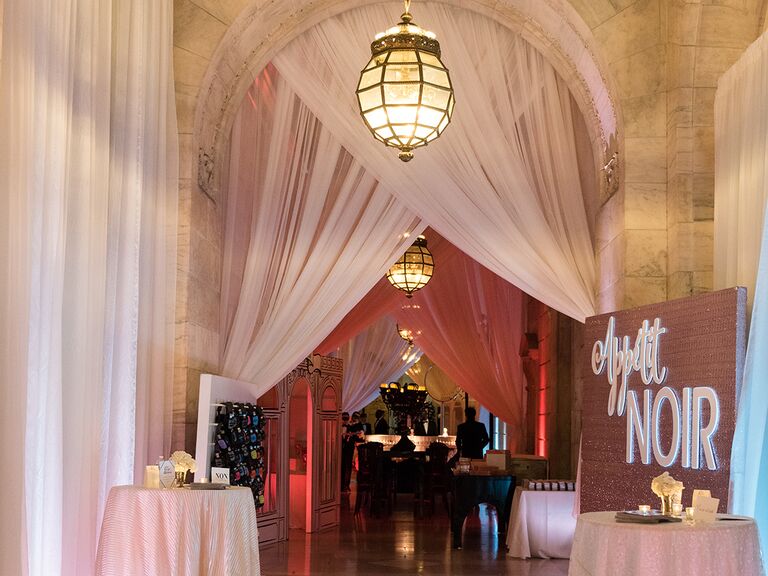 Meant to delight all the senses, the "noir" gastronomy attraction was a unique, immersive food experience straight from the future. Roaming through an ornate hallway (thanks, again, Revolution Events), guests listened to classical music on wireless headphones, provided by Silent Storm, while tasting gourmet bites by Great Performances—in the dark. Seriously, how cool is that?

Tito's Cocktail Bar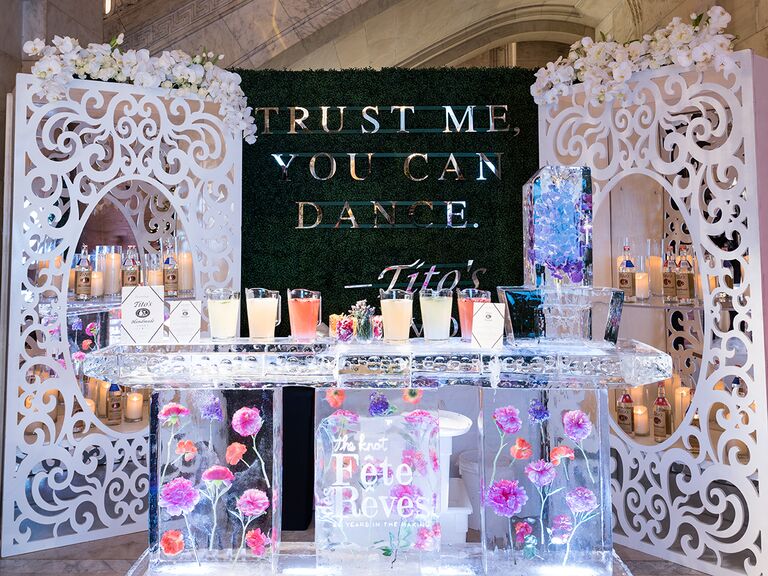 Tito's Handmade Vodka kept the specialty cocktails pouring all night long from a super-chill ice bar by Okamato Studio. The frosty vignette was finished with a boxwood bar backdrop by Revolution Events and whimsical laser-cut shelving by Luxe.

A Starry Night
The Bachelor's Ben Higgins and Lauren Bushnell enjoy the party.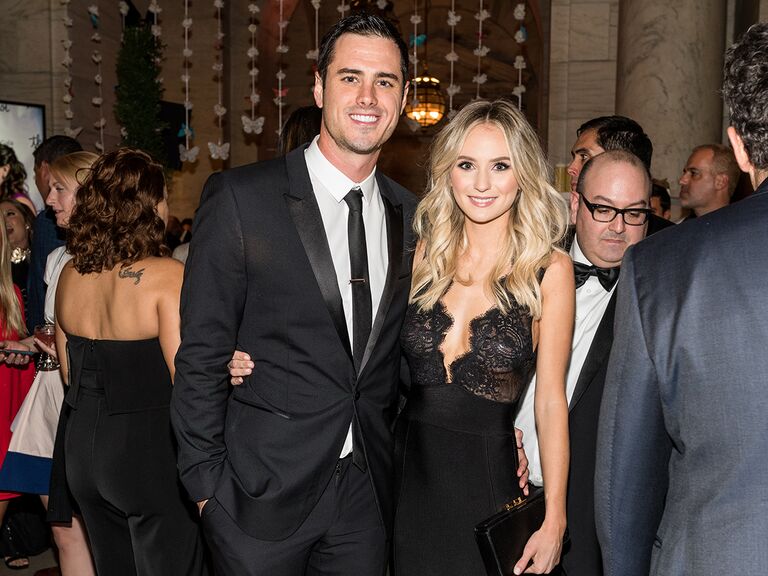 Stars of ABC's The Bachelor and Freeform's Ben and Lauren: Happily Ever After?, Ben Higgins and fiancée Lauren Bushnell, spend time in the VIP lounge and enjoy the party's various entertainment. How cute are they?

Kym Johnson Herjavec, Robert Herjavec and Mikie Russo chat with Carley Roney.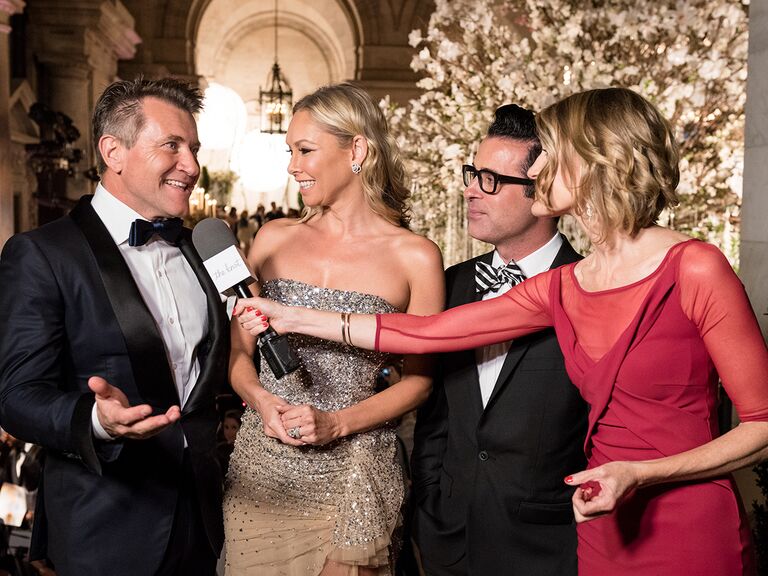 The Knot cofounder Carley Roney (right) gets one-on-one time with celebs like newly married Kym Johnson Herjavec (ABC's Dancing with the Stars) and Robert Herjavec (ABC's Shark Tank), as well as event planner extraordinaire Mikie Russo of Michael Russo Events (center right).

Elena Delle Donne, Amanda Clifton and Randy Fenoli were there too!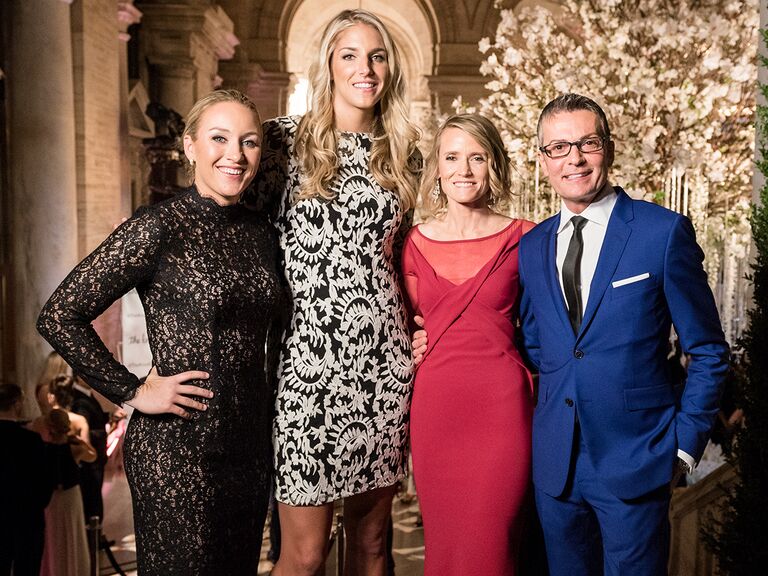 Carley catches up (and strikes a pose) with WNBA player and Olympic gold medalist Elena Delle Donne and her fiancée Amanda Clifton (left), along with everybody's favorite gown guru from TLC's Say Yes to the Dress Randy Fenoli.

As always, The Knot Gala would be nothing without the incredible pros who bring it to life...

| Planning and Design: Strawberry Milk Events | Venue: The New York Public Library | Stationery: CECI New York | Catering: Great Performances | Specialty Catering: Whole Le Crepe, Sigmund's Pretzels, Le Puf | Patisserie: Ladurée| Entertainment: Vali Entertainment | Entertainment: Scarlett Entertainment | Entertainment: Shien Artists | Liquor: Tito's Vodka | Wine: Coppola Wines | Lighting: Bentley Meeker | Environmental Projection: DJ Jacob Towe | Photography: 5ive15ifteen Photo Company | Videography: East West Productions | Flowers: Tantawan Bloom | Flowers: Edge Floral | Decor: Revolution Event and Design | Rentals: Luxe Event Rentals, Party Rental LTD, Nuage Designs | Flash Tattoos: Flash Tattoos | Live Artist: Drawn Together NYC | "Noir" Headphones: Silent Storm | Wigs: Elbowgrease Design | Snapchat Filter: Meldeen | Ice Décor: Okamoto Studio | VIP Lounge: Macy's Fine Jewelry | Hair and Makeup: Sally Duvall Makeup, Erin Taylor Hair, Beautini, Upstyle, MG Hair & Makeup, Ashley Stone/Beauty Entourage, Donna Lance Makeup |