20 Beautiful Church Wedding Decorations That Will Elevate Your Day
Carefully-chosen decor ideas can take your wedding ceremony to the next level.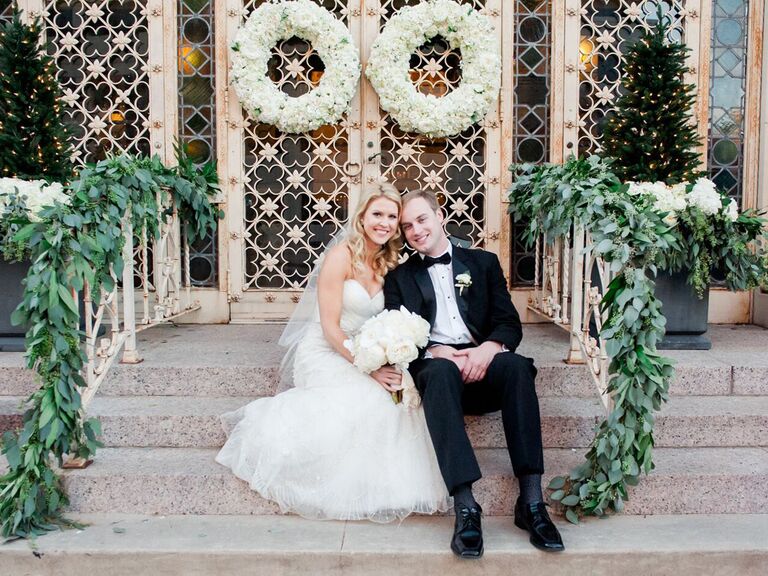 Jennifer Lindberg Weddings
We have included third party products to help you navigate and enjoy life's biggest moments. Purchases made through links on this page may earn us a commission.
If you're holding your wedding ceremony in a church, you'll automatically benefit from its architectural beauty. But that doesn't mean you should skip the church wedding decorations. With just a few small details, you can elevate your ceremony from basic to beautiful. When decorating for your ceremony, start with the church's already-there decor, and then go from there. There's no need to overdo your wedding ceremony decorations—your goal should be to enhance your wedding venue's natural appearance, not hide it with lots of fussy decoration ideas. A talented floral designer will likely know how best to decorate the church, and you can add a few details, as well.
How to Decorate a Church for a Wedding Ceremony
Chances are, your church wedding decorations will be as unique as you and your partner. The options are truly limitless when it comes to the vision you have for your wedding. Perhaps you're envisioning a church decked in tulle with tons of glowing candles. Or maybe it's a rustic affair that's capturing your imagination, with natural materials like burlap and wood. Either way, your church wedding decorations should take into account the overall wedding theme you've chosen; you want your ceremony to flow seamlessly into your reception.
Some of our favorite wedding ideas? Start with the church's entrance. This area will introduce your guests to your wedding. A beautiful wedding flower arrangement or garland will set the tone. And an on-trend sign that sports your wedding colors is a great addition as well (find one here or choose to DIY!). Your next opportunity to add a dash of elegance is with a simple yet beautiful program basket. These items, along with decorations for your church pews and the altar will ensure your ceremony will be totally photo-worthy.
Need some additional decoration ideas? We've rounded up some of the most beautiful church wedding decorations that are totally on-trend this wedding season. So whether you're looking for wedding aisle decorations, pew bows, or a way to dress up your altar for your big day, we've got everything you'll need right here.
Aisle Decorations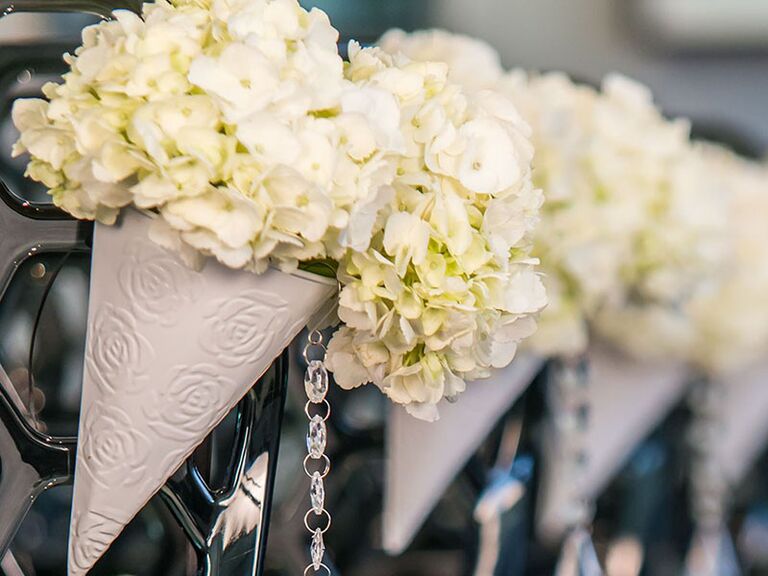 Here's a pretty trend: Using cones at the ends of the pews as part of your church wedding decorations. These sweet metal cones are finished in white with a subtle rose pattern, making them totally wedding ready.
The Knot Shop white metal cone with rose pattern, from $5, TheKnotShop.com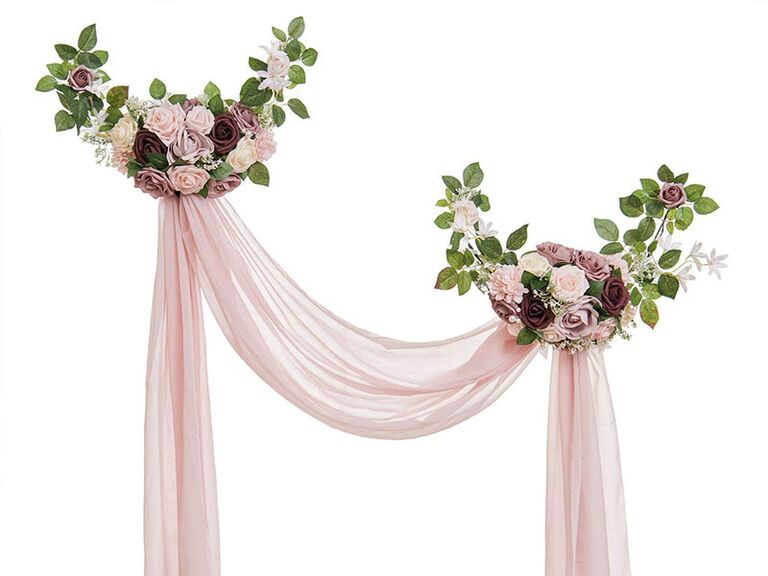 Give your church wedding decorations an ethereal vibe when you incorporate this beautiful dusty pink swag and florals piece. It's a versatile decoration, and can be used to line pews, to display on the altar, or even to adorn an archway.
Ling's Moment dusty pink swag with florals, $70, Amazon.com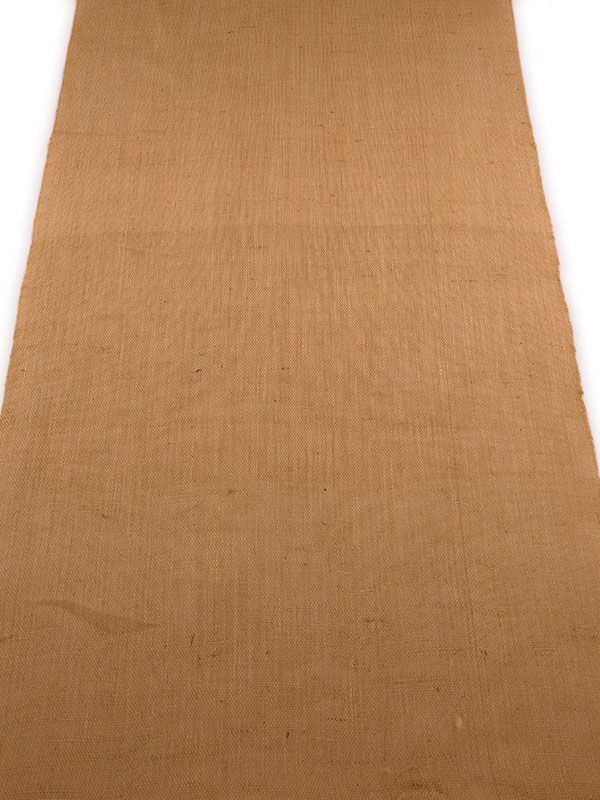 Having a rustic affair for your wedding theme? We can't imagine a better aisle runner for a ceremony held in a tiny old country church than this one, made of burlap. With a simplistic vibe, it's the perfect backdrop for any decor you can think of.
The Knot Shop burlap wedding aisle runner, $90, TheKnotShop.com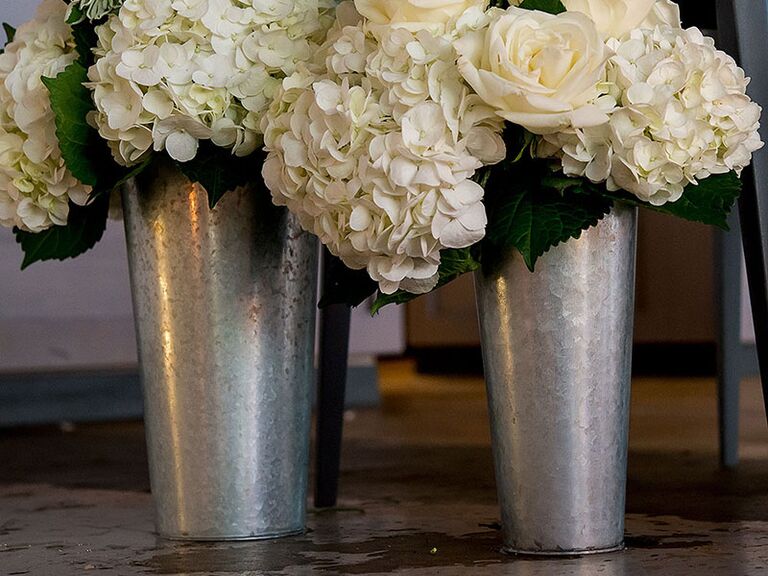 Your wedding ceremony will look like a flower market when you place these simple yet gorgeous galvanized flower buckets on the ground lining the aisle. At nearly 10 inches tall, these buckets are perfect for just about any long-stemmed floral arrangement, and they come with a waterproof plastic liner to prevent messy leaks.
The Knot Shop galvanized flower market bucket, from $7 each, TheKnotShop.com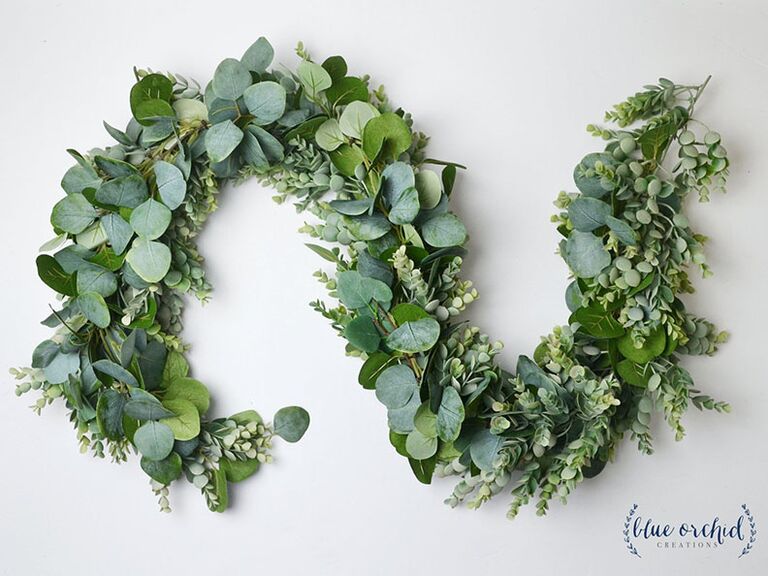 This beautiful life-like eucalyptus garland is perfect for just about any wedding decor. And it's versatile, too! String it along the ends of your pews for a touch of pretty greenery during your wedding ceremony, then use it on an arch or as a photobooth backdrop at your reception. Double the decorations for half the price—we'll call that a win!
Blue Orchid Creations eucalyptus wedding garland, $44, Etsy.com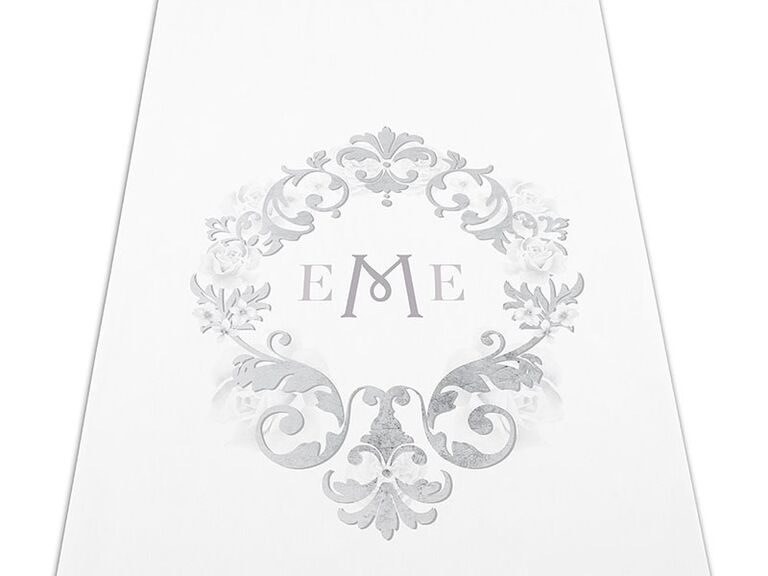 Take the most important walk of your life with this stunning wedding aisle runner under foot. A beautiful emblem surrounds a monogram of your choice on this runner made from semi-sheer, non-woven fabric. It'll look simply beautiful on its own or sprinkled with rose petals from your flower girls.
The Knot Shop monogram personalized aisle runner, $100, TheKnotShop.com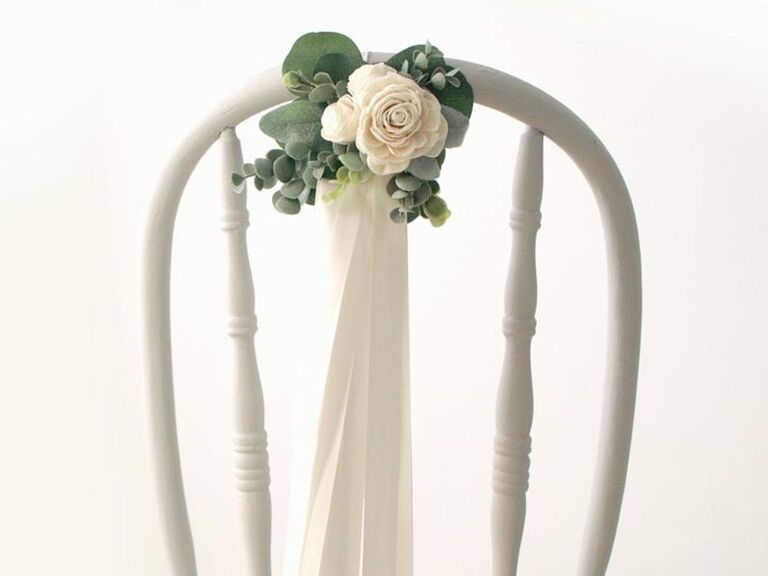 Dress up the pews in your church with these flowy florals. Completely customized to your specific look, these pew flowers are the perfect church wedding decorations for your special day.
Which Goose wedding pew decorations, $28, Etsy.com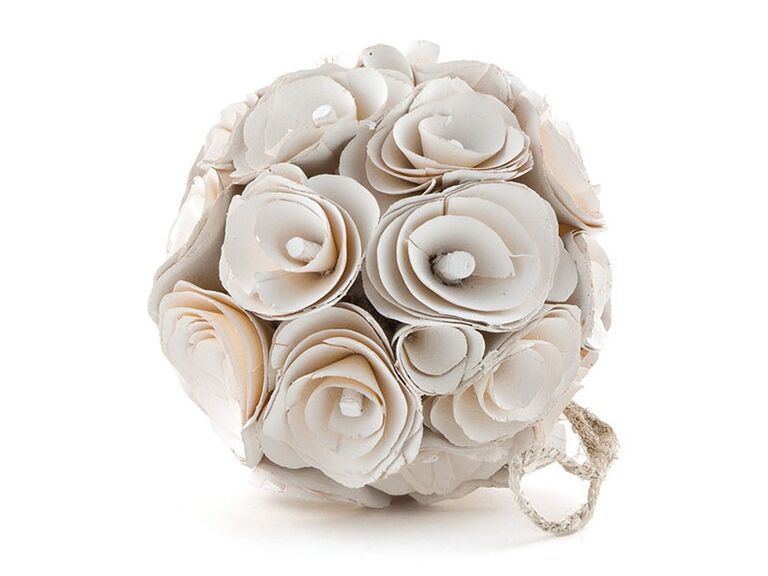 For a beautiful substitute to pew bows, why not opt for these unique pomanders? Crafted from wood curls for something just a bit different, these pretty floral-looking balls would be just right at the ends of your rows. Currently available in green for a fresh, natural look.
The Knot Shop floral pomander ball with wood curls, $2 each, TheKnotShop.com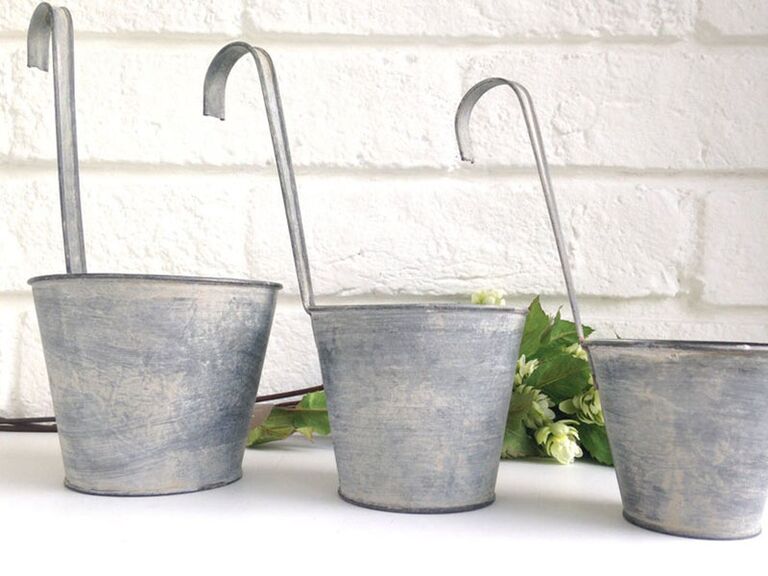 To add a rustic look to the pews at your ceremony, opt for these galvanized buckets to hang from the ends. Included hooks allow for easy, secure hanging, and the buckets come in small, medium or large sizes to accommodate any arrangement your florist can dream up; from a minimalist bunch to something totally lavish.
Galvanized Goddess galvanized wedding bucket, from $14, Etsy.com
Ceremony Decorations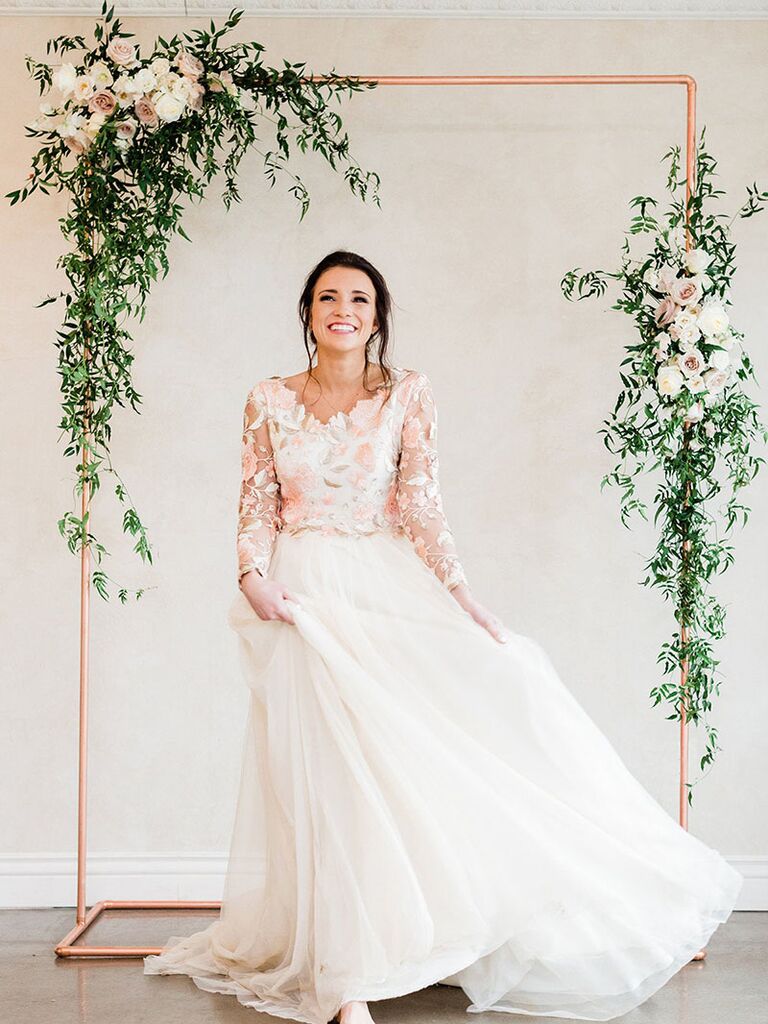 Looking for a minimalist vibe for your church wedding decorations? This copper arch certainly delivers! This rose gold industrial-style backdrop redefines the traditional wedding arch with a rectangular shape that's totally modern, serving as a perfect companion for just about any type of floral arrangement or greenery.
Blue Lily Bridal copper wedding arch, $150, Etsy.com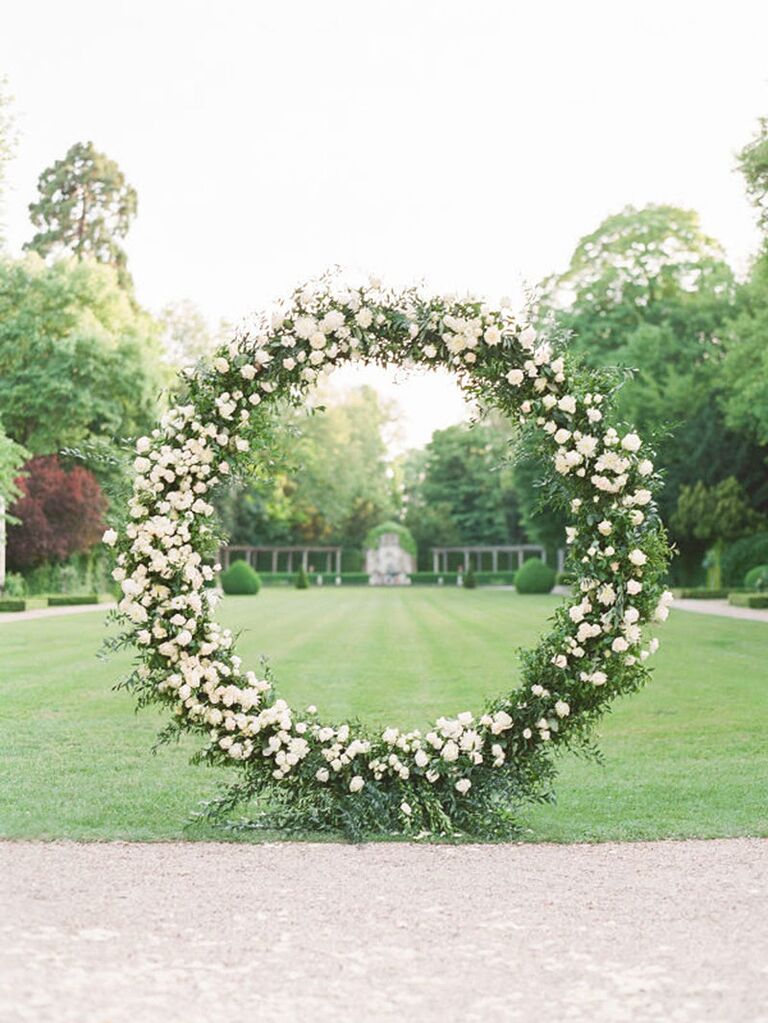 Add elegant drama to a simple church setting when you include this statement piece as a backdrop for your vows. It's a full circle of flowers that stands nearly seven feet tall, fully customizable with colors and flowers to match your wedding theme. We can just imagine how beautiful your ceremony photos will be with this decoration!
ArchWay Store circular wedding arch, $220, Etsy.com
Exterior Church Decoration Ideas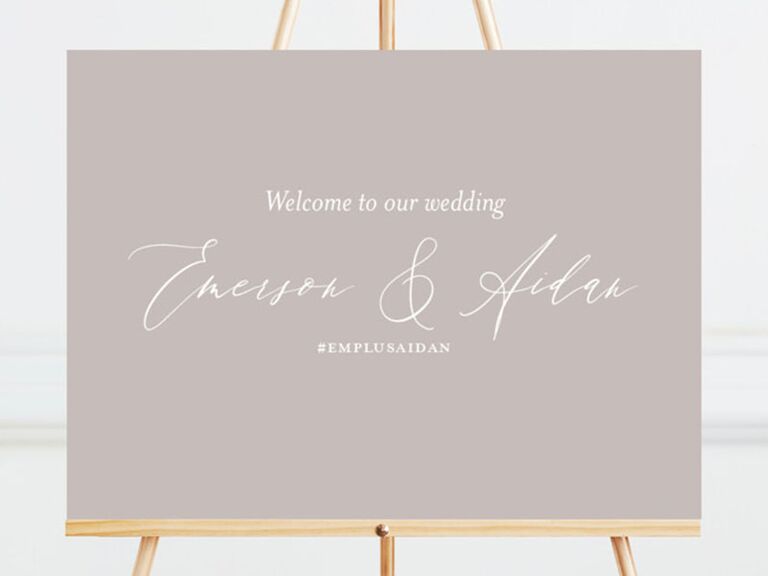 Your church wedding decorations aren't complete without a sign that proudly proclaims your ceremony. This beautifully handcrafted sign from Minted makes a great choice. It's available in three prominent sizes and is perfect for resting on an easel or hanging—whichever works for your setting. Choose from eight chic colors for the background.
Minted Villa large custom sign, from $20, Minted.com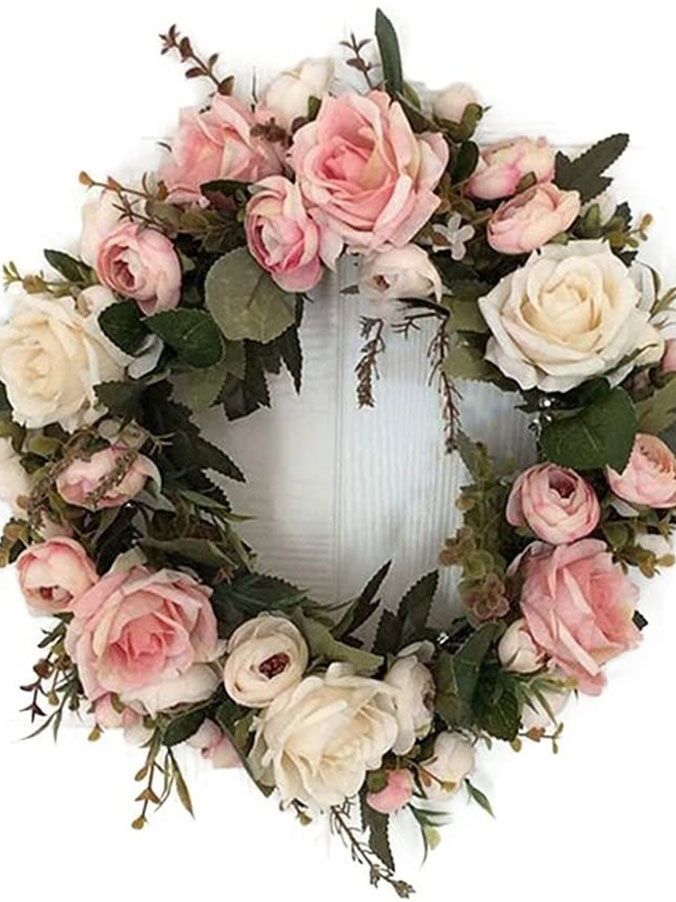 When it comes to church wedding decorations, don't forget about the entrance to the church! It's the first thing wedding guests will see on your special day, so a little something is needed to spruce it up. This beautiful wreath makes a great option—it's adorned with an array of white and pink flowers nestled among a swath of greenery for a pretty, cheery start to your ceremony.
Adeeing handmade artificial wreath, $21, Amazon.com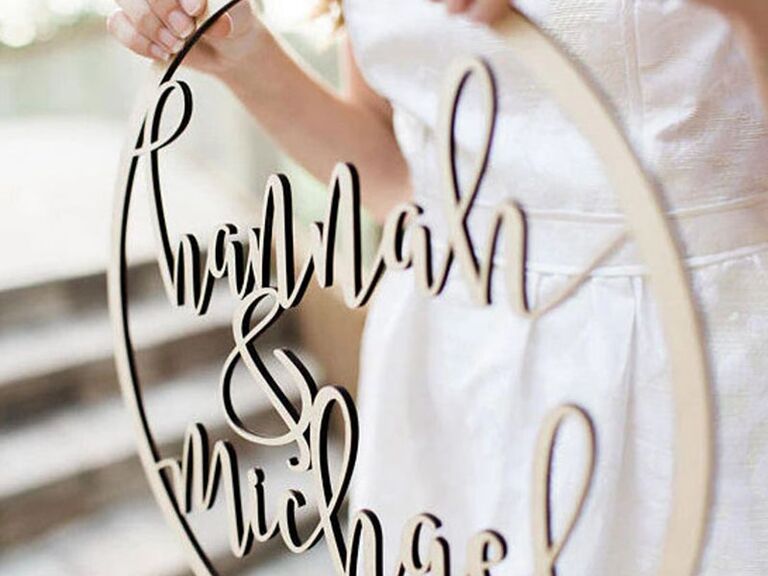 Your guests will know they've come to the right place when you hang this chic wooden hoop on the door. This beautifully handcrafted sign displays both your names in the middle in a pretty cursive font.
Innovation Visual custom wooden hoop with wedding names, $25, Etsy.com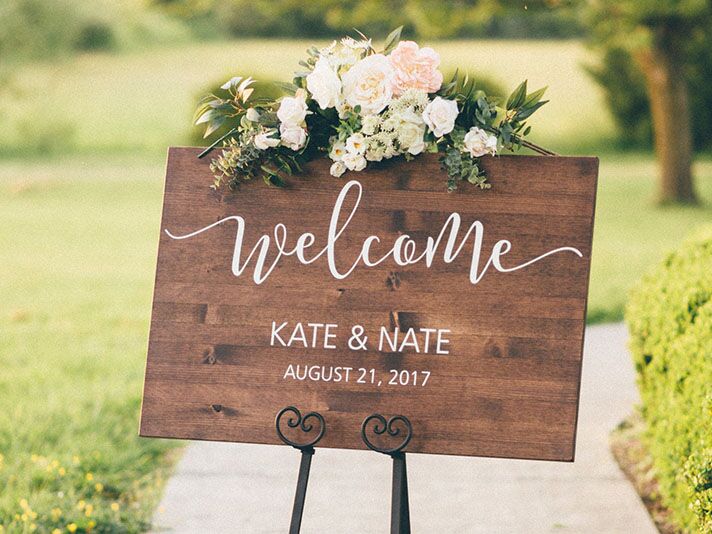 Looking for that perfect welcome sign? This one, from Etsy shop Weddings Decor Studio, does the trick! White writing pops against a handsome wooden background on this beautiful, handcrafted sign. It's available in a variety of sizes, allowing you to display on an easel or hang. Choose a large size to display outside the church, or a smaller size to place next to your program basket.
Weddings Decor Studio wooden wedding welcome sign, from $30, Etsy.com
Altar Decorations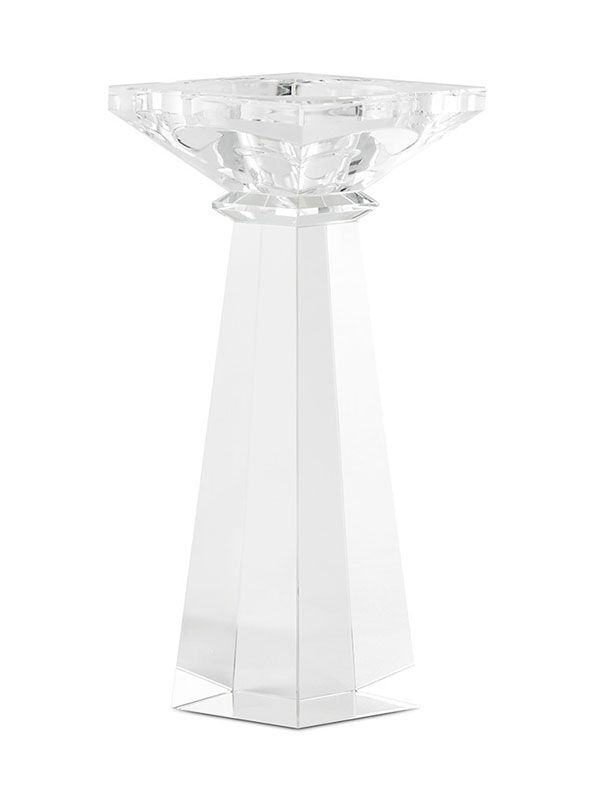 These gorgeous crystal candleholders and candelabras will look right at home on even the most formal altar. Opt for a uniform look when you place one on each side with a candle that matches your color palette, or cluster them for a romantic glow. And after your wedding day is over, you can break these beautiful candleholders out on special occasions at home.
The Knot Shop crystal candle holder, tall, $20 each, TheKnotShop.com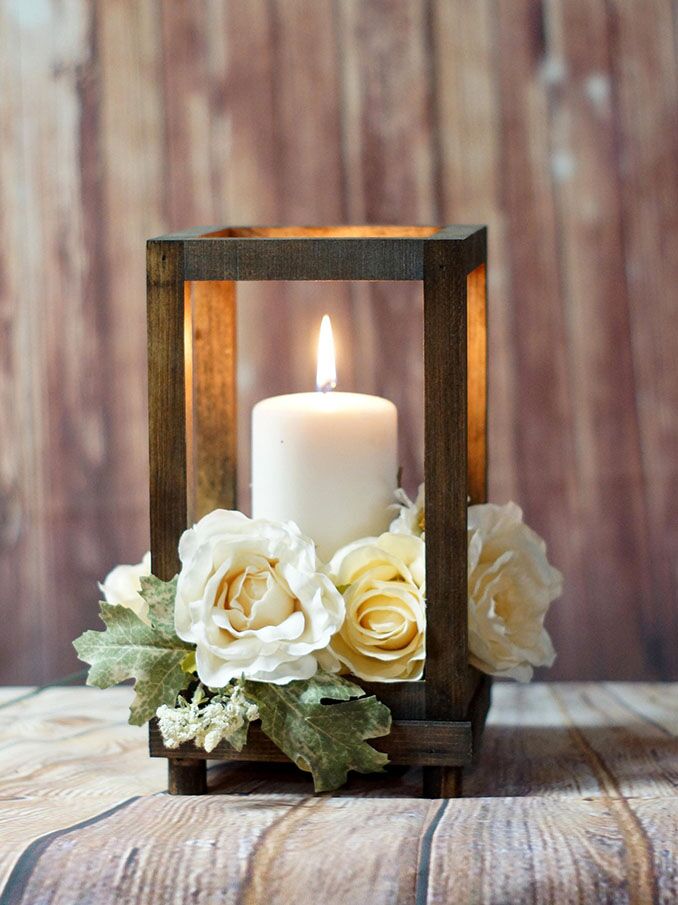 This simple yet stunning altar decoration is just perfect for an upscale rustic wedding ceremony. Place it on the altar for a romantic glow, and adorn it with your favorite flowers for one of the most beautiful church wedding decorations.
GFT Woodcraft reclaimed wood candle lantern, $23, Etsy.com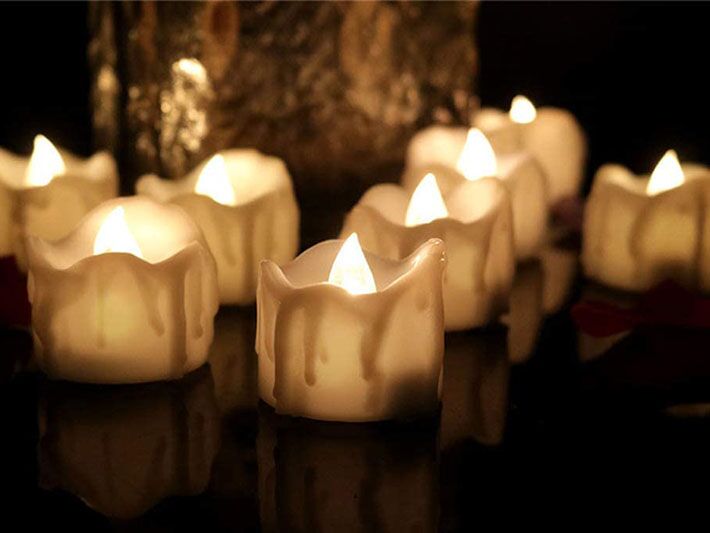 Beautiful lighting adds an element of romance to any ceremony, regardless of the style. Scatter these flameless LED tealights to get the look. They'll look right at home at any altar—from a stately Catholic one, to a simple country altar crafted from a tree.
Beauty Collector flickering flameless tea lights, set of 12, $12, Amazon.com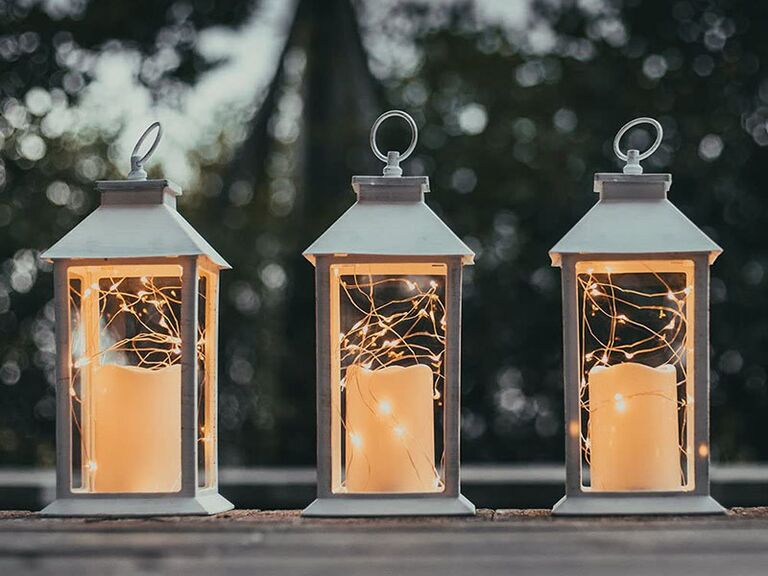 These beautifully rustic lanterns have a special place among your church wedding decorations. Perfect for a serene evening affair, tiny twinkling lights add dramatic effect, while the white finish lends a wedding-ready feel.
Evermore decorative lanterns, $40 for 2, Amazon.com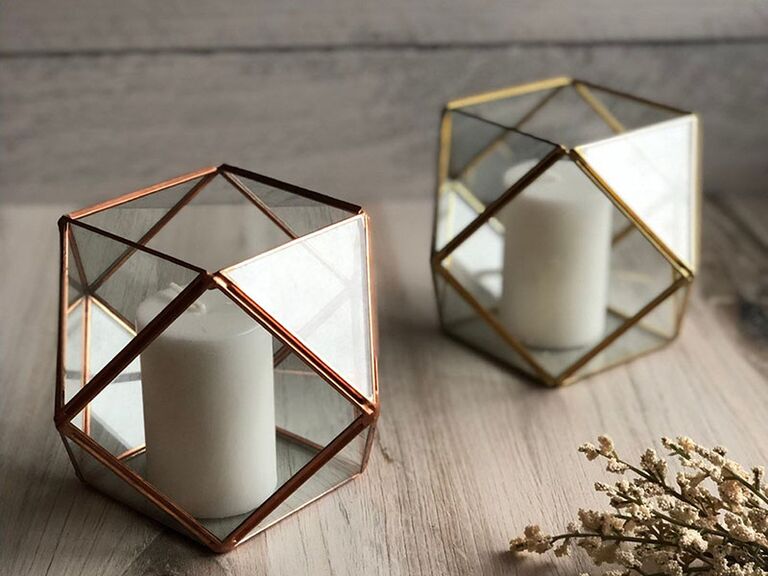 For a minimalist vibe, these terrarium altar decorations make a great choice. With a geometric design outlined in rose gold metal, they're great for showcasing greenery or candles for a pretty glow. Plus, you can add as many as you want depending on how dramatic you'd like your altar to look.
Dearly Beeloved LLC rose gold glass candle holder, $22, Etsy.com