The Most Magical Eucalyptus Wedding Decor for Every Wedding Theme
From "I love you(calyptus)" to "I do."
Fresh greenery goes with everything. That's why eucalyptus wedding decor is seeing a rise in popularity. It mixes wonderfully with fresh florals, accents of any color and just about any wedding theme you can think of. And if you're looking for wedding visionaries who can bring your eucalyptus dreams to life, then The Knot Vendor Marketplace is a great resource for florists, planners and more. Let's take a look at some amazing eucalyptus wedding ideas, from bouquets to centerpieces. (Just make sure you've got your wedding decor checklist handy for this eucalyptus inspo.)
In this story:
Eucalyptus Wedding Decor Ideas
Center your big day around eucalyptus by placing it just about anywhere. You can easily add some of this rich greenery to both your ceremony and reception with these stunning ideas.
Enchanting Eucalyptus Hanging Lanterns
Here's a fun eucalyptus floral display that will have your guests looking up all night. These enchanting lanterns are a great way to add some greenery and lighting to your wedding venue or reception space.
Charming Eucalyptus Aisle Decor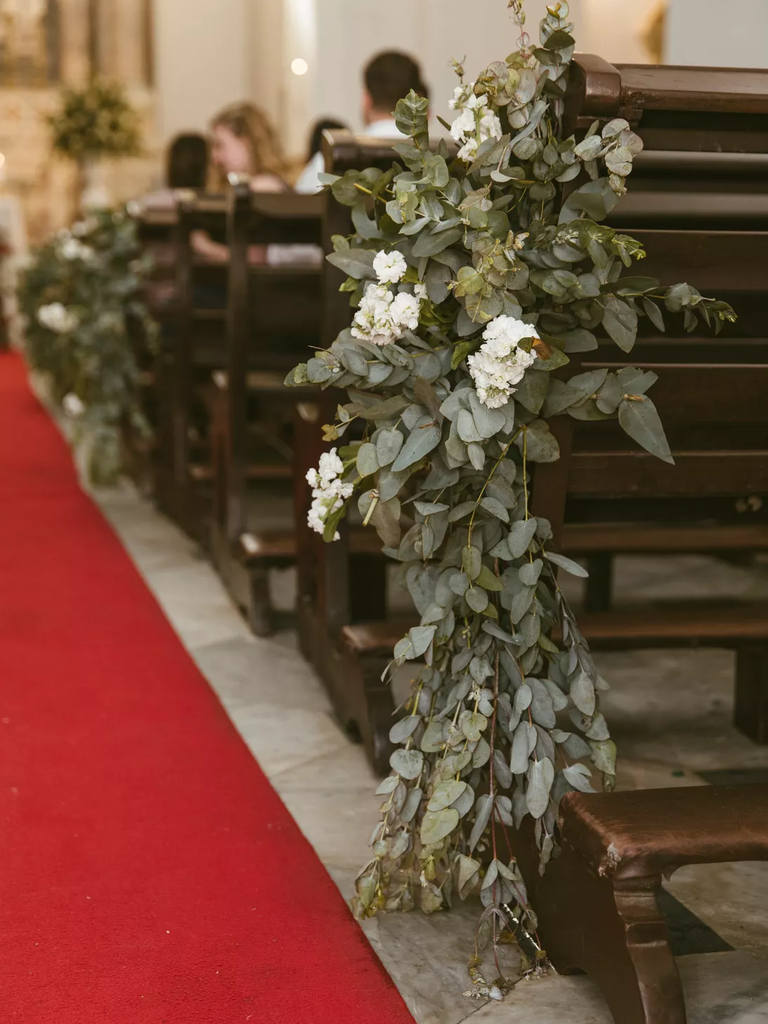 Make your walk down the aisle more green with these eucalyptus decorations. And this calming plant can add an air of tranquility to your I do's when you place it around the venue.
White Florals and Eucalyptus Centerpieces
Simplicity and elegance can go hand in hand when you pair eucalyptus with white florals. Make it easier for guests to talk to each other at the reception with these centerpieces that will still wow.
Wedding Welcome Sign With Eucalyptus
One great thing about eucalyptus leaves is how versatile they are. You can wrap all your wedding signs with this greenery, much like this welcome sign.
"Find Your Seat" Eucalyptus Terrarium Seating Chart
These seating charts are both modern and magical, adding some fresh eucalyptus and roses for a fairytale-like quality. This is a fun way for your wedding guests to find their reception seats.
Lovely Eucalyptus Wedding Bouquet
This bundle of eucalyptus, ferns and ruscus make the perfect wedding bouquet or centerpiece. It combines boho with rustic for a green-tastic floral arrangement.
Garden Rose and Eucalyptus Table Runner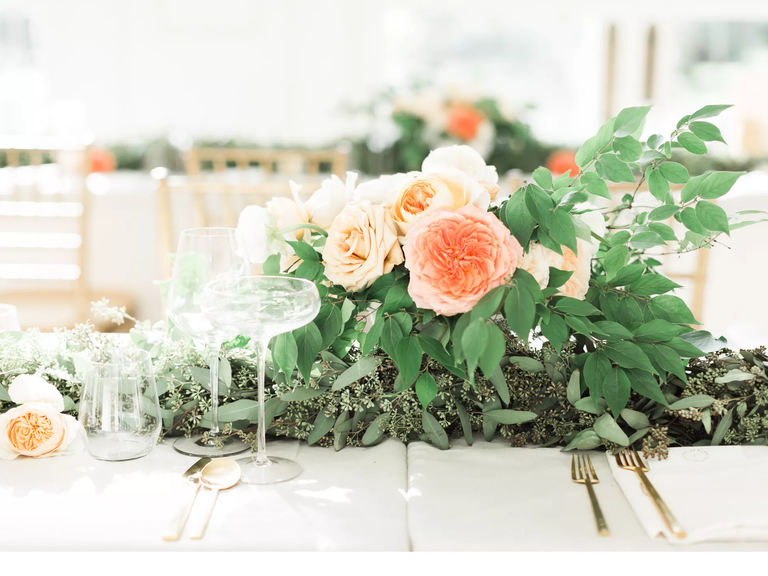 These garden roses inject some beautiful color into this bit of greenery. A eucalyptus runner with fresh florals is a great way to make your decor stand out.
Eucalyptus Sweetheart Tablescape
Don't forget about decorating your sweetheart table for the big day. This eucalyptus decor lets you look out at all the guests with an unobstructed view that still offers a beautiful garland.
Rustic Eucalyptus Ceremony Backdrop
This hanging eucalyptus backdrop is the perfect wedding ceremony decor. Imagine saying "I do" with this unique display behind you.
Gold and Greenery Eucalyptus Table Number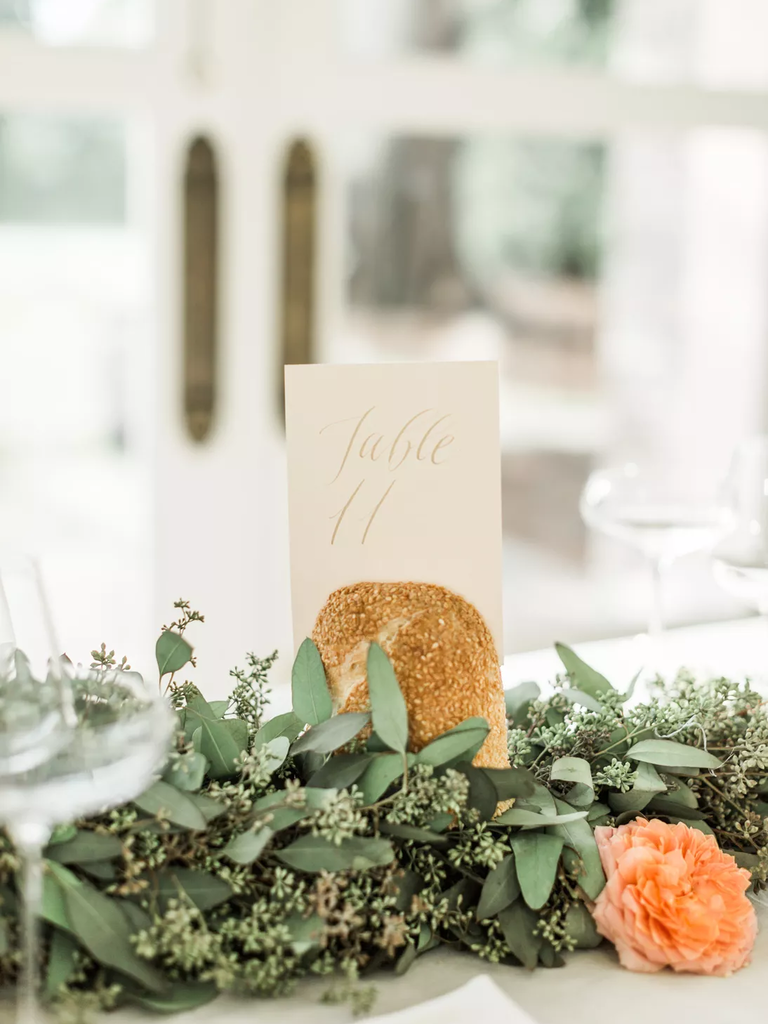 Help your guests find their tables with this simple but stunning table decor. And you can easily incorporate your own color palette in this design with flowers and number cards.
Walk Down the Aisle Eucalyptus Decor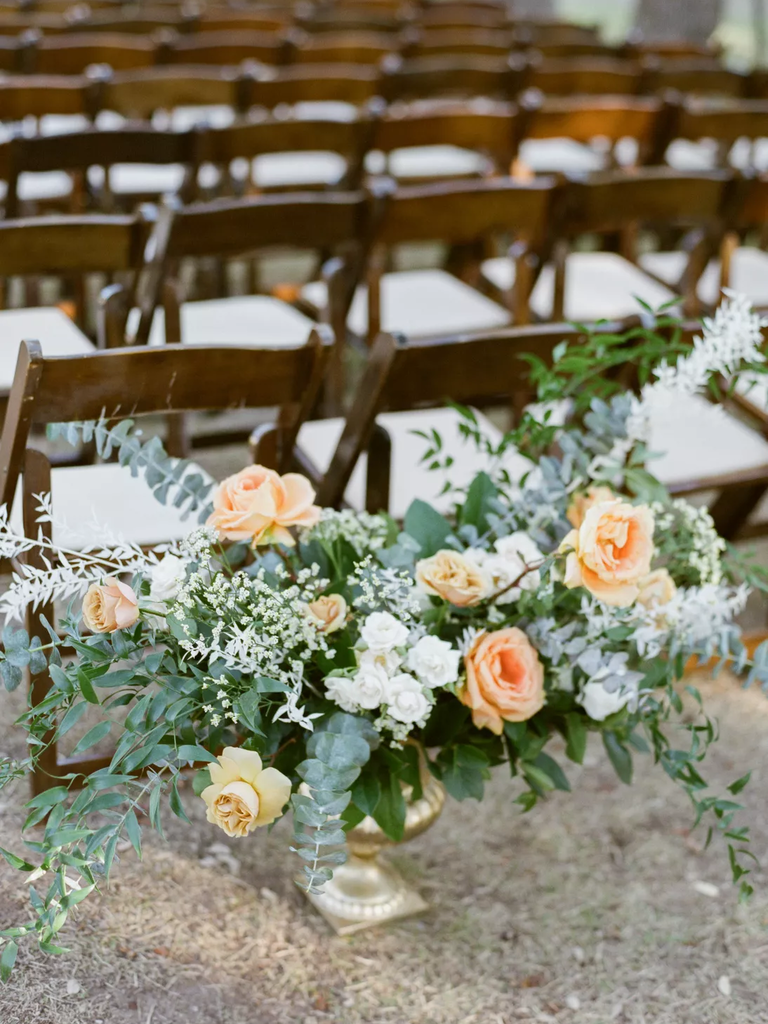 Place these charming floral arrangements down the aisle for an explosion of fun textures and colors. Ask your florist to blend some of your bouquet flowers in these displays to keep the decor cohesive.
Find all the vendors you need
Discover top-rated pros for any budget, background and style.
Eucalyptus Farm Table Runner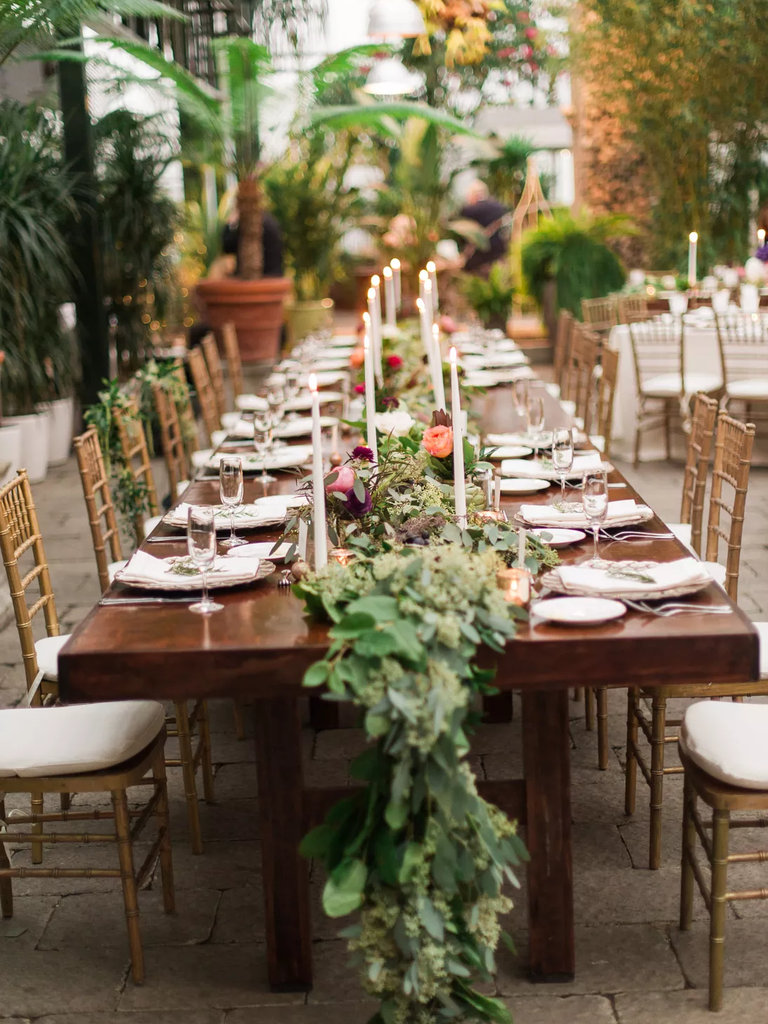 Decorating your reception space with fresh eucalyptus can be easy and eye-popping, like this table runner. It's a fun way to bring the outdoors, indoors for your big day.
Romantic Pastel Centerpiece With Eucalyptus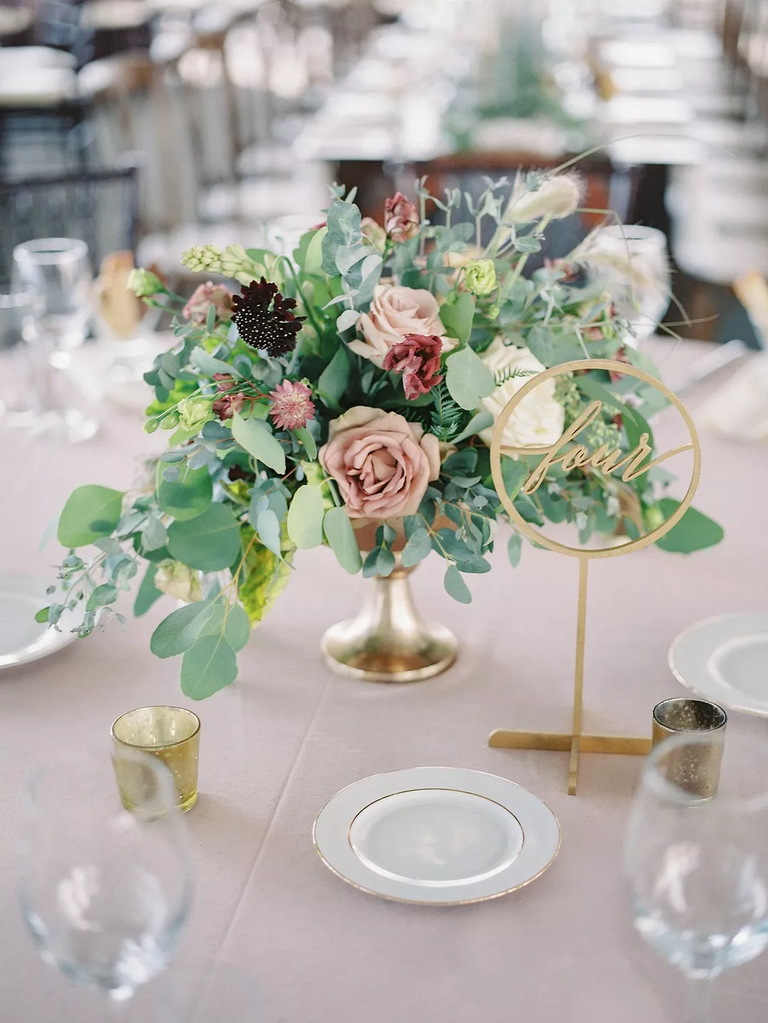 Green and gold just go so wonderfully together, don't you think? These centerpieces work with eucalyptus, pastel flowers and golden accents to create an ultra-romantic feel.
Vintage-Meets-Industrial Eucalyptus Runner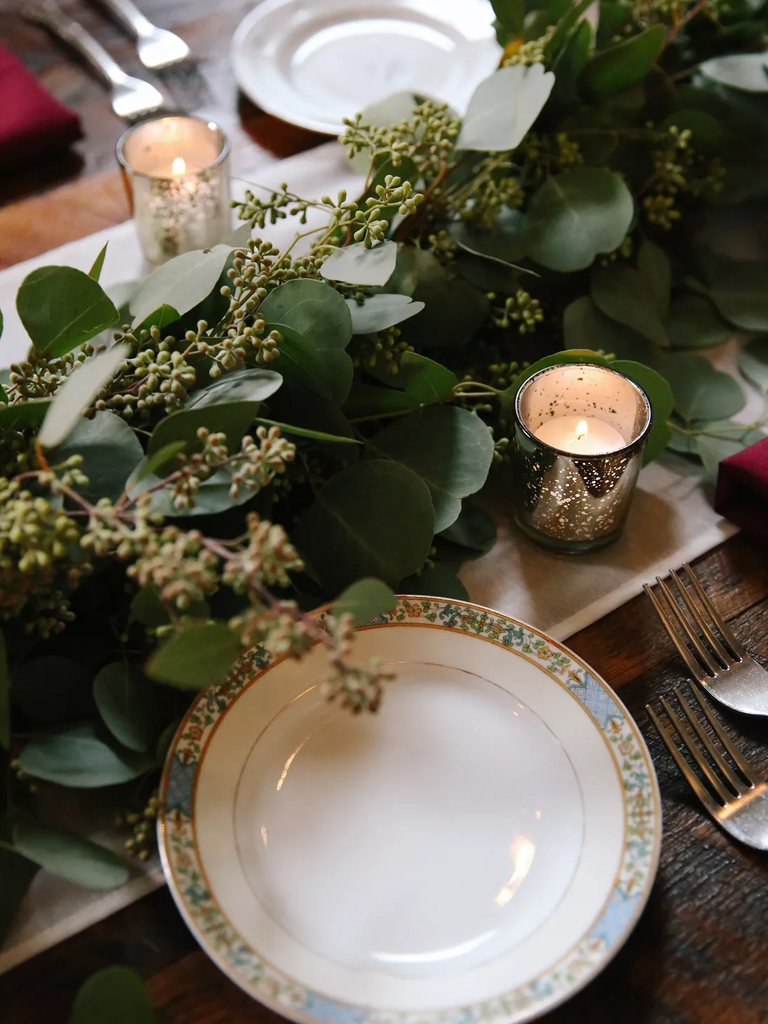 Your florals can be in every bit of decor, like these china plates. Mix and match your wedding color palette using fresh florals and floral accents for a unique spin.
Dahlia and Eucalyptus Chandelier
You'll be dancing under the stars and flowers with this eucalyptus chandelier. Add some dangling lights to make your venue feel truly magical.
Simple and Elegant Eucalyptus Centerpieces
Here's proof that even minimalist decor can make a statement. These elegant eucalyptus centerpieces utilize vintage glassware and fresh greenery to add a delicate feel to your tables.
Suspended Greenery Decor
This unique wedding reception decor will wow your guests with its rich shades of green and enchanting feel. It'll be like you're in your very own eucalyptus paradise.
Eucalyptus and Hydrangeas Ceremony Arch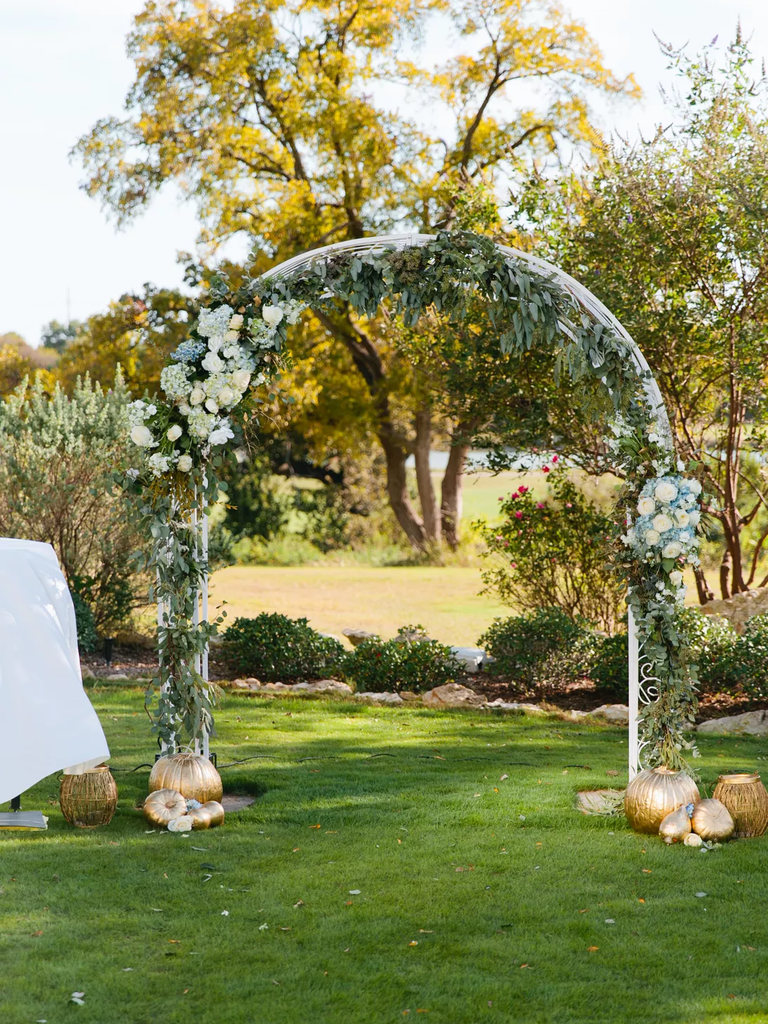 This ceremony display is the perfect autumnal backdrop for your exchanging of vows. The colorful pumpkins, light blue flowers and bewitching eucalyptus make this feel just like a Cinderella story.
Magical and Golden Eucalyptus Accents
Who says you have to keep your eucalyptus green? Live as the Romans do with this gold-painted eucalyptus display that takes your tablescape to the next level.
Bright Peonies and Rich Eucalyptus Seating Chart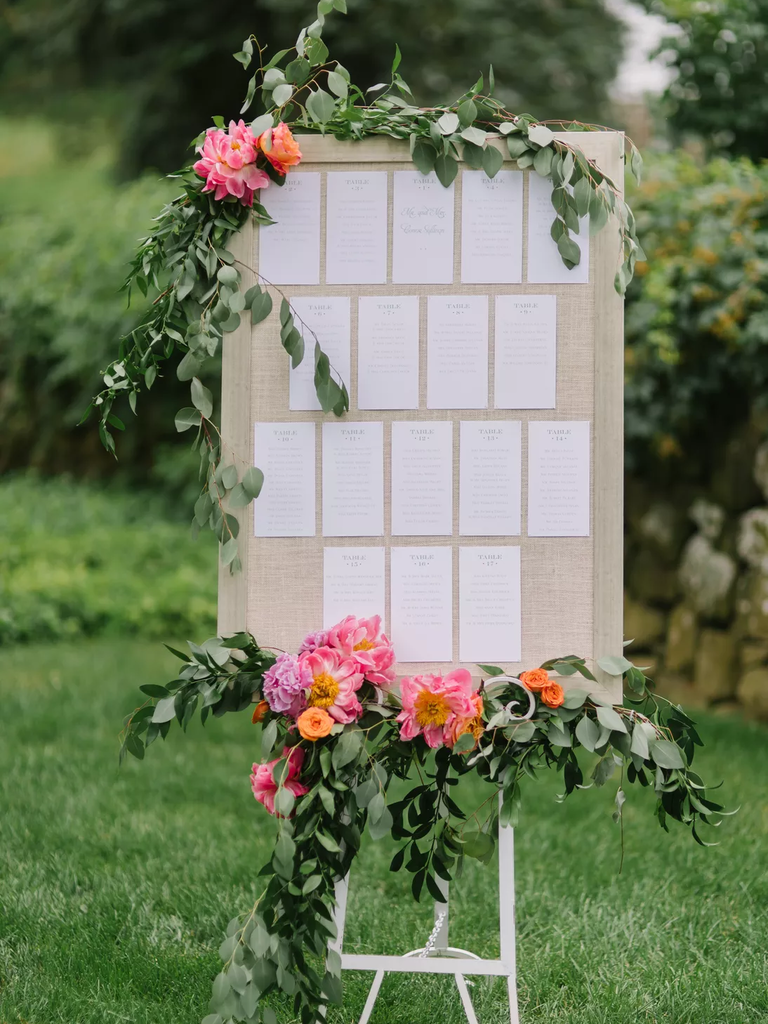 Utilize your outdoor space with a floral seating chart that uses fresh foliage. This is a lovely way to direct your guests to their seats, using bright peonies and richly green eucalyptus.
Geometric Eucalyptus Centerpieces
Even if math isn't your thing, this bit of geometry will be. These geometric glasses and favors are a fun accent to the fresh eucalyptus running the length of the reception tables.
Elegant Eucalyptus Table Decor
These tall centerpieces make it feel like each table has its very own eucalyptus tree. You can also add shorter greenery components to your table, like this wedding did, to mix and match heights.
Autumnal Eucalyptus Chair Displays
"Fall" in love with these autumnal chair arrangements. Blend your favorite flowers and foliage with eucalyptus to get a one-of-a-kind display for your wedding guests' chairs.
"Tale As Old As Time" Eucalyptus Tablescape
This tablescape will make you feel like you've just stepped out of a Disney fairytale. These romantic centerpieces beautifully mix fresh eucalyptus, white roses and a candelabra that's bringing a different kind of light.
"Our Love Story" Eucalyptus Centerpiece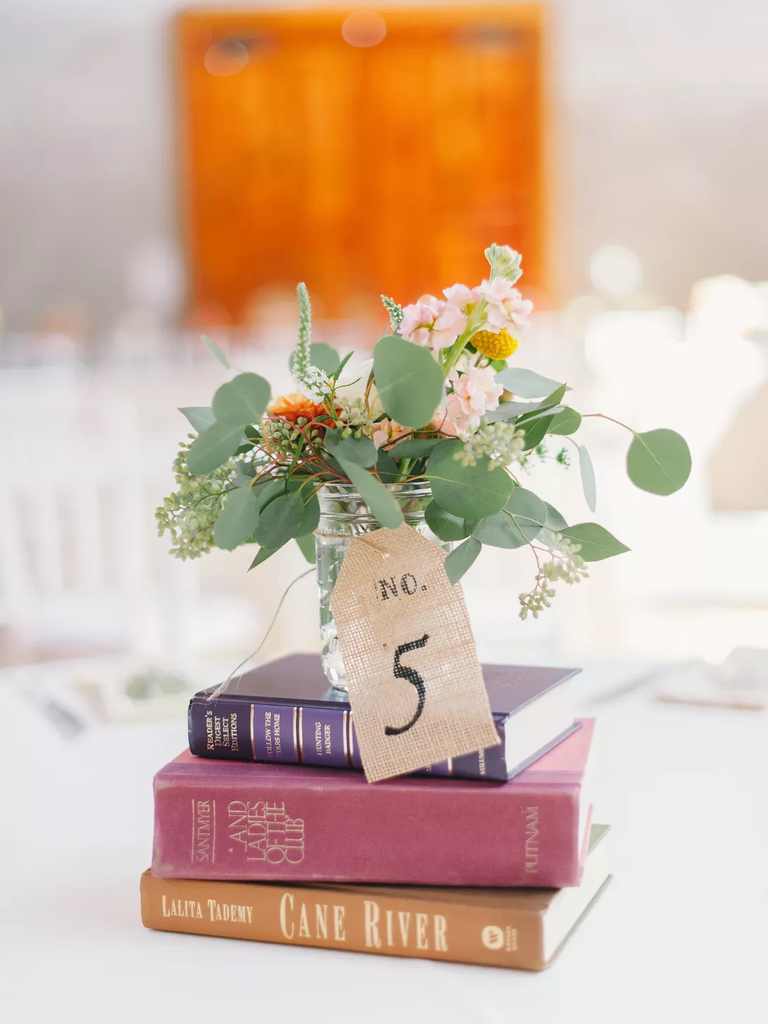 This eucalyptus centerpiece is one for all the storybook romances. You can display your favorite books in your color palette with a lovely floral arrangement as the topper.
Whimsically Wonderful Hanging Eucalyptus Decor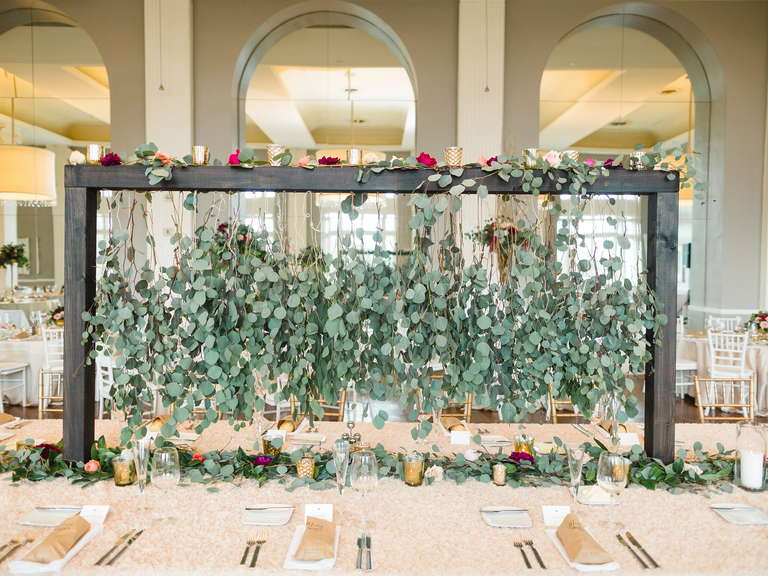 This waterfall of foliage is a serious showstopper. You can even try hanging something like this from your venue's ceiling for an unforgettable display of eucalyptus and florals.
Fairytale Woods Eucalyptus Centerpieces
Bring the enchanted woods indoors with these jaw-dropping centerpieces. Hang your favorite greenery, like eucalyptus and roses, in the branches for a truly magical touch.
Exquisite Eucalyptus Hanging Decorations
Lanterns can do more than light the way. These romantic decorations mix eucalyptus and pastel blooms for a wonderful ceremony or reception accent.
"Tea for Two" Eucalyptus Ceremony Decor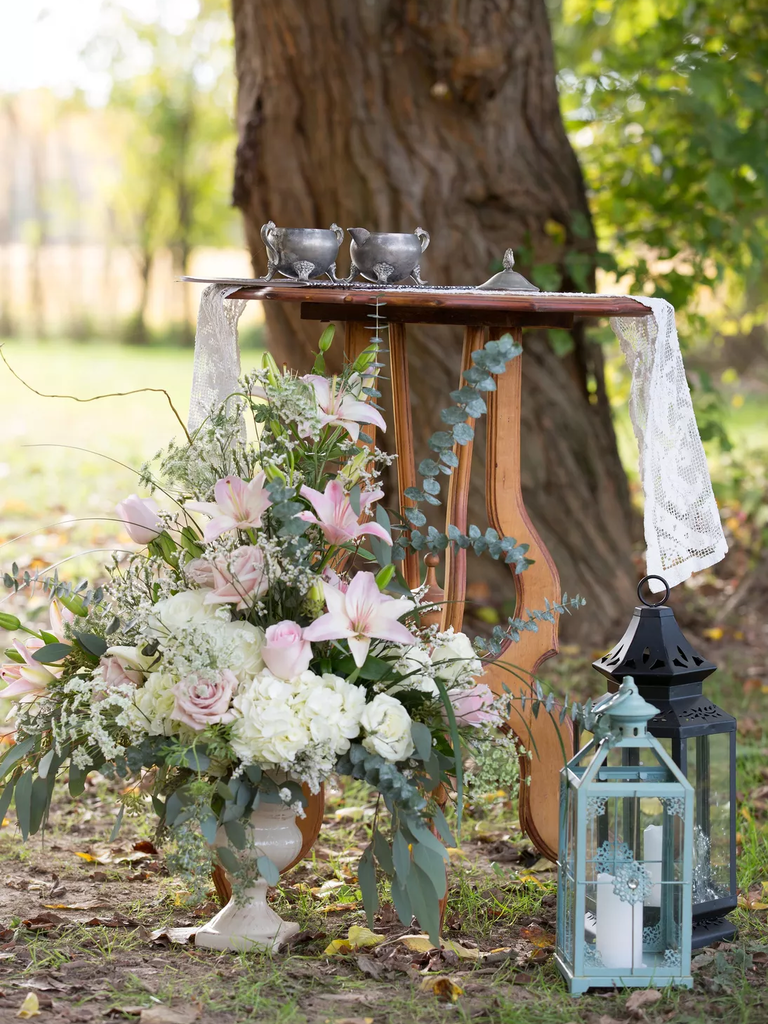 Your altar can be whatever you want, and this display brings a unique spin on a ceremony space. Display a fresh floral arrangement alongside your unity ceremony, like this one that has tea cups for the newlyweds.
Lovely Nature-Inspired Eucalyptus Bar
Make sure you decorate your bar, too, with this stunning greenery. Cover just about every inch of your venue with eucalyptus for a nature-inspired wedding.
Liles and Eucalyptus Wedding Table Decor
These centerpieces are rustic, romantic and sweet in their stunning simplicity. You can even make these yourself for a bit of wedding decor that guests might just want to take home.
What Does Eucalyptus Symbolize?
Eucalyptus traditionally symbolizes strength, abundance, and protection. In fact, many cultures burn this plant to ward off negative energy. (In fact, the etymology of this name means "well-concealed" from the Greek words eu "well" and kaluptos "conceal.") This popular wedding flower is versatile in its design, which is why many couples choose it for their big day.
How to Keep Eucalyptus Fresh for Wedding
One great thing about eucalyptus is that they can withstand being out of water for a while, which is why they're such a versatile wedding decoration. Here are some tips for keeping them even fresher before your big day.
Keep It In The Shower
While this tip may sound strange, many florists hang eucalyptus from their shower heads to keep them hydrated and longer-lasting. Just tie a few strings around your eucalyptus stems and then hang them upside down in your shower.
Try a Glycerine Solution
You can preserve your eucalyptus by mixing one part glycerine solution with two parts boiling water. Once the water cools, pour it into a container with your eucalyptus stems for a longer freshness.
Place It In a Vase
Like any plant, it's good to immediately place it in a vase full of fresh water. Just make sure you're trimming the ends and any stems that would fall below the water.
Types of Eucalyptus
There are actually hundreds of types of eucalyptus, but there are a few popular varieties for weddings in particular. You may see silver dollar eucalyptus, baby blue eucalyptus, parvifolia eucalyptus or willow eucalyptus in wedding decor and bouquets. Be sure to look up the different types, since they can come in many shapes and sizes, to see which would best suit your wedding needs.