What Wedding Details to Splurge and Save on
Not sure which elements to spend or save on? Here's a cheat sheet to help you decide.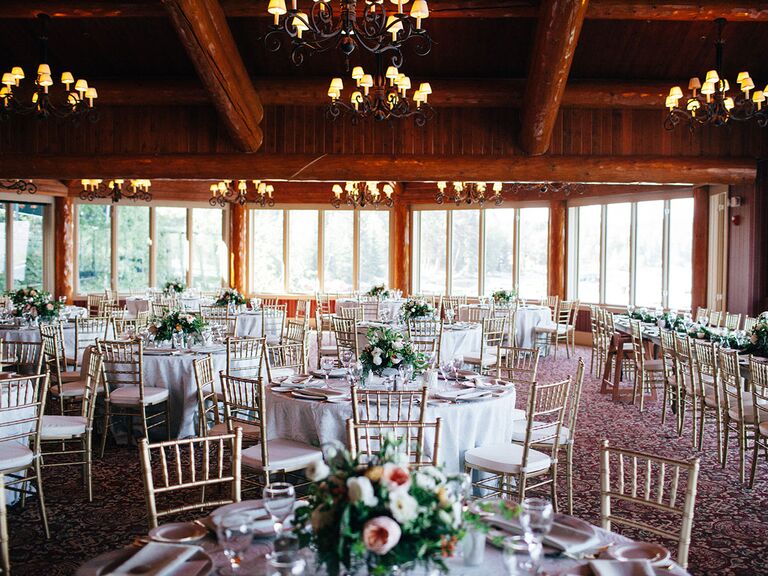 AMPERSAND STUDIOS
When it comes to planning your wedding, there's no bigger reality check than looking at your wedding budget and admitting the truth—you can't have it all. But don't hit the panic button yet. We know plenty of spending tips and tricks to help you save without feeling jipped on style. Of course, how much you decide to spend on each element is ultimately up to you, but if you figure out what's most important to you first, you can go from there.
Wedding Style
Save on: Makeup
This might come as a shock, but you don't have to look like a completely different person on your wedding day. It's completely fine to apply it yourself or have a beauty-savvy friend help. Otherwise, if you do your reseach and look through the amazing makeup artists in your area, you're bound to find someone who will work within your budget.
Splurge on: Wedding Dress
Okay, so this isn't a free ride to remortgage your home, but your dress—the dress—is a definite "spend" when it comes to your budget. Sure, you'll save more money with a cheaper fabric and less beading, but those extra bucks are worth getting the wedding dress you really love. 
Save on: The Veil
Putting a huge dent in your budget so you can have the dress of a lifetime? We get it. Whipping out your credit card for a veil that's almost the same price? Not quite as much. To stay within budget, stick with a simpler, more basic design with minimal embellishments (think: lace and beading) to cut costs.
Splurge on: Shoes
You might not need Jimmy Choos (unless you want them!), but investing in comfortable, good quality shoes is highly encouraged. To get the most bang for your buck, go with a pair in a neutral shade, like nude or gold, you can wear again (say, on your honeymoon and to your cousin's wedding next spring).
Save on: Accessories
Borrow a necklace, bracelet or earrings from the women in your family. Added bonus: If it's a sapphire, you'll have your something borrowed and your something blue! Now that was almost too easy.

Splurge on: Wedding Dress Alterations
Even a couture gown can look off if it doesn't fit properly, so don't skimp on alterations. Once you have the right fit in the bodice, there's wiggle room with the hem. If you only need the dress raised an inch or two, wear higher heels—as long as you can walk comfortably in them.
Flowers
Splurge on: Bridal Bouquet
You shouldn't settle for flowers you don't love if you have your heart set on a soft bouquet of pricey peonies. Still looking to save? Have your bridesmaids carry bouquets of fringed tulips or garden roses to get a similar romantic feel with a much more reasonable price tag.
Save on: Flower Girl
Instead of having her carry a posy or pomander bouquet, the youngest member of your bridal party can scatter rose petals in your wedding colors down the aisle. Better yet, buy fabric petals at a craft store. Your guests will be admiring the little lady too much to notice the blossoms she's throwing aren't real.
Splurge on: Centerpieces
Your centerpieces are a big factor in your reception look, so if your venue has high ceilings and calls for tall arrangements, don't downsize. Instead, choose locally grown flowers to cut down the cost, along with cylindrical vases, branches and even feathers to add some height and texture.
Save on: Ceremony Seating
Adorn pews or chairs with small clusters of blooms and long ribbon every few rows. If your wedding is in an ornate house of worship, you might be able to ditch these extras altogether.
Splurge on: Altar Arrangements
The altar is the focal point of the ceremony where you'll exchange vows, which is kind of the whole point of the day. Spruce things up with two eye-catching arrangements or a floral arch.
Save on: Entryway Décor
Instead of marking the entryway to an indoor ceremony with elaborate, expensive wreaths, hang pomanders from the door handles. You'll only need two, and you can use them again at the reception to decorate the doors or hang from the front of your bridal table.
Food and Drinks
Save on: The Bar
An open bar, though a favorite of wedding guests everywhere (and why wouldn't it be?), is expensive. Only offer wine, beer and a signature cocktail that matches your color scheme, like an orange-colored mango mojito or a chocolate martini.
Splurge on: Late-night Eats
If you're hosting an after-party, feel free to treat guests to burgers, fries, milkshakes or other favorite bites to keep the party going. This isn't required, but they'll love the laid-back menu and welcome a snack.
Save on: First Course
After enjoying all those appetizers, guests won't really need a soup and salad. Cut out one (or both) of these starters depending on the season. For winter months, serve butternut squash soup, or go with refreshing greens for the summer.
Splurge on: Entree
To control costs, instead of letting guests choose from steak, chicken and fish, serve two or three options together: Think small filet mignon and crab cake or lobster tail on each plate.
Save on: Dessert
This might sound controversial, since weddings seem synonymous with cake. If you want to go all out on a five-tier confection we are obviously all about that (see below)! But if cake isn't your thing, don't feel forced to spend tons of money on something you won't enjoy. Instead, satisfy your sweet tooth with a dessert table filled with cookies, macaroons and pastries, or an assortment of chocolate truffles. If you're having a cake, skip the extra sweets completely or box them as favors for guests to take home after the reception.
Splurge on: Hors D'oeuvres
You want your guests to eat—especially when the cocktails start flowing. This is often a favorite part of the day for guests (who will likely be starving after the ceremony), so have food stations ready or passed apps at the ready. Remember, spending a little extra on hors d'oeuvres doesn't mean you need to go into debt over an ice sculpture by the caviar table. Just make sure you offer good quality bites and that there's enough to go around.
Wedding Cake
Splurge on: Cake Baker
Even if your best friend swears she can bake like a pro, unless she's actually a pro, politely decline. Not only do you want to hire an experienced, professional cake baker who knows what they're doing, the cake also needs to be transported to the venue properly.
Save on: Tiers
A six-tier cake looks formal and expensive because it is. Order a cake with fewer layers or, if height is truly a must, go for the simplest buttercream frosting. The fewer bells and whistles (like fondant designs, sugar flowers and handpainted details), the less expensive your cake will be.
Splurge on: Flavors
Fancy fillings will cost you, so talk to your fiancé about whether to spend on a fresh filling or to forgo fillings altogether. However, when it comes to your actual cake, don't skimp and get a basic vanilla taste if you really want something different, such as green tea, white chocolate raspberry or cappuccino.
Save on: Frosting
While fondant has a smoother, porcelain look, it's pricier, has a chewy texture and not-so-pleasant taste. Buttercream might not look quite as smooth as fondant, but it tends to taste better and, if done right, you can barely tell the difference in appearance. Only caveat: Since buttercream spoils faster, stick with fondant if you're having an outdoor in a super-warm climate.
Splurge on: Display
Add drama to your display by going all out on a pretty cake stand. Surround the stand with fresh flowers or create a glowing backdrop with votives. Another way to dress up your display: A custom cake topper. Order toppers in cute figurines to represent you two, your initials or a topper with a sweet message like "Best Day Ever."
Save on: Accents
Sugar flowers may look pretty, but those mini, edible blooms take a lot of manpower to make, which definitely add up. Go with a simple design (think: white icing dots or ribbon bands) and spruce it up with fresh blooms matching your bouquet.
The Reception
Splurge on: Music 
Pick the wrong band or DJ, and you might as well send your guests home after dinner. We know $5,000 sounds like a lot, but music dictates the mood of your reception—not a task for amateurs. Trust us on this one!

Save on: Table Numbers
Embrace your inner DIY goddess and make these on your own. Personalize each table number with engagement photos, postcards of places you've been together or funny childhood snapshots.
Splurge on: Lighting
A sea of hanging lanterns or twinkling string lights can turn a tent into a totally romantic venue. We also love spotlights on dramatic centerpieces and an ultra-modern, illuminated monogram projected on the dance floor. Whatever your wedding style, the right lighting will make your celebration extra-special.
Save on: Favors
Not into favors? In lieu of goodie bags, donate to your favorite charity on behalf of your guests. Print a note about the donation on your escort cards. Most guests will be happy to help a good cause rather than take home a mini frame or bag of almonds.
Splurge on: Photography
You'll cherish your wedding photos forever, so do your research to find a shooter who suits your style—even if they're a little expensive. Our advice: Hire a photographer with an assistant for two roaming lenses throughout the celebration.