17 Chic Ways to Decorate With Rustic Wooden Crates
When it comes to the vintage rustic wooden crate, it's all about thinking outside the box.
If you're opting for a rustic wedding, it's all about fresh details and natural textures. When it comes to rustic décor, there's one versatile staple you don't want to overlook: the all-purpose wooden crate. From flower-filled crates lining the ceremony aisle to artfully stacked escort card displays and DIY cakestands, there are so many unique ways to think outside of the box (or crate, if you will).
To help you discover new ways to use rustic wooden crates, we've rounded up 17 of our favorite creative—and functional—ideas to inspire your planning.
Rustic Escort Card Table With Lavender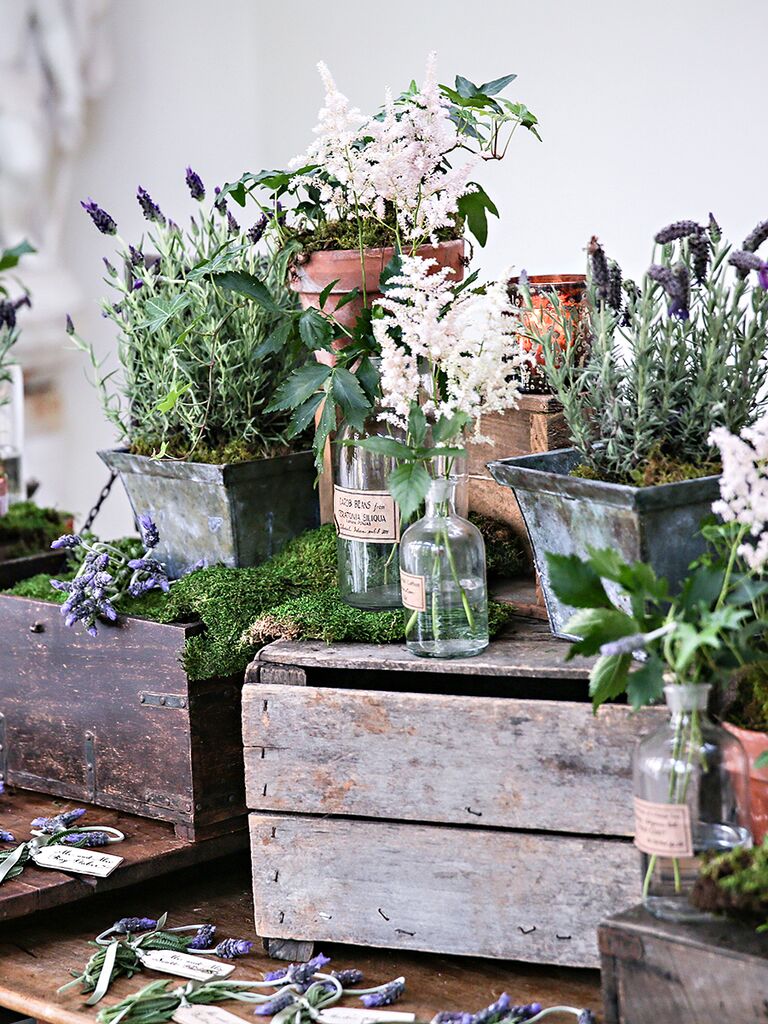 From: Wine Country Themed Wedding in the Woods at Pomme in Radnor, Pennsylvania
Ceremony Décor With Fresh Flowers
From: A Modern Mountain Wedding at Ten Peaks in Crested Butte, Colorado
Vintage Ceremony Setup With Programs and a Petal Toss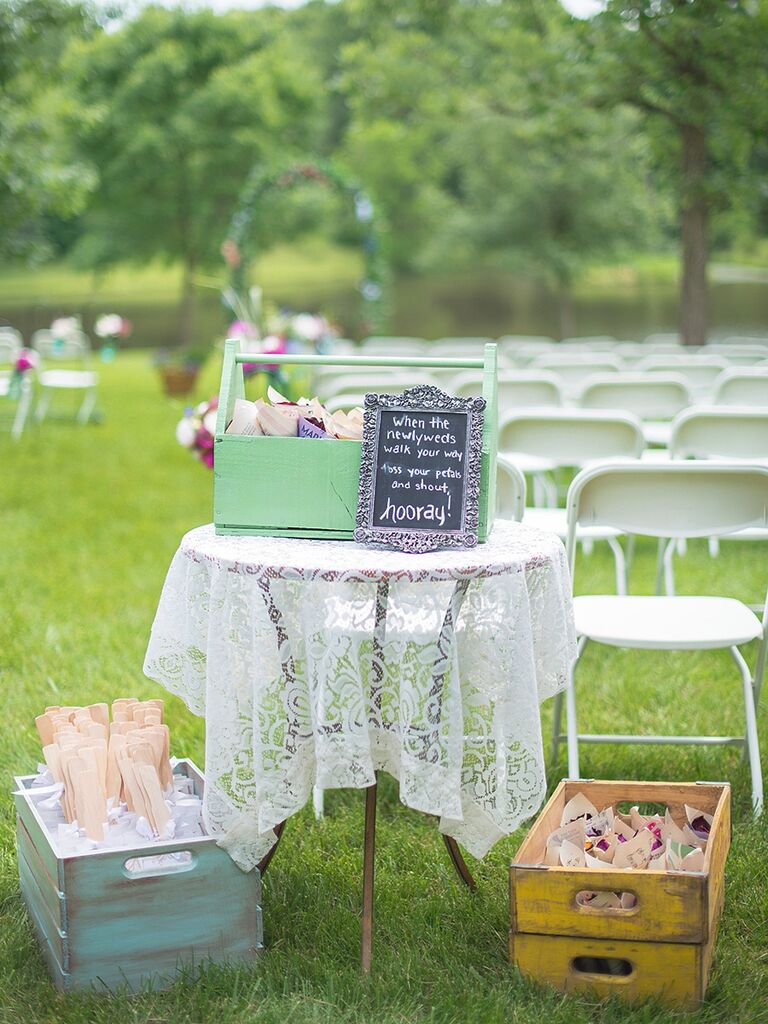 From: A Vintage-Inspired Barn Wedding on a Family Farm in Mt. Pleasant, Iowa
Stacked Photo and Décor Display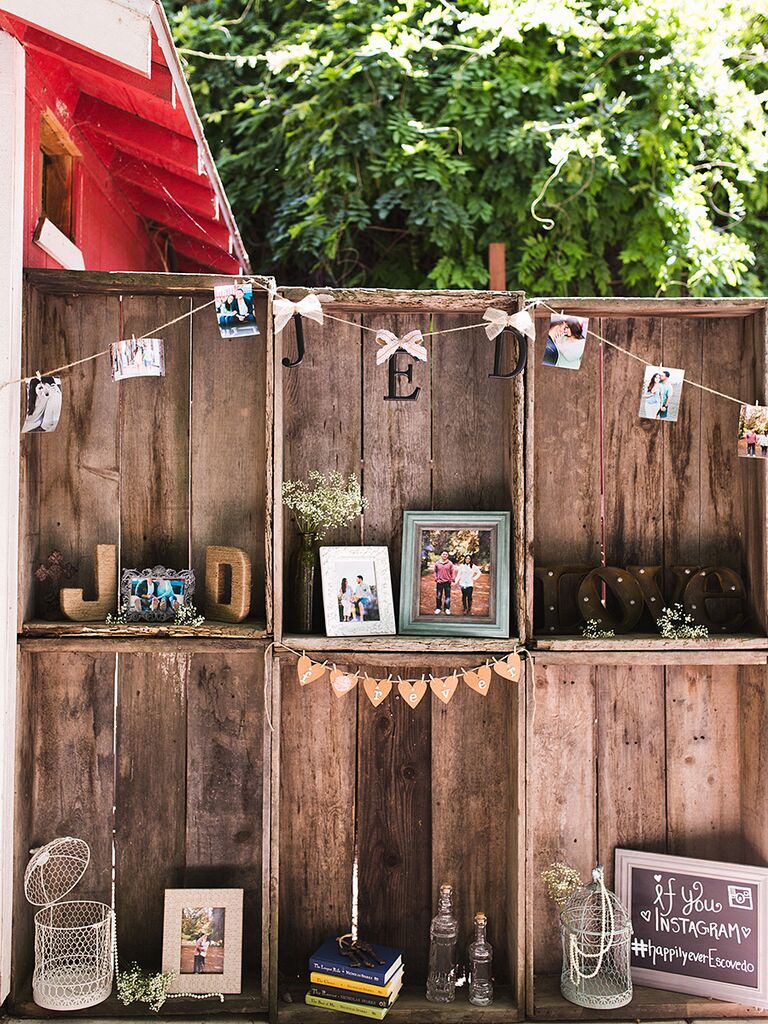 From: A Rustic Garden Wedding at the Grove in Sanger, California
Antique Aisle Decorations With Flowers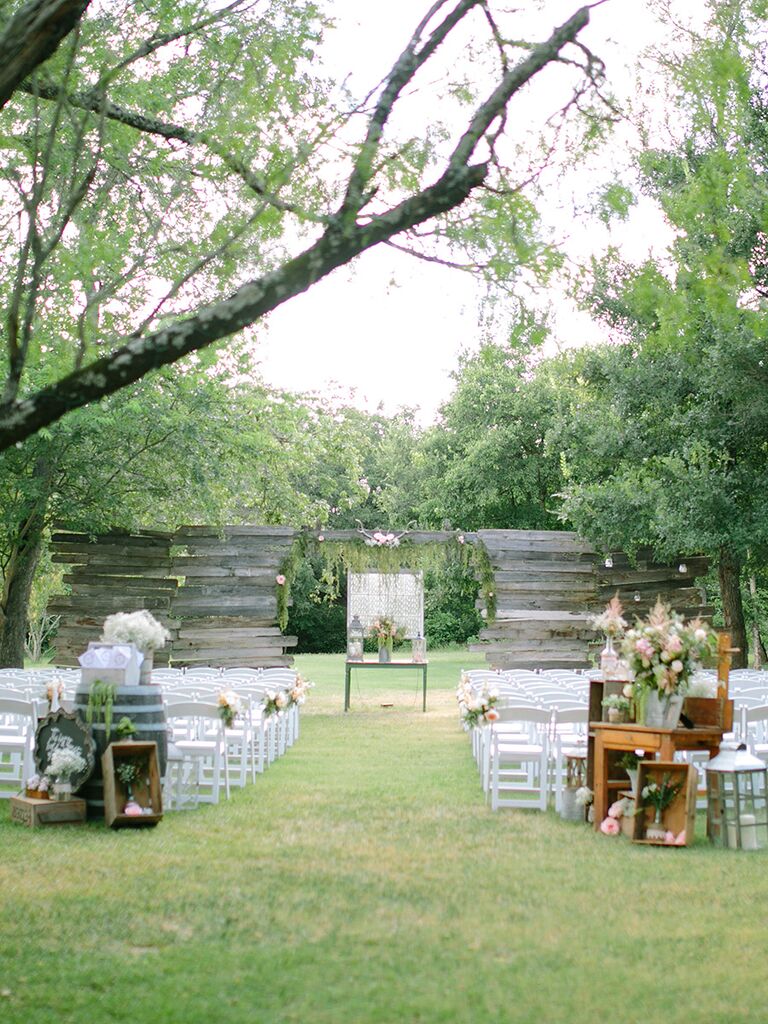 From: A Rustic, Country Wedding at Cedar Bend Events in Cedar Creek, Texas
Centerpiece With Dahlias, Garden Roses and Succulents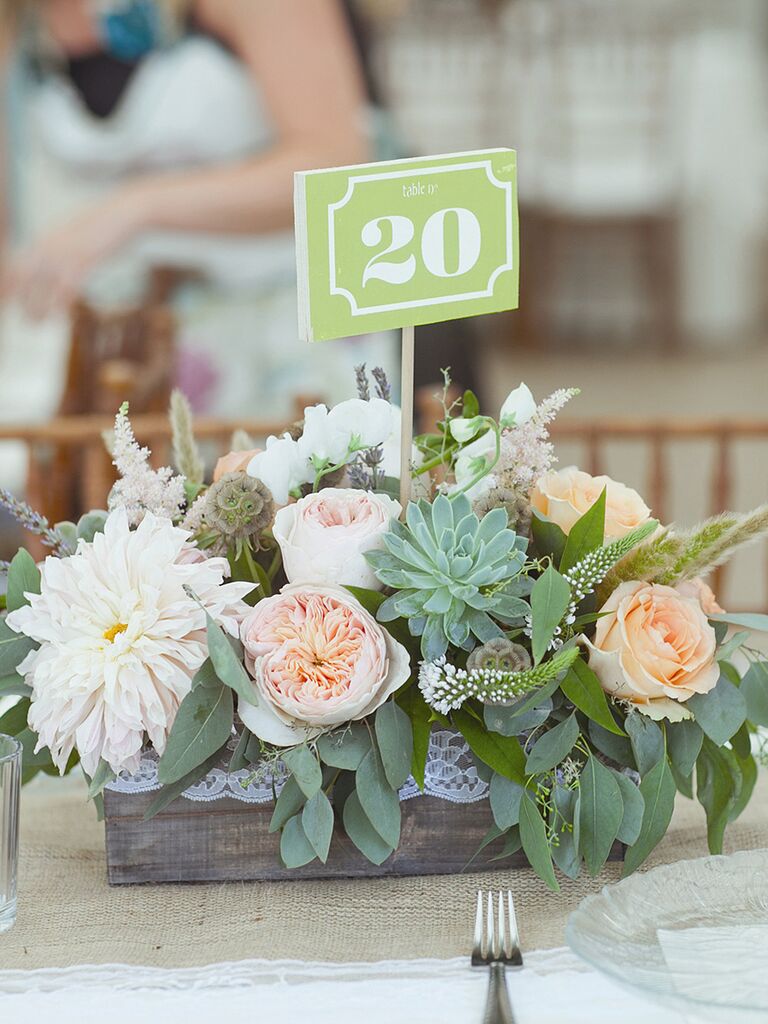 From: A French Country Wedding in Laporte, CO
Romantic Decor With Jewel-Toned Blooms and Candles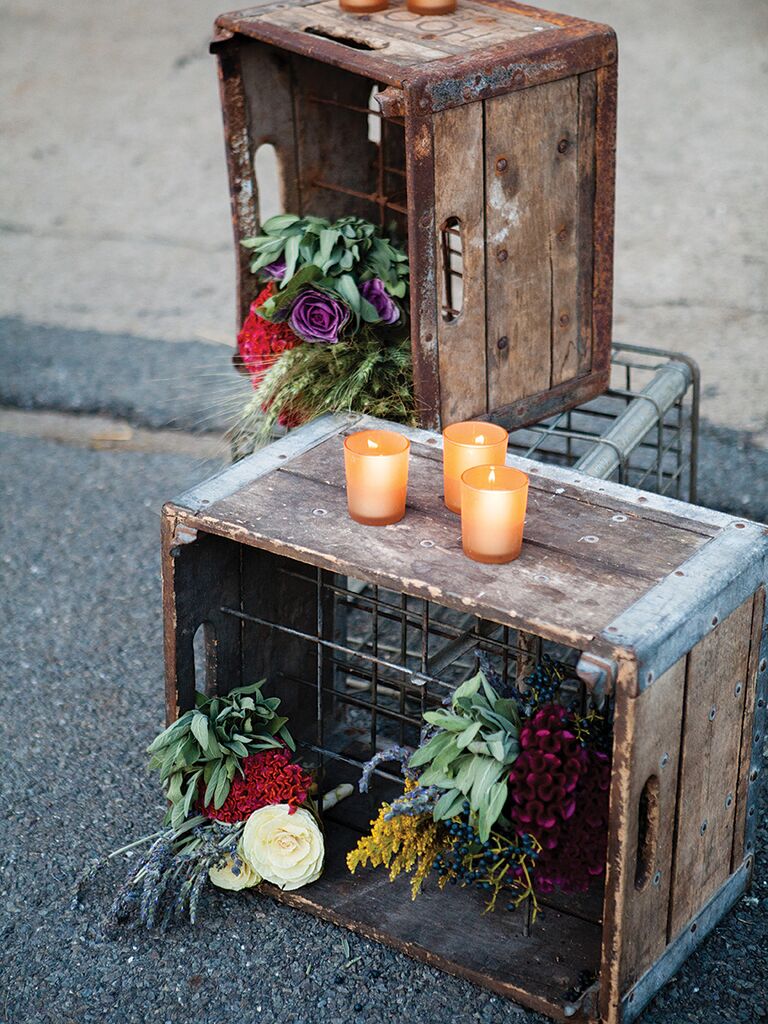 From: A Vintage Wedding in Wells, ME
Antique Drink Station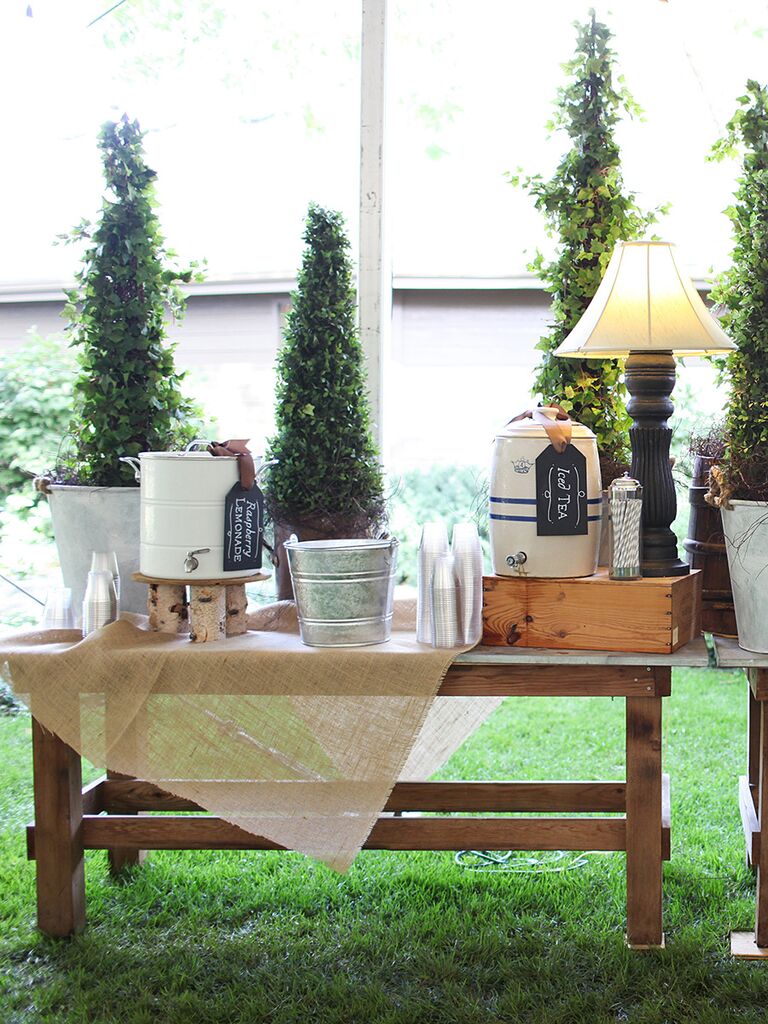 From: A Backyard Wedding in Lincoln, NE
Lush White and Green Centerpiece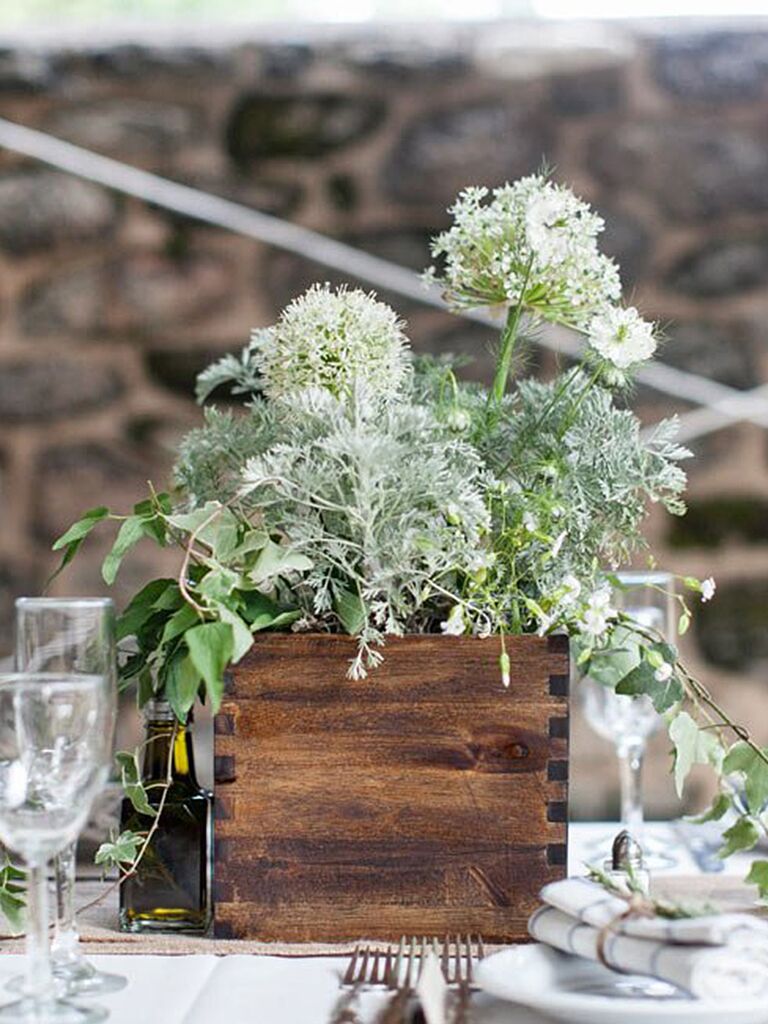 From: A Country City Wedding in Philadelphia, PA
Vintage Dessert Station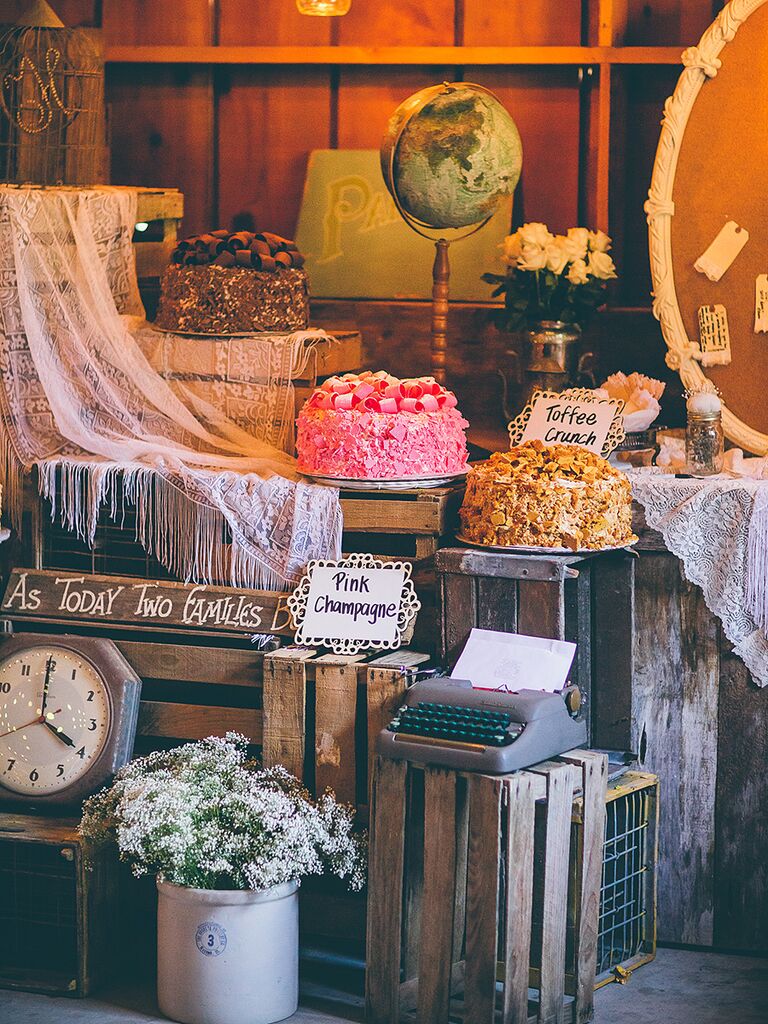 From: A Rustic Barn Wedding With Bohemian Flair at a Private Residence in Huasna, California
Anniversary Wine Message Table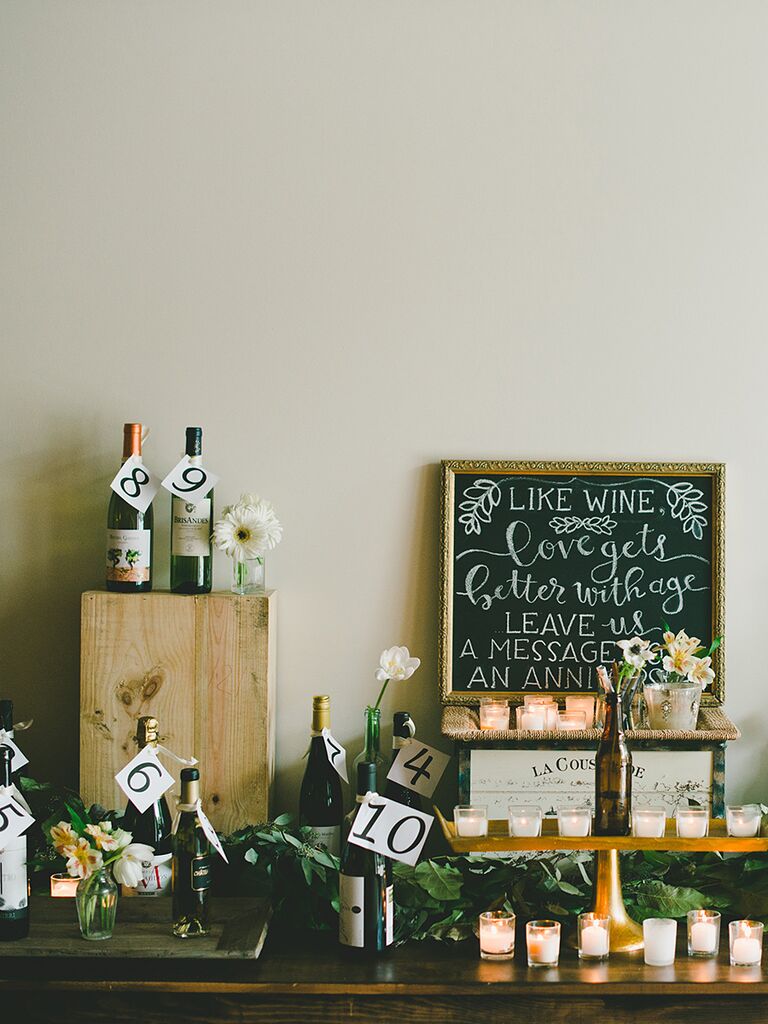 From: A Romantic, Natural Wedding at the Loft on Pine in Long Beach, California
Rustic Moss Escort Card Display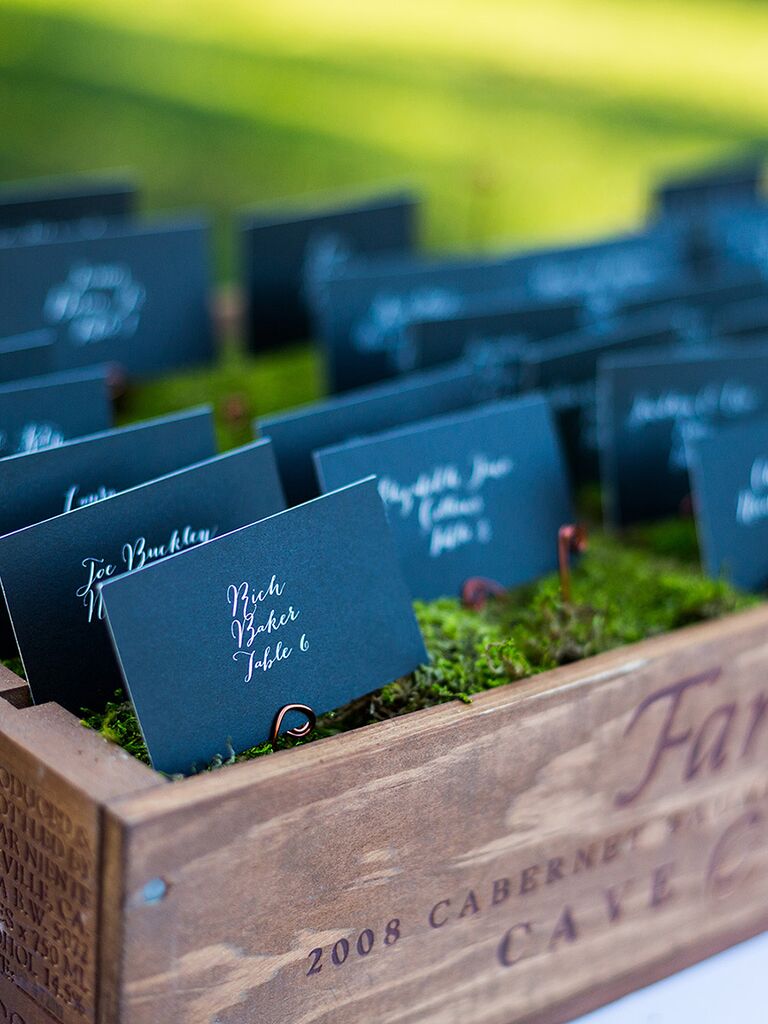 From: A Chic Garden Wedding at the Inn at Fernbrook Farms in Chesterfield, New Jersey
Naked Cake Stand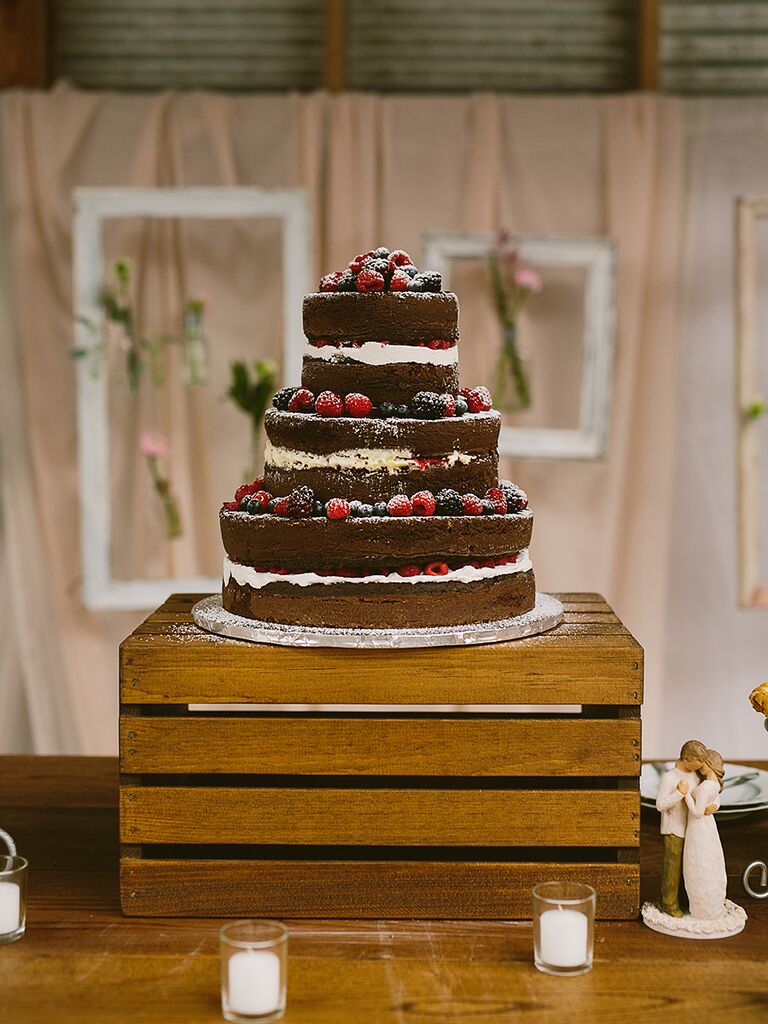 From: A Refined, Rustic Wedding at Sinkland Farms in Christiansburg, Virginia
Bright Mix-and-Match Tabletop Colors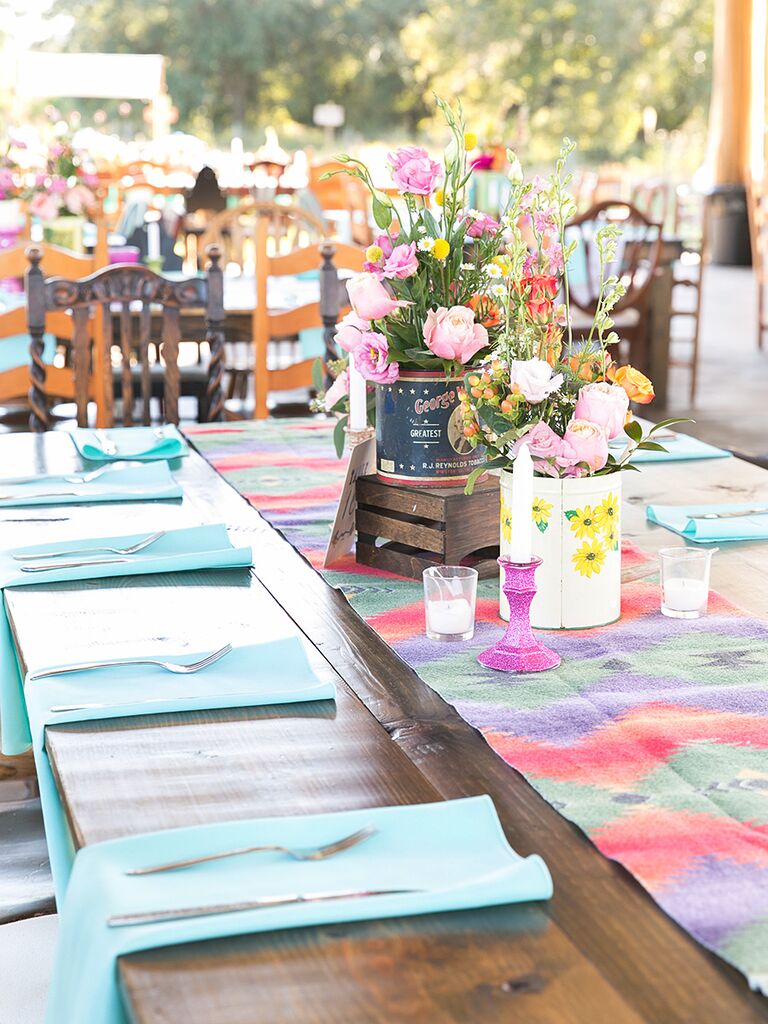 From: An Americana-Inspired Wedding at Isola Farms in Groveland, Florida
Repurposed Vintage Crates With Roses and Hydrangea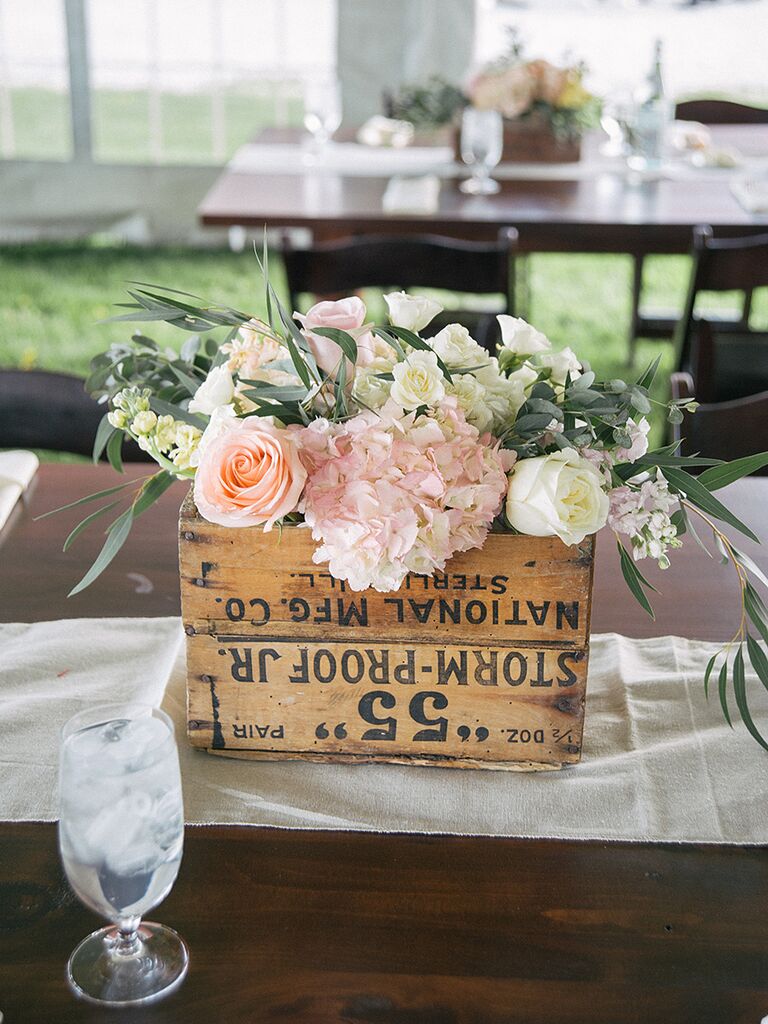 From: A Rustic Chic Wedding at White Star Farm in London, Ohio
Dessert Display With Multiple Cakes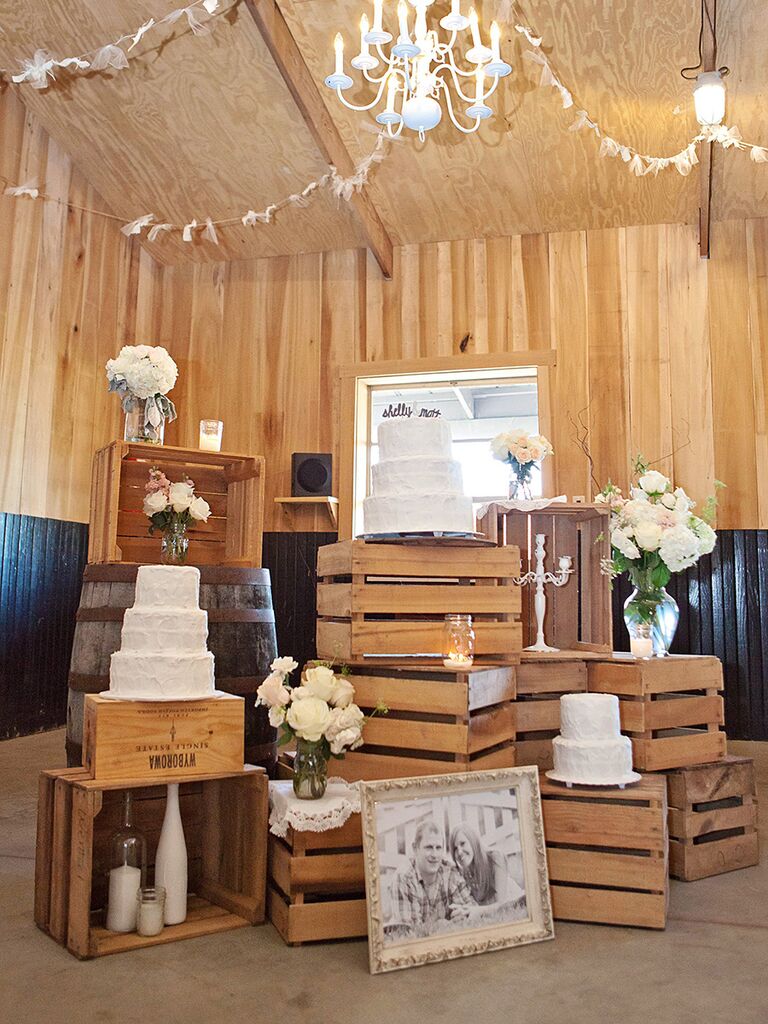 From: A Walhill Farm Wedding in Batesville, Indiana
Clothing Pin Escort Table With Chalkboard Signs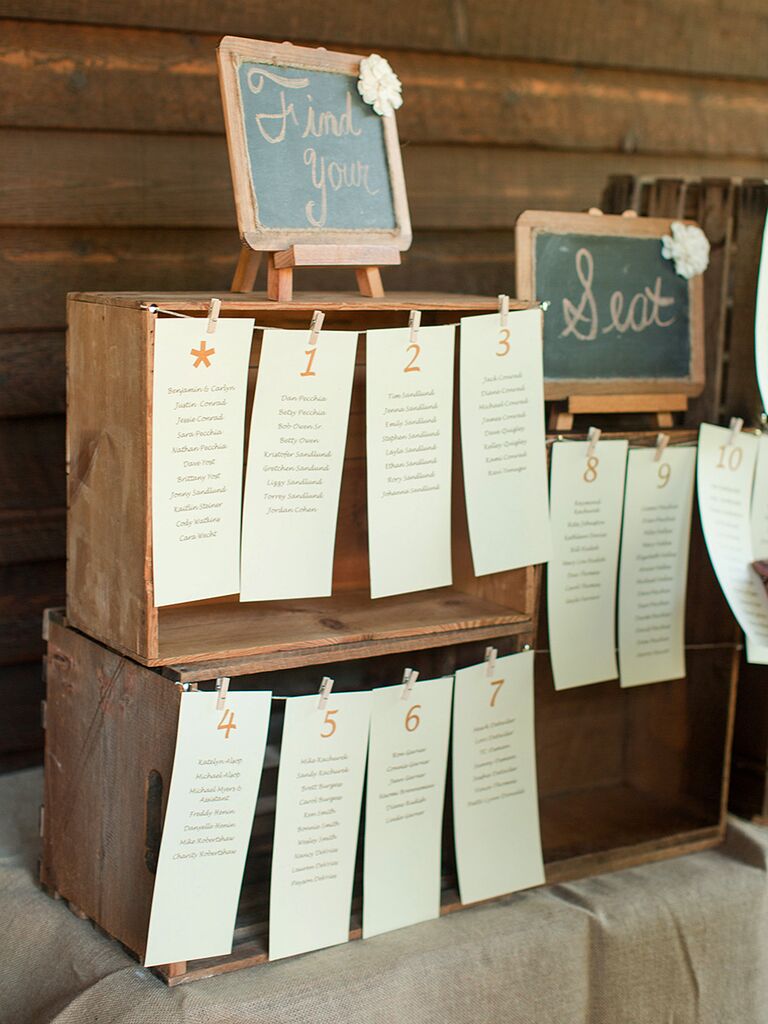 From: A Rustic, Boho-Chic Wedding at the Barn & Gazebo in Salem, Ohio