The Knot Gala 2017 Took 'A Midsummer Night's Dream' to the Next Level
The eighth annual The Knot Gala was a dream—A Midsummer Night's Dream, to be exact. Read all about the fantastical festivities here.
by Ivy Jacobson and Maggie Seaver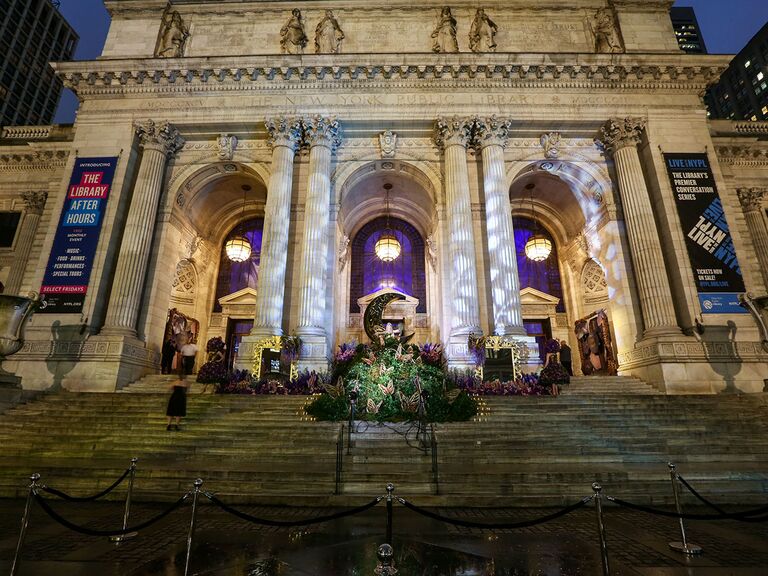 It's no secret that The Knot loves a good party—and throwing them too—so our eighth annual extravaganza celebrating the wedding industry and the close of Bridal Fashion Week, The Knot Gala, was nothing short of an incredible, beyond-your-wildest-dreams evening. No—seriously. Wedding planner extraordinaire Emily Clarke of Emily Clarke Events flawlessly coordinated and executed the event with the theme Met by Moonlight, which was as enchanting as it was mystical.
"I took a lot of inspiration from A Midsummer Night's Dream set design and the soft aesthetic they achieved with a moody and dark setting," Clarke tells us. "In my head, the gala theme has always been 'If Shakespeare Was a Millennial.' I wanted to take a traditional theme and turn it on its head and add playful, unexpected elements for a more modern twist. It started with brainstorming in color. I've been really inspired recently to work with unexpected colors and to explore contrast. For The Knot Gala, I was envisioning dark to light and the juxposition of the two together."

Set at the iconic New York Public Library in New York City, Clarke and other pros who brought the evening to life created a whimsical forest complete with magical creatures, fantastical bites and sips, lush photo stations and much more. There's no doubt The Knot Gala 2017 was the party of the year. See some of our favorite moments below, captured by Hechler Photographers, and gather inspiration for your own wedding.
A Dream Venue
The grand, awe-inspiring New York Public Library was the perfect setting to illustrate the Met by Moonlight theme. 
Luxe Invitations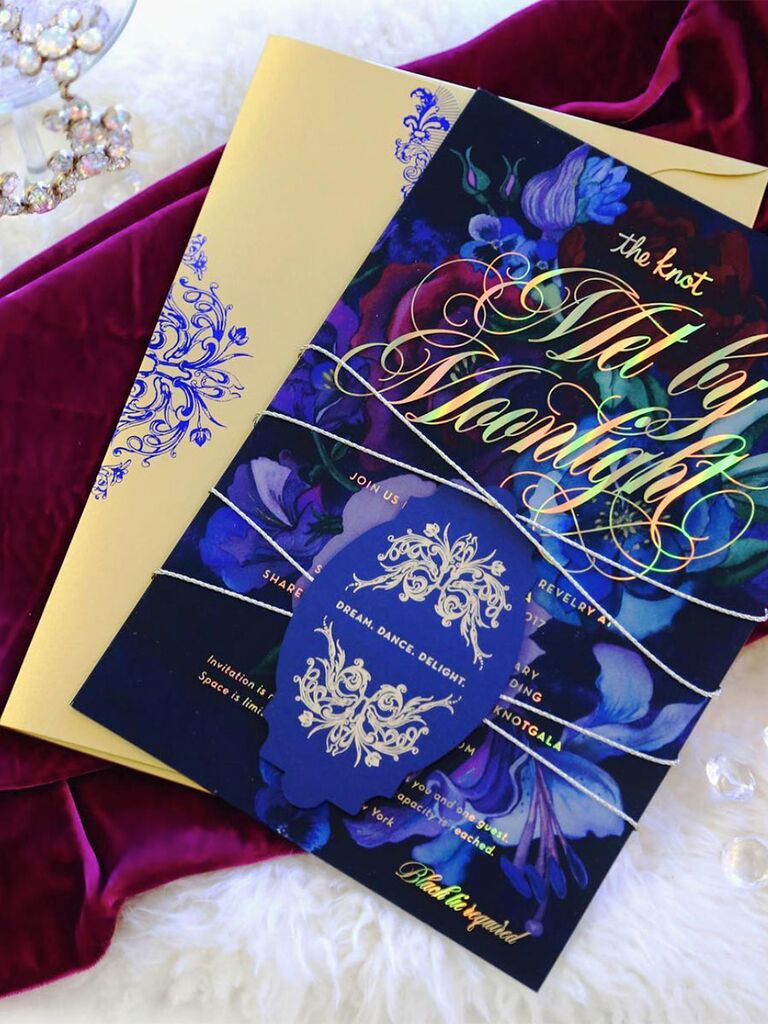 Stationer CECI New York set the tone for the evening with a gorgeously decadent invitation, combining deeply hued floral designs with metallic gold calligraphy. 
Edible Experiences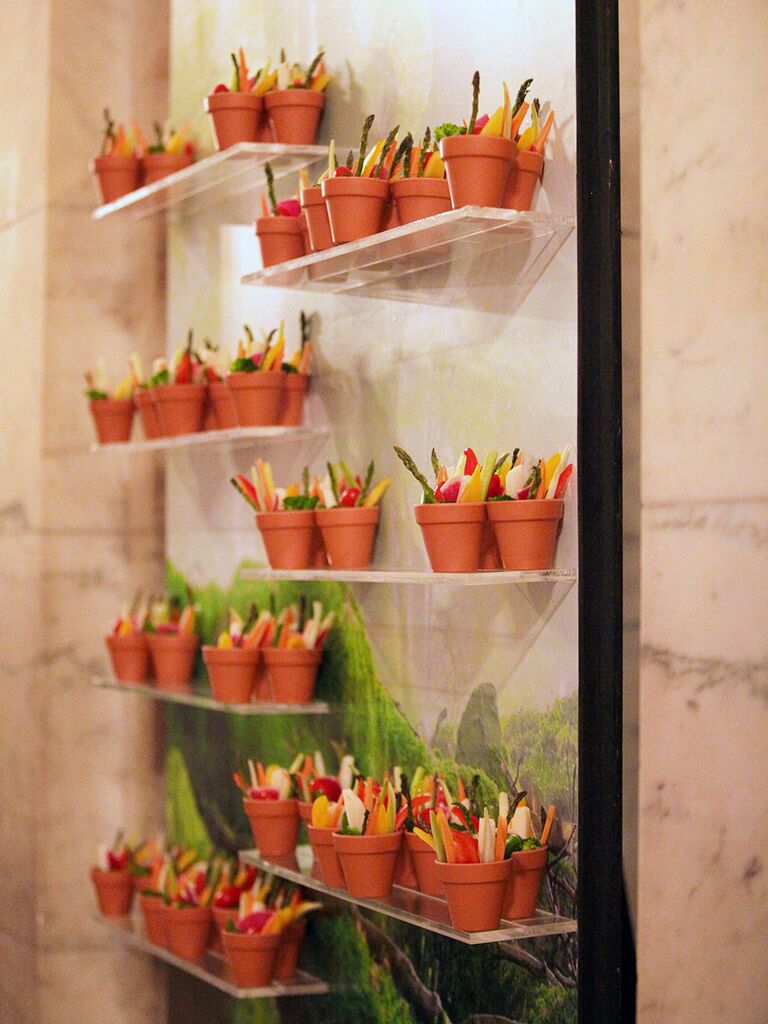 "I got the opportunity to work with brilliant caterers Jeffrey Selden and Robin Selden of Marcia Selden Catering," Clarke says. "They're incredible at food presentation and design." Marcia Selden Catering showed its incredible expertise with multiple interactive food stations that served up delicious churros and dipping sauce, mini ice pops, tiny gardening pots of crudité (seen above on a display by HITECH Events, LLC) and more. And what would an enchanted setting be without a foodie fairy sprinkling magical "fairy dust" seasoning on several dishes? 
Gourmet Presentation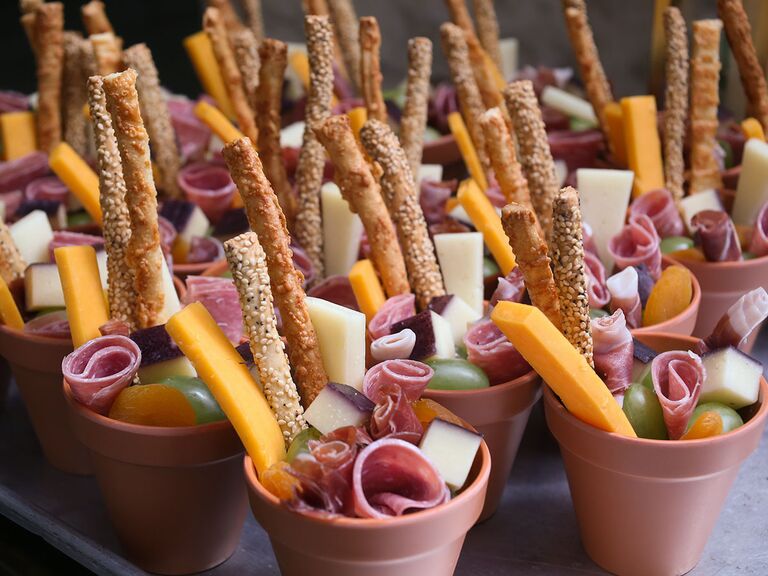 How genius are these on-theme, clay gardening pots filled to the brim with gourmet charcuterie from Marcia Selden Catering? Now that's how you reinvent the cheese board.
Satellite Sip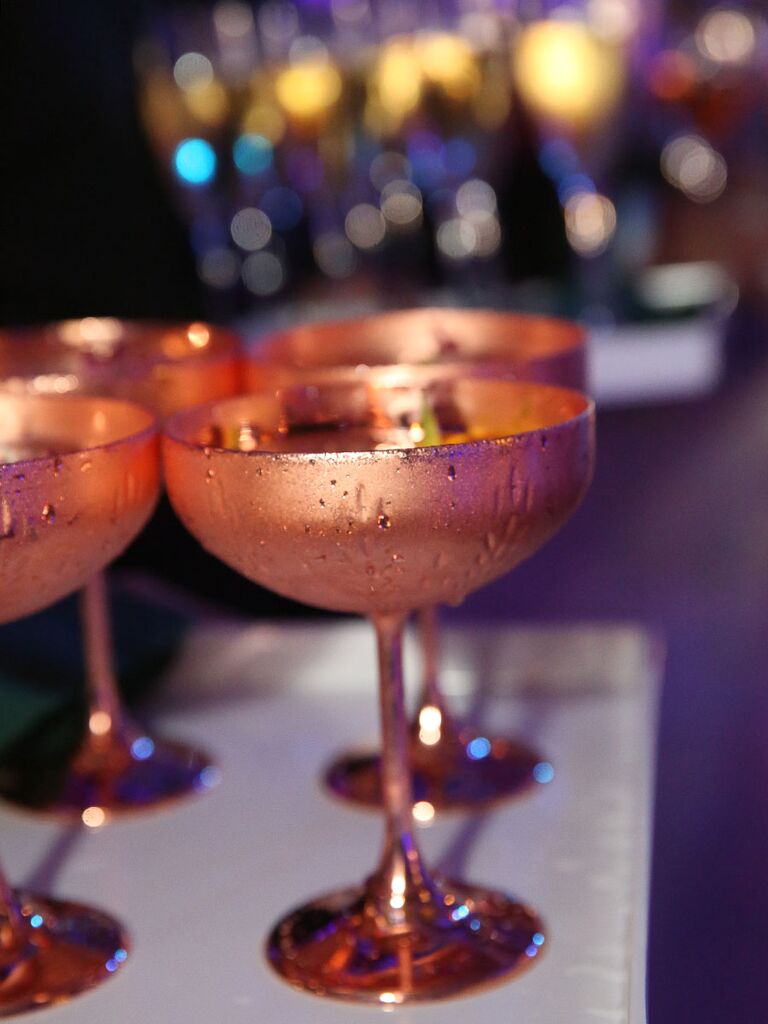 Guests enjoyed beverages from Elyx Copper Bar—the perfect refreshment during breaks from the dance floor.
Bubble Bar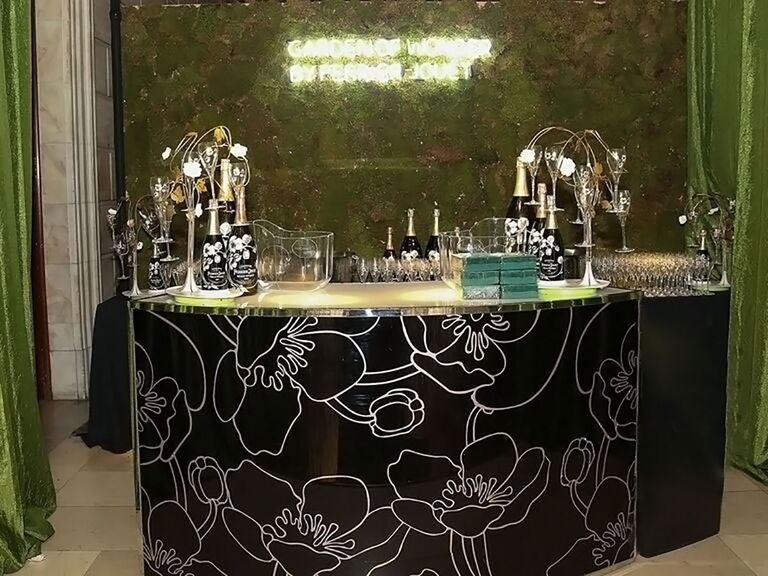 Pernod Ricard USA kept ice-cold Perrier-Jouët champagne and delicious spirits flowing all night long at the Garden of Wonder bar with a custom floor by HITECH Events, LLC, and floral installation by Emily Clarke Events. 

Artful Accents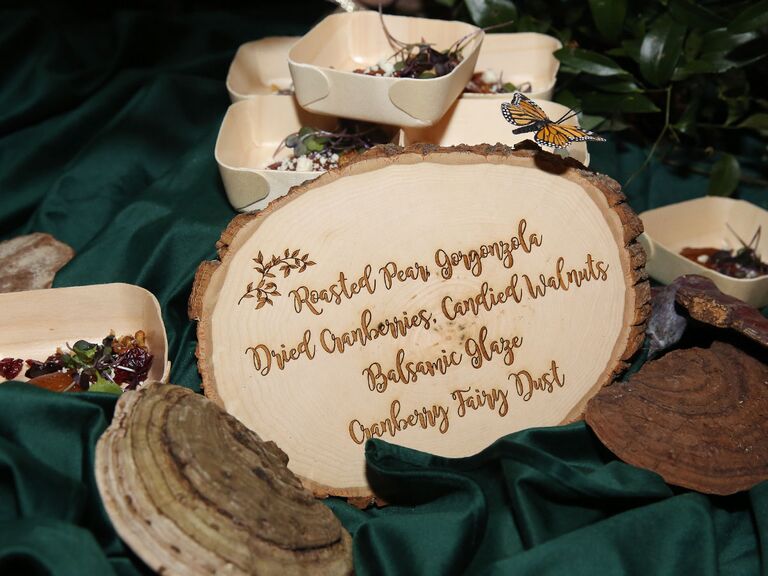 Surface Grooves laser-etched exquisite details, like hors d'oeuvres descriptions, in whimsical script worthy of Shakespeare himself onto wooden signs.
Glamorous Amenities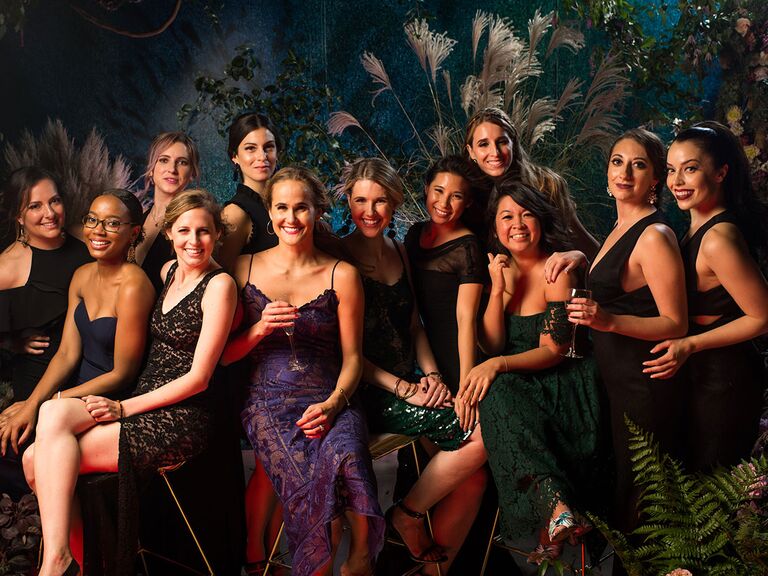 Guests had the chance to pose like A-listers at the coolest portrait lounge ever, provided by Banga Studios, complete with wild greenery and florals from L'Atelier Rouge and a wind machine.

Luxe Lounge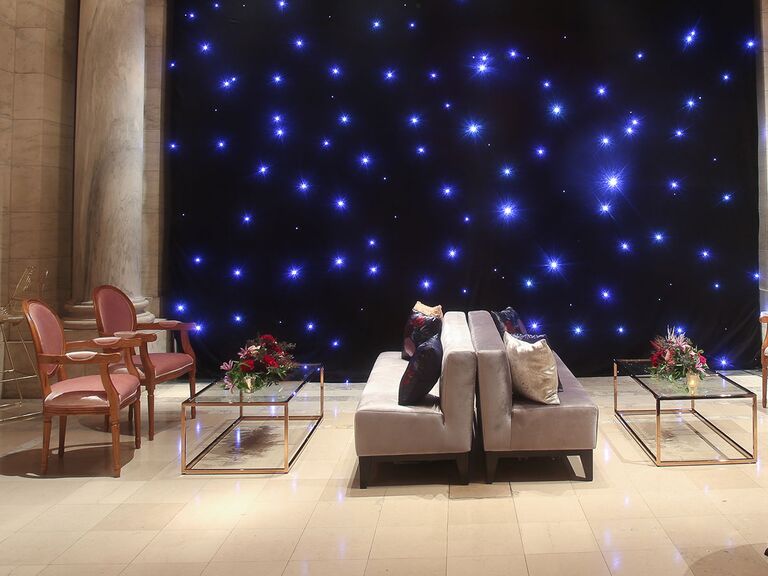 A stylish lounge area from High Style Rentals made it possible for partygoers to chat and cheers while relaxing under the stars.

An Abundance of Blooms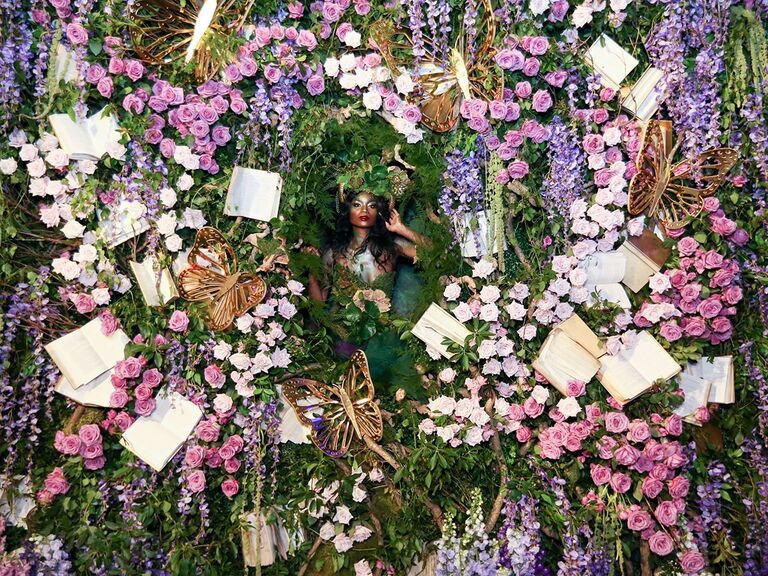 The visionary team at Design House Decor quite literally brought the New York Public Library to life. Verdant vines, too-gorgeous-to-believe flower installations and live trees from L'Atelier Rouge transformed the historic marble building into a lush, fantastical and Shakespearian-esque garden.
Midnight in the Garden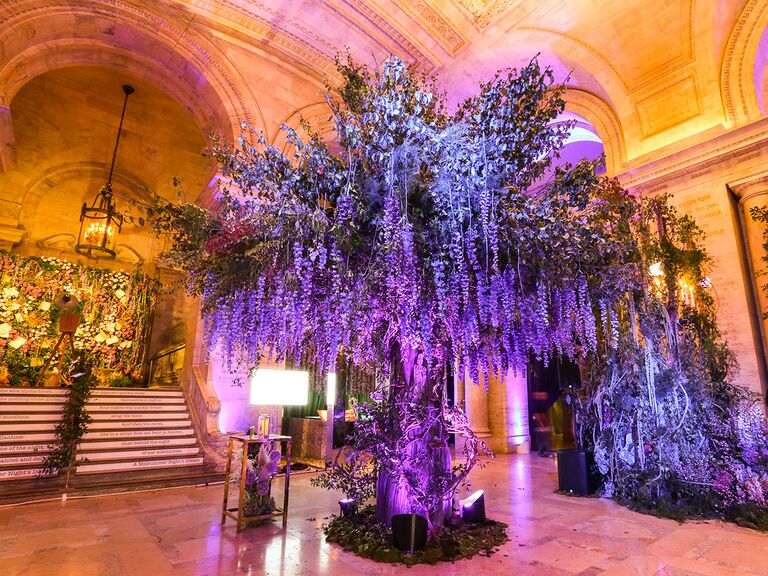 Levy NYC's dreamy lighting helped make the entire experience twice as magical. Warm, gold chandeliers and cool, indigo uplighting on live trees from L'Atelier Rouge created just the right atmosphere and gave every corner of the party an enchanting glow.
Wonder Walls
Over-the-top lighting and design by DJ Jacob Co was projected onto the walls and ceiling to light up Gottesman Hall and L'Atelier Rouge's dazzling trees dripping with fresh blooms.
Libation Station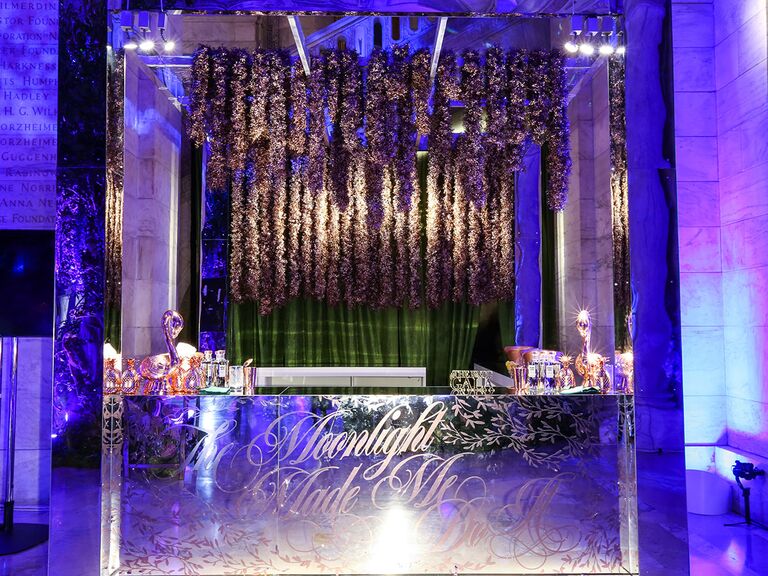 Emily Clarke Events artfully designed this opulent, mirrored bar, produced by HITECH Events, LLC, that served up Absolut Elyx Copper Pineapples and more. 
Don't Stop the Music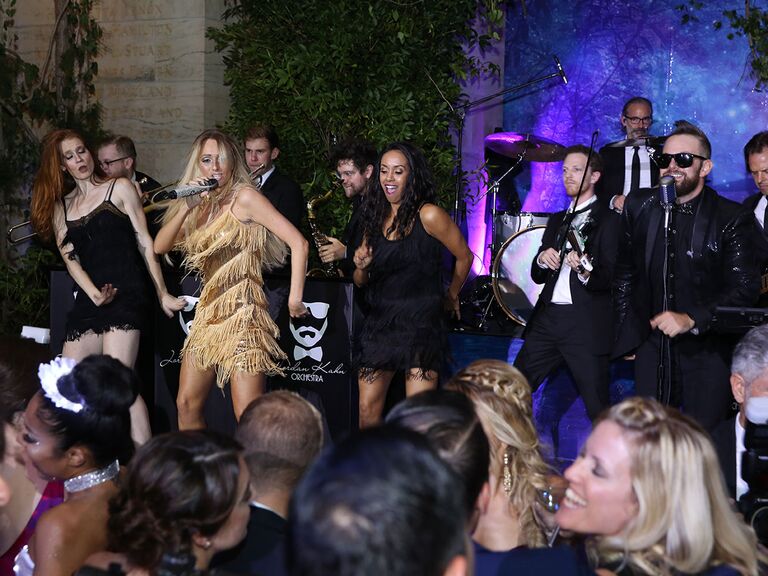 There's no better spot to be at The Knot Gala than on the dance floor, and fabulous live entertainment from Jordan Kahn Music Company kept guests dancing to top hits and classic tunes all night long. 
Fantastical Creatures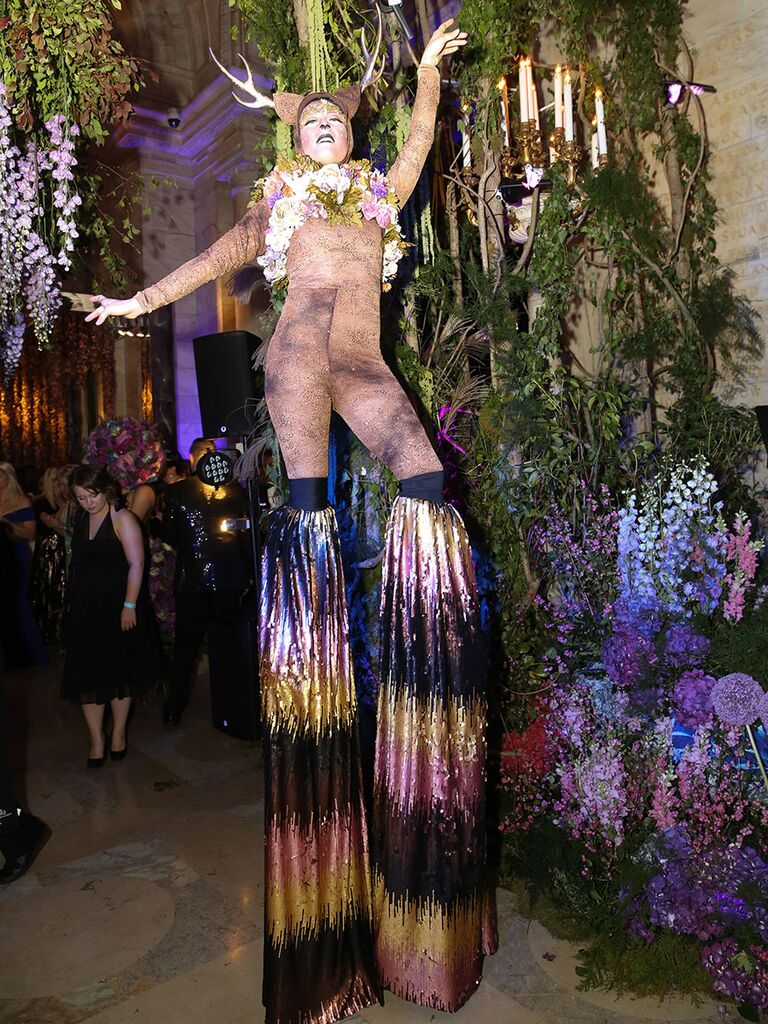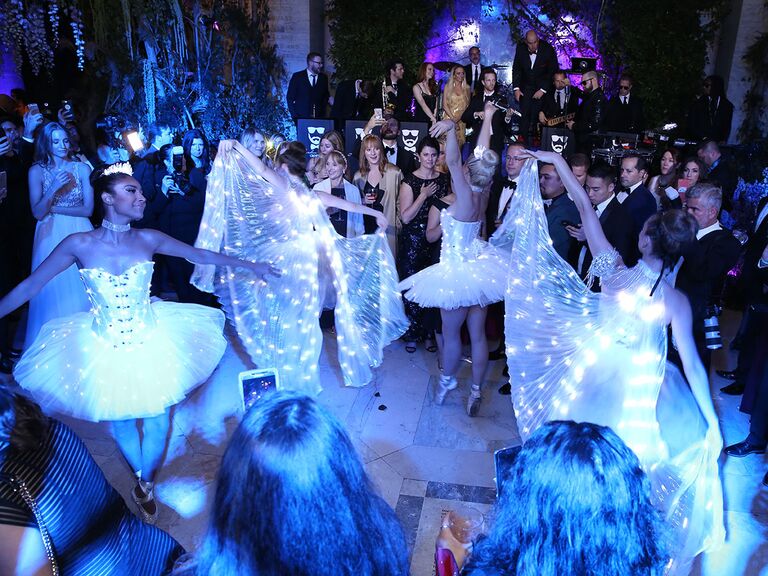 Whimsical deers on stilts and LED light ballerinas walked, danced and sashayed throughout the party to guests' delight, thanks to Shien Artists.
Floral Statues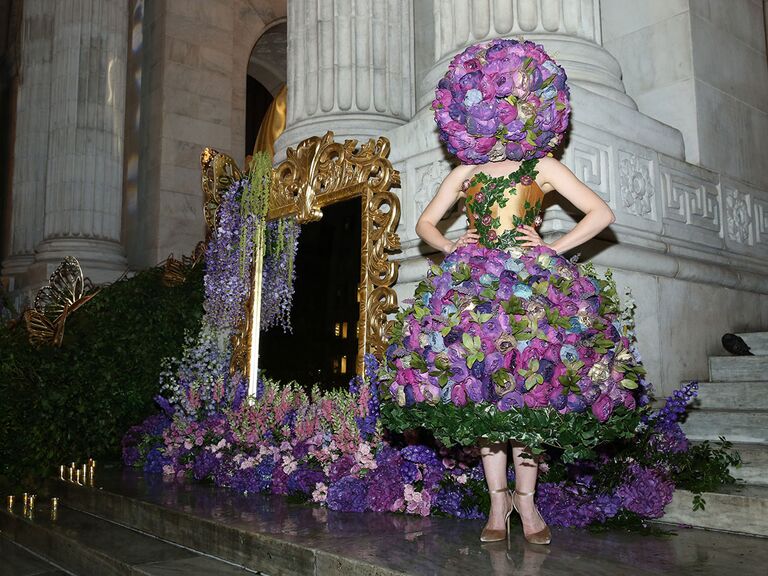 Besides the creatures, attendees also loved the floral "statues" that roamed the venue, showing off their gorgeous gowns and headpieces made of purple and pink blooms and greenery, provided by Scarlett Entertainment.
Lovely Linens
The team at Nuage Designs draped gorgeous linens along the tables in the theme's signature deep colors. 
Photo Booth Fun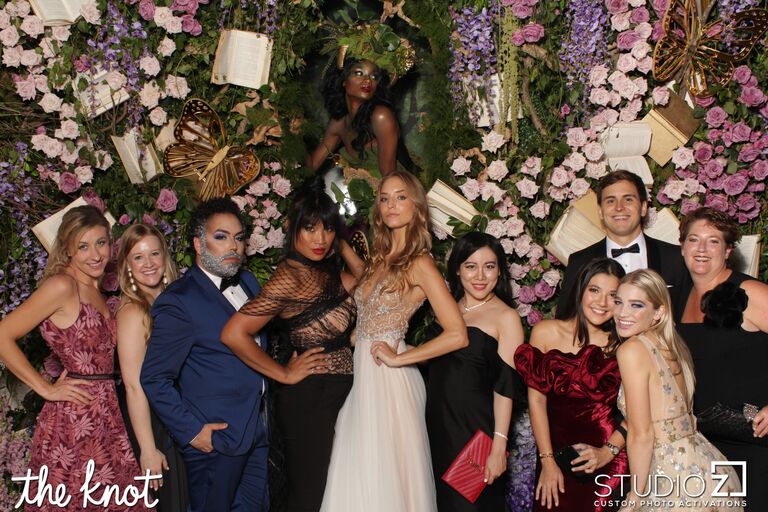 Besides the portrait lounge, guests also posed in Studio Z Photo Booths' charming setup with lush florals, butterflies and even a special woodland guest.
Spa Snaps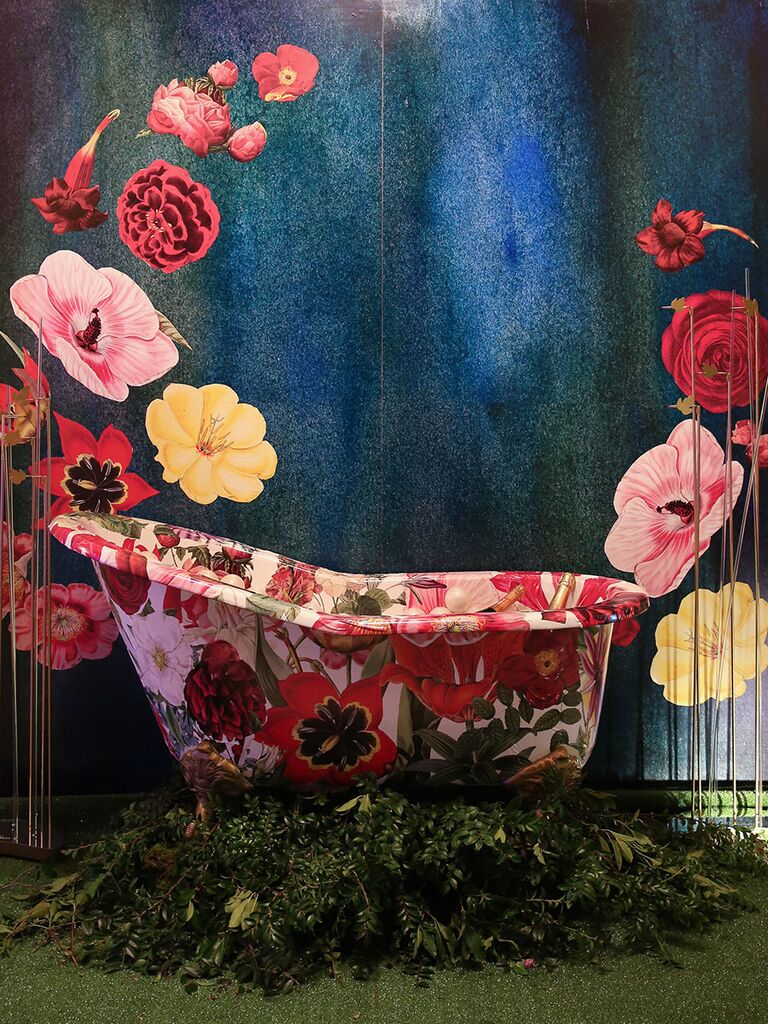 A luxe bathtub filled with pearls and Perrier-Jouët champagne was the perfect Insta photo op, set against a luscious floral backdrop produced by HITECH Events, LLC. 
Sleek Signs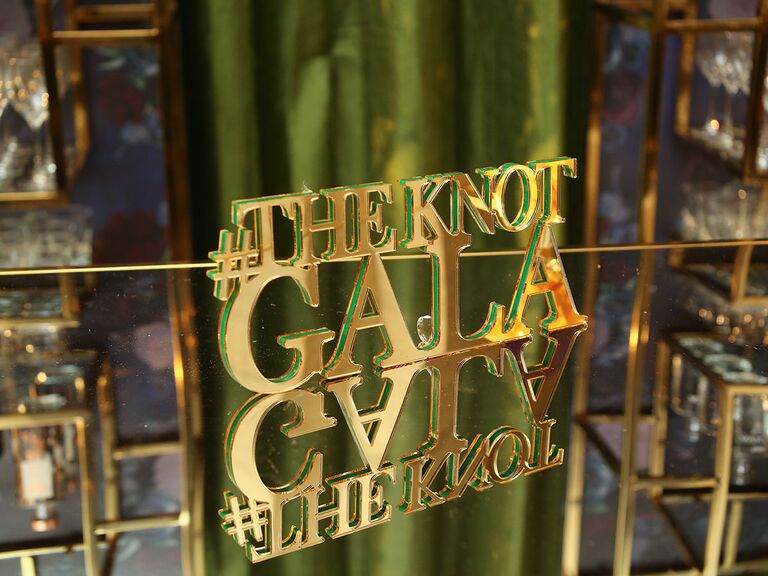 To let everyone know they were at the best party ever—and remind them of what hashtag to use on social media (check out the pics!)—Dogwood Blossom Stationery created these sleek gold signs stationed around the New York Public Library. 
Green Scene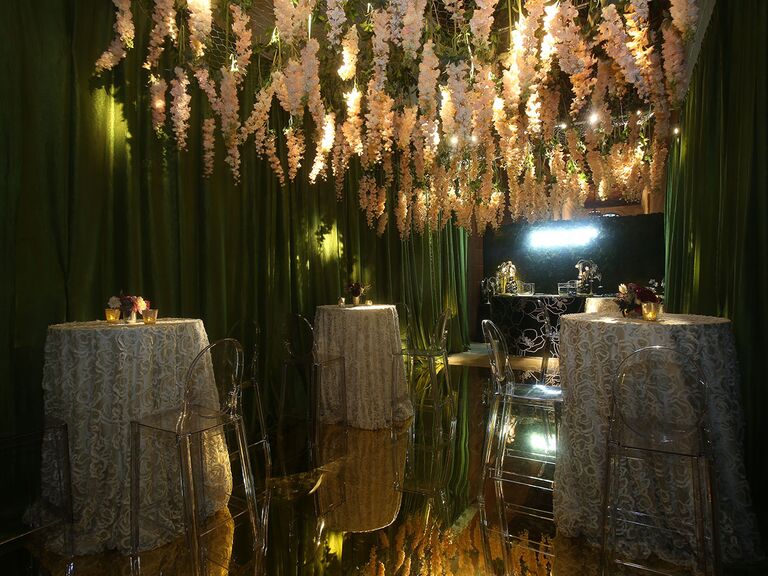 Decadent drapes from Swag Décor elegantly covered the walls to set the scene.
Filter Fun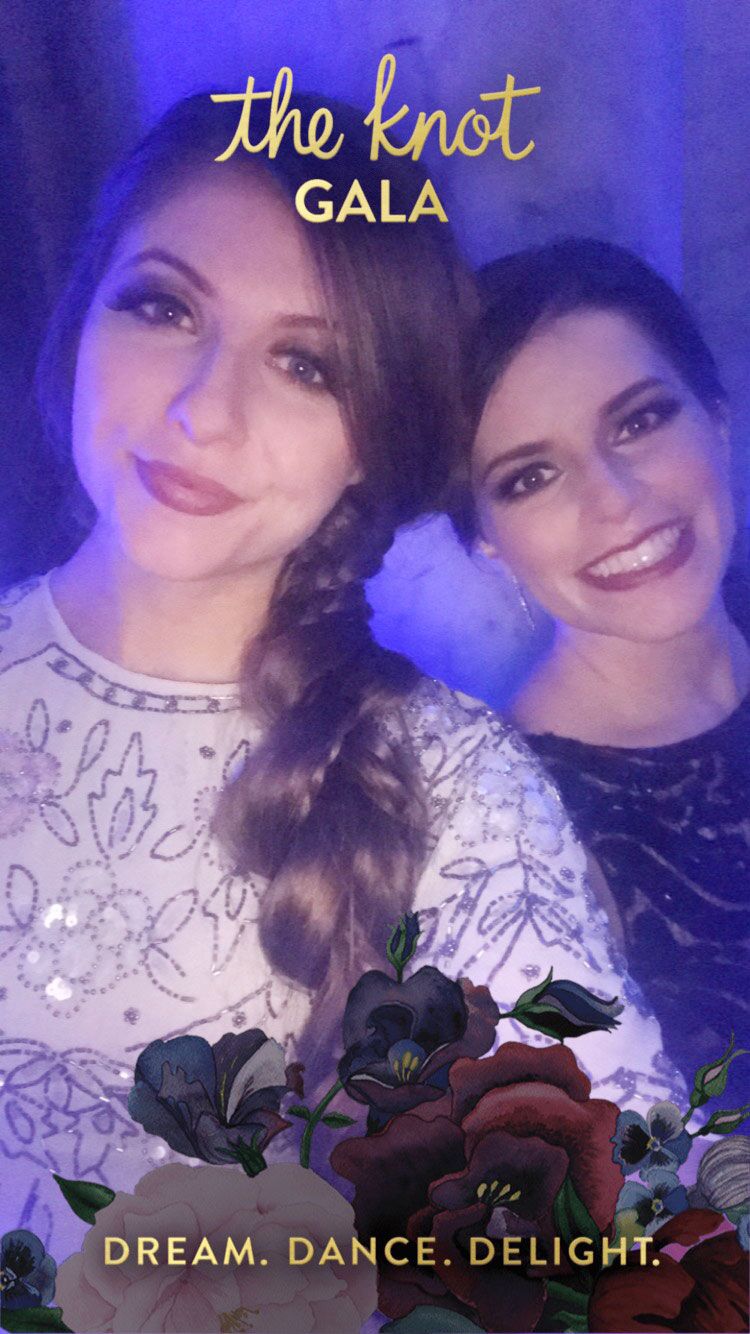 What's a party these days without a cute Snapchat geofilter? Guests loved the custom filter created by the talented Méldeen.

Gorgeous Gowns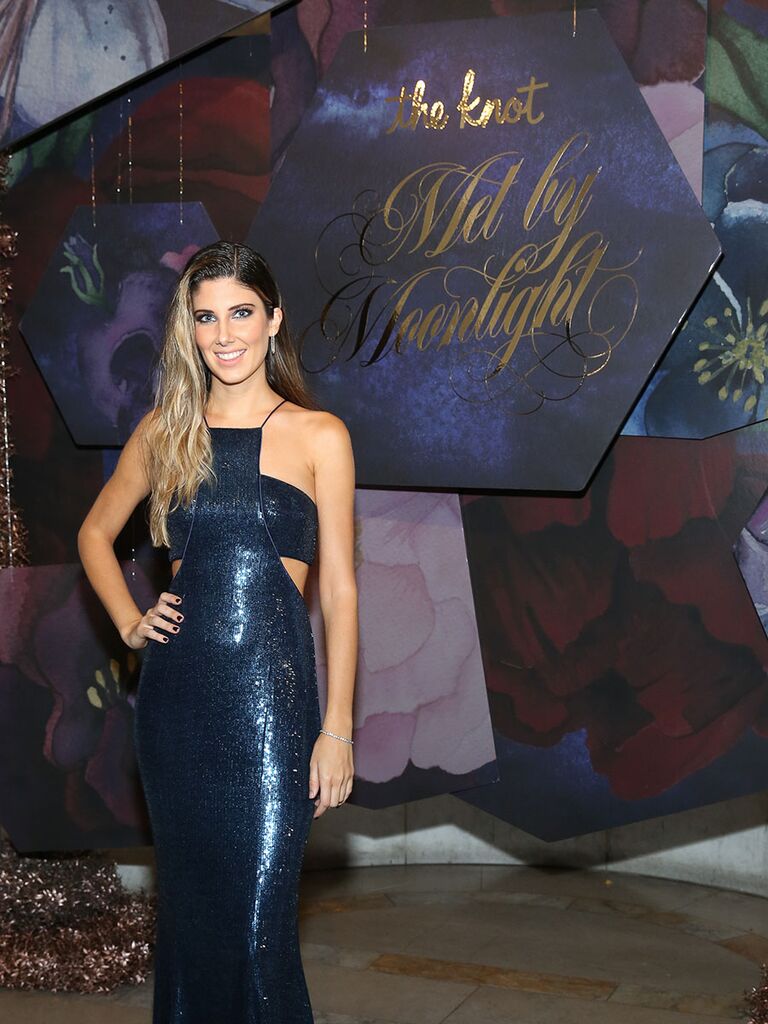 Rent the Runway loaned The Knot events team gorgeous dresses to sparkle and shimmer in all night.
On Your Feet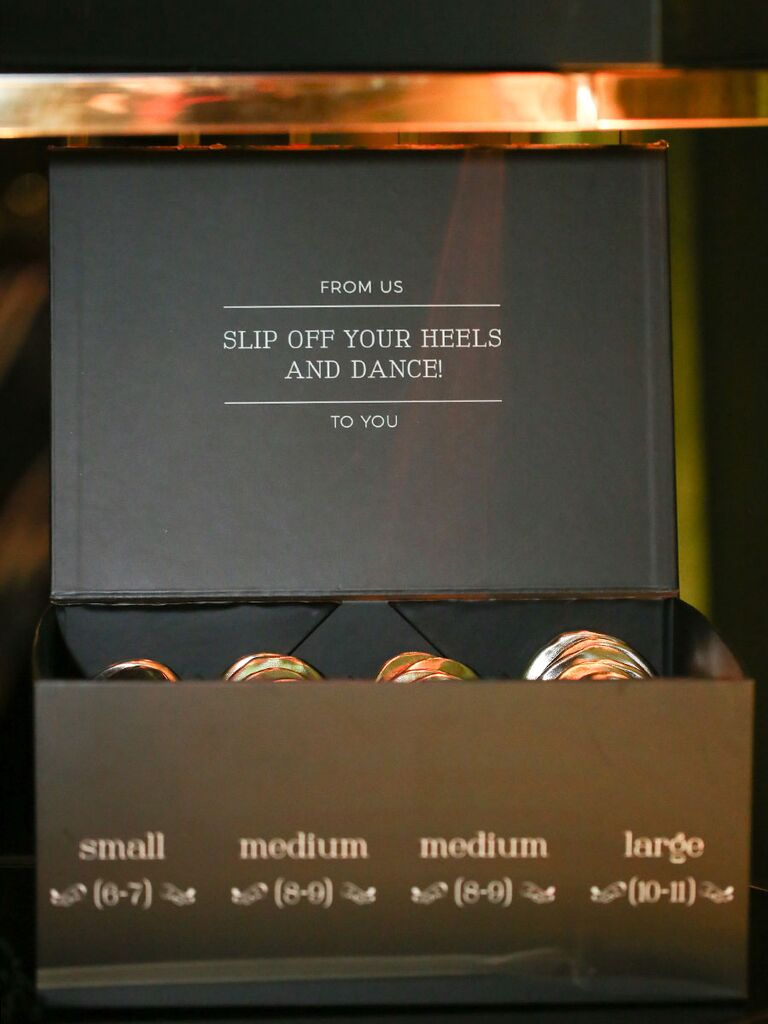 If guests' feet hurt after nonstop dancing in heels, they were treated to a comfortable and cute pair of flats from Rescue Flats.
Bachelorette Beauty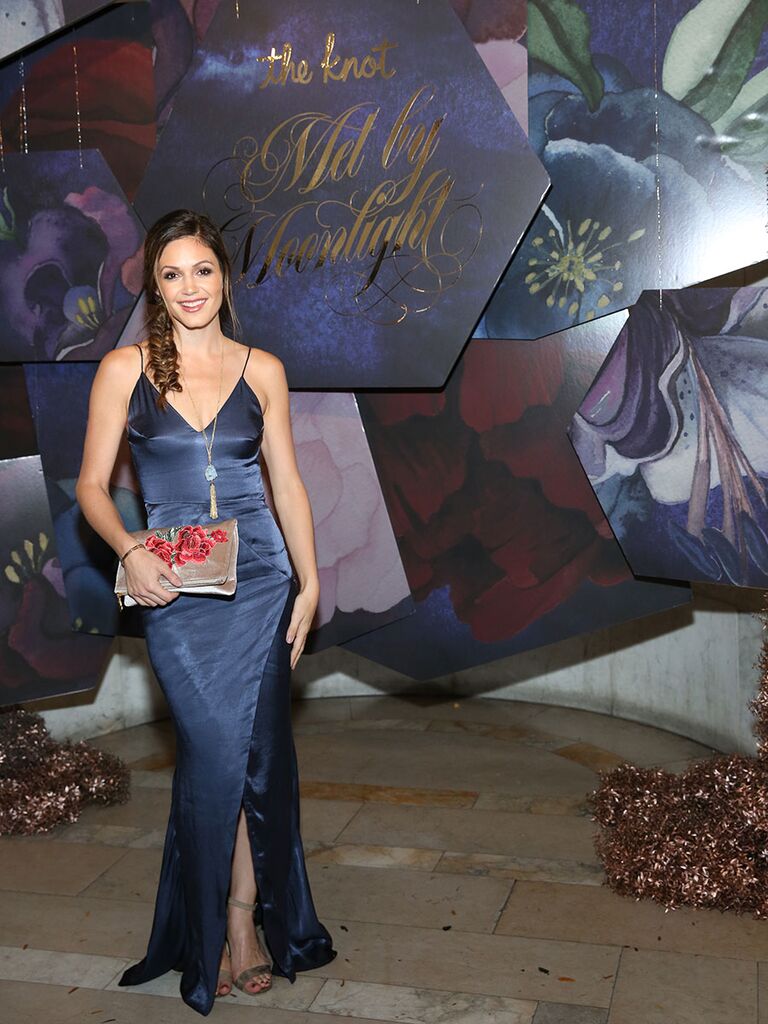 The Bachelorette alum Desiree Hartsock was one of the many celebrity guests who attended the gala. She looked stunning with her makeup done by Beautini. 
Dashing Duo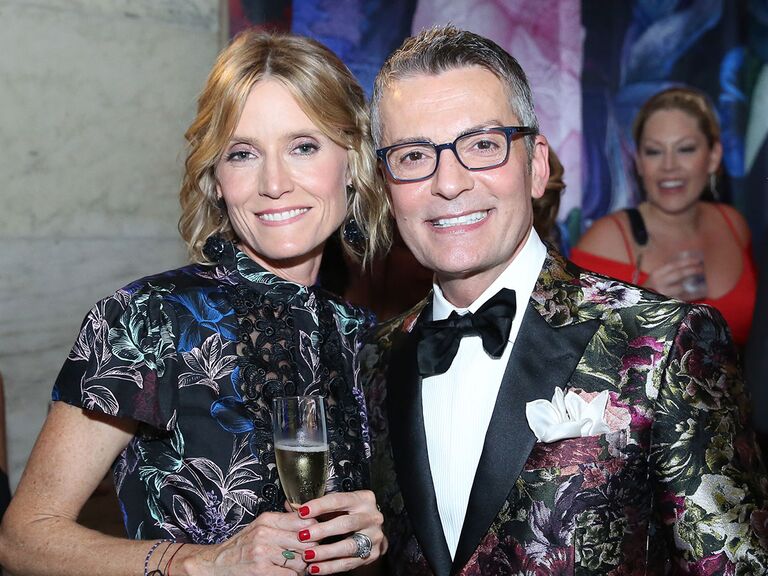 Cofounder of The Knot Carley Roney, who had her makeup done by Evy Drew, and designer and Say Yes to the Dress alum Randy Fenoli struck a pose together.
Glam Glow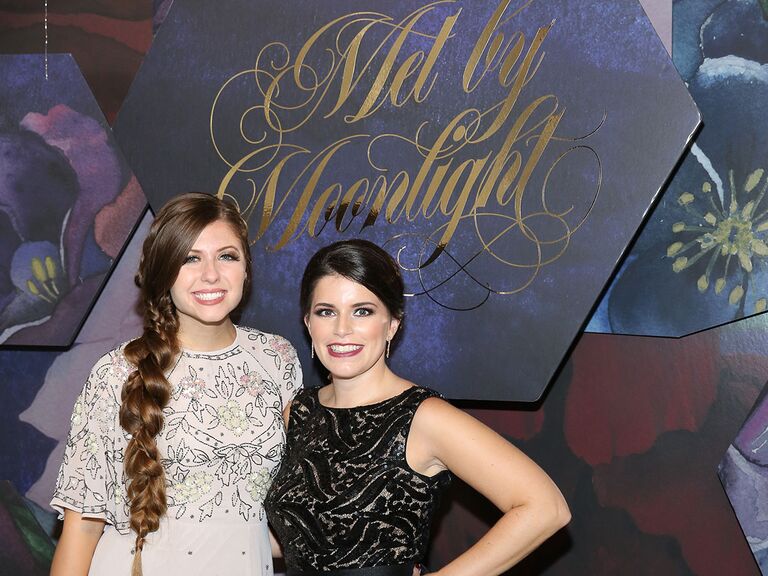 Thanks to MG Hair & Makeup, The Knot squad looked glamorous for the evening ahead.
And as always, The Knot Gala would be nothing without the incredible pros behind it:

Planning and Design: Emily Clarke Events | Venue: The New York Public Library | Stationery: CECI New York | Calligraphy: Calligraphy by Mary Ellen | Catering: Marcia Selden Catering | Catering Rentals: Smith Party Rentals | Rosé: Promise Wine | Spirits/Champagne: Pernod Ricard USA | Entertainment: Jordan Kahn Music Company | Entertainment: Scarlett Entertainment; Shien Artists | Event Photographer: Hechler Photographers | Portraits Photographer: Banga Studios | Lighting: Levy NYC | DJ, Lighting & Projection Design: DJ Jacob Co | Videography: Cloudless Weddings | Flowers: L'Atelier Rouge | Furniture/Rentals: High Style Rentals | Decor/Production: Design House Décor | Linens: Nuage Designs | Photo Booth: Studio Z Photo Booths | Drape: Swag Décor | Production: HITECH Events, LLC | Snapchat Filter: Méldeen | Acrylic Signs: Dogwood Blossom Stationery | Security: GSS Security | Hair and Makeup: Beautini, Le Jeune Artistry, MG Hair & Makeup | Dresses: Rent the Runway | Shoes: Rescue Flats