Where to Cut Wedding Costs Without Sacrificing Style
No matter what your budget, a chic, high-end wedding can be yours if you follow these budget-friendly tips.
by The Knot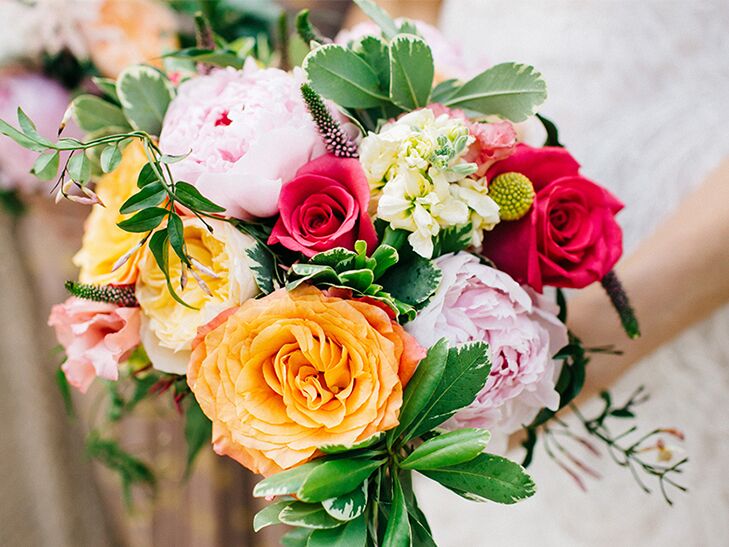 With the national average cost of a wedding at $35,329 in 2016 (the highest ever!), we're here to tell you that there's no reason to go into debt over wedding details. Focus on the elements most special to you, and remember what the day is really about—your marriage. Here are some simple ways to trim your bill without feeling like anything's missing at the celebration.
Guest List
Trim your guest list, even just a little bit, and save on everything. If you invite 100 guests instead of the original 150, and your wedding comes to $100 per person for food and drink, cutting your list by 50 people will save you $5,000.
Wedding Style
The less formal the affair, the more affordable it will be. Instead of a sit-down dinner, opt for a casual brunch or barbecue. Choose a venue with a low-key vibe, like beach, which lends itself perfectly to a simpler, more relaxed celebration with fewer bells and whistles.
Invitations
Choose one fabulous element and keep the rest of your wedding invitation simple. Remember, top-quality paper, fancy typography techniques and custom-colored inks increase the price, as do decorative envelope linings and multiple enclosures. Use response postcards or DIY your save-the-dates. To keep postage costs down, stay away from oversize or overweight styles.
The Dress
Have your heart set on couture? You'll be surprised how much you can save by choosing a less expensive fabric or a style with fewer embellishments (like hand-beaded crystals). Check out more ways to save on your wedding dress here. 
Formalwear
Wear basic black, nondesigner tuxes or suits. Encourage everyone to rent from the same place—often that means the groom's tux will be free. If your wedding is semiformal or casual, a nice suit you already own will work perfectly.
Transportation
Choose a town car over a limousine—it looks just as sleek and will get you from A to B. If you really want the limo, don't stretch it: Stick with an average-size car, and have only one for the to-be-weds. Leave out the amenities and have the wedding party carpool.
Flowers
Swap expensive blooms for less expensive ones. For example, if you exchange Black Magic roses for more reasonably priced deeply colored dahlias in all your bouquets and table arrangements, you'll save at least a few dollars per stem—even little substitutions add up and can save you big time. Your florist should be able to recommend other easy ways to save so don't be shy about asking questions. For more tips on how to save on wedding flowers, read here.
Ceremony
Exchange vows in a naturally beautiful place. Pick a public park, a flower garden or an already ornate house of worship so you don't have to spend a dime on decorations. Another great options is to hold your ceremony and reception in one spot—it will cut travel time for vendors you pay by the hour.
Reception Site
Skip the at-home wedding. You may think you'll be saving money by having your wedding chez-vous, but that's not always the case. Between tents, chairs, catering and portable bathrooms, home weddings are often more stressful and inevitably more costly than a reception site that has everything you need.
Food
Reduce the number of overall dinner courses (three incredible courses is far less expensive and arguably more delicious than seven pretty good coureses—quality over quantity here!) and keep your menu simple. Stick with the specialties of the season and region. Buy your own alcohol. Have the caterers bring out the fancy Dom Perignon for the toast, but then switch to a more budget-friendly prosecco or sparkling wine for the rest of the night—get all the celebratory fizz at a fraction of the cost.
Cake
Order a small, beautiful cake that's exactly what you want and, in the kitchen, have several sheet cakes of the same flavor cut for your guests. Stay away from tiers, handmade sugar flowers and special molded shapes. Have your caterer decorate each plate with a flavored sauce, instead. Forego fondant—buttercream frosting is tastier and less expensive.
Reception Music
Keep the band small. If their equipment is modern and up-to-date, a small combo band shouldn't sound like it's that small. Or have the band do double-duty, playing at your ceremony and then at your reception. Alternatively, opt for a DJ. The best DJs and bands are in highest demand on Saturday nights, so try Friday or Sunday for a slightly discounted rate. (A Friday or Sunday celebration will usually reduce other vendor and venue costs as well.)
Video
Consider having only the ceremony filmed or skip complicated editing and special effects. (But you'll want at least minimal editing done, otherwise you'll end up with four to eight hours of video, some of which isn't so interesting.) Whatever you do, don't skip videography altogether—you'll regret it. Consider this: Wouldn't you love to watch your grandparents' wedding video? You'll thank yourselves for hiring a videographer for years to come.
Photos
Hire your photographer for the ceremony plus a limited number of hours at the reception. Keep prints simple, and stay away from special treatments like sepia tones, multiple exposures and split frames, which add to the bill. Select a package carefully—some include parents' albums, but many don't, which means you may pay an additional fee later.
Wedding Rings
Choose silver or white gold wedding bands now, then upgrade to platinum on an anniversary.
Honeymoon
Utilize those frequent-flier miles you earned when using your credit card to pay for your flight (and your wedding). Avoid traveling during high season, the peak tourist time when things are most crowded and in demand. Check airfares for departures out of nearby, smaller cities—Milwaukee instead of Chicago, Baltimore instead of DC. Or get a package instead of purchasing plane tickets, hotel and food separately. And definitely let people know you're on your honeymoon. It could result in perks like chilled champagne waiting for you in your suite, or free upgrades. Learn more about honeymooning for less here.