Bite Into These "Twilight"-Themed Wedding Ideas Fit for a Cullen
If you've ever said, "You are my life now," then this wedding theme is for you.
If you're anything like us, you've watched the wedding scene in "Breaking Dawn" and wanted to plan your entire big day around those vibes. Thankfully, planning a "Twilight"-themed wedding doesn't mean you have to fly out to Forks, Washington, to make it authentic. You can make a romantic, woodland wedding that has Alice's fingerprints all over it in any location. So add "Flightless Bird, American Mouth," by Iron & Wine, to your planning playlist and hold on tight, spidermonkey while we get started on creating your best day ever, Cullen-style.
Everything You Need for a "Twilight"-Themed Wedding:
Venues | Colors | Decor Ideas | Cake Ideas | Bouquet Ideas | Centerpiece Ideas | Our Favorites | Budget Priorities
Ideal "Twilight"-Themed Wedding Venues
With The Knot Vendor Marketplace, you can find your perfect wedding venue with ease. No matter which corner of the world you're in, you can create the "Twilight" wedding of your dreams while still having a unique ceremony to you and your spouse-to-be. Just focus on what type of venue you want that will fit your vision, and begin your venue search.
Wedding in the Woods
This lakeside venue uses the woods as its backdrop, much like they did in the movie. You can even up the ante by hanging florals or lights from the branches or your wedding arch.
"How You Likin' the Rain?" Scenic Ceremony
Make it feel like the Pacific Northwest with a bit of rain, umbrellas and mountains (AKA the perfect weather for sparkling vampires). Bella and Edward's wedding was focused on greenery, so any spot in the woods will evoke their same aesthetic.
Industrial-Woodsy Vibes
Bring a bit of Forks to any venue with this foliage decor. This is a great choice if you want to feel like you're in those enchanted woods any time of year.
A Romantic, Rosy Church
If you still want to get married in a church, why not bring the florals indoors? These green and white arrangements still give the same vibes and allow you to say your I do's, rain or shine.
Greenery and Twinkling Lights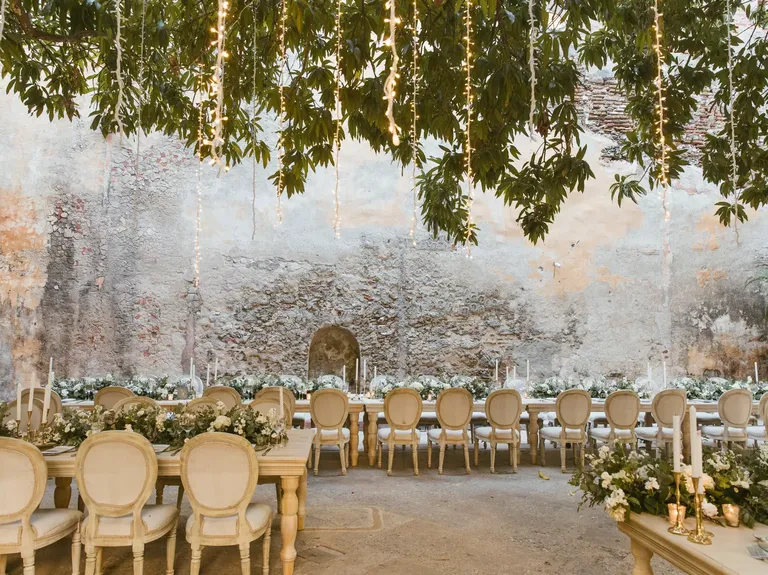 This wedding venue takes the sparkling lights and dangling greenery, but in a European-style historic house. Think "Volturi meets wedding day" with this aesthetic.
"Twilight"-Themed Wedding Colors
Though you may not have Alice to look into your future and wedding plan for you, you've at least got The Knot's many helpful wedding resources to help ease the stress. Take wedding colors, for example. While it may be hard to pinpoint which color palette is right for your "Twilight" wedding, we did some of the work by rewatching "Breaking Dawn" (you know, for research) and gathering some inspo to add to your inspiration board.
Classic Black, White and Green
You can't go wrong with classic black and white shades, which is what Bella and Edward had for their big day. Any shade of green complements this monotone palette, so play around with your favorite hues.
Art Deco Gold and Lush Green
Edward's a bit old-school, so why not throw it back to the art deco style? Think shimmering golds, natural greens and creamy whites.
Deep Greens and Rustic Shades
Make any space feel like the woods behind the Cullens' house with these colors. These deep and moody hues evoke the Pacific Northwest no matter where you are.
Find all the vendors you need
Meet every kind of expert from bakers to bartenders and more.
"Twilight"-Themed Wedding Decor Ideas
Decorating your wedding or reception space with that Cullen aesthetic can be pretty straightforward. Think lavish greenery, romantic lighting and moody shades. Transforming your reception venue into an enchanted wonderland just requires some creativity to make it truly unique to you and your spouse, while still having that "Breaking Dawn" decor.
Romantic Woodland Reception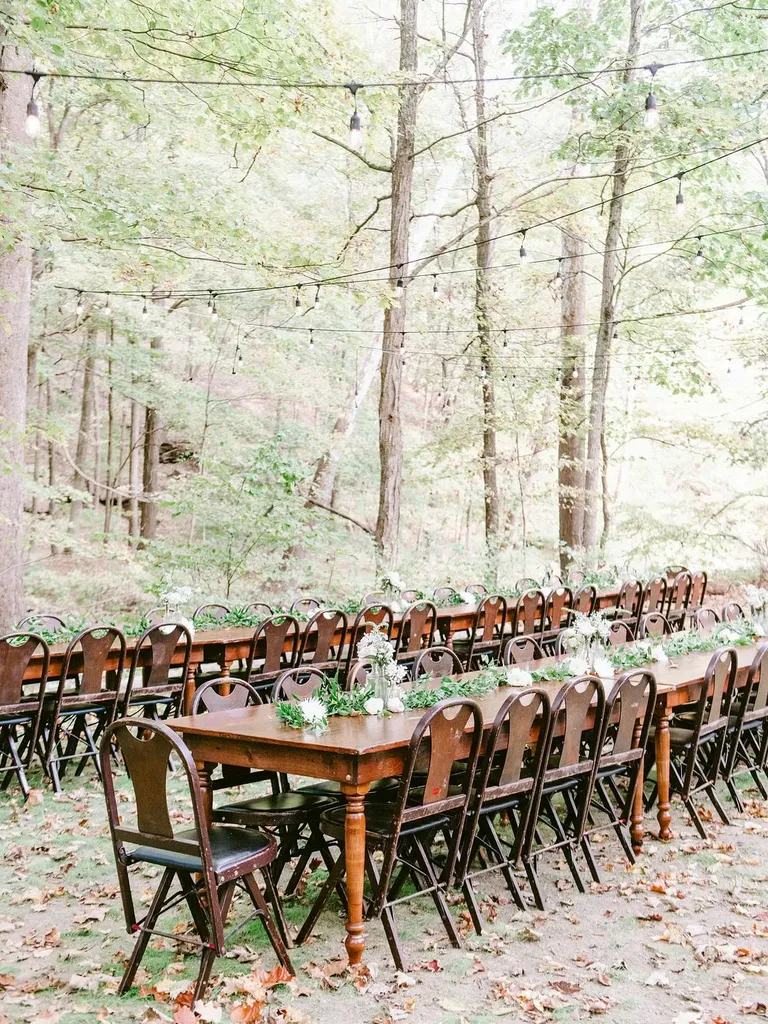 Take the long table route for your woodland reception so that all your favorite people can mingle. This reception goes for simple and elegant with its natural use of greenery along with string lights across the branches.
Fern and Forest Place Settings
Give your place setting a casual nod to the greenery at Bella and Edward's wedding with these fern leaves. Plus, this takes the black and white color palette and adds some texture, like with the velvet ribbon.
Moody Shades and Vintage Glasses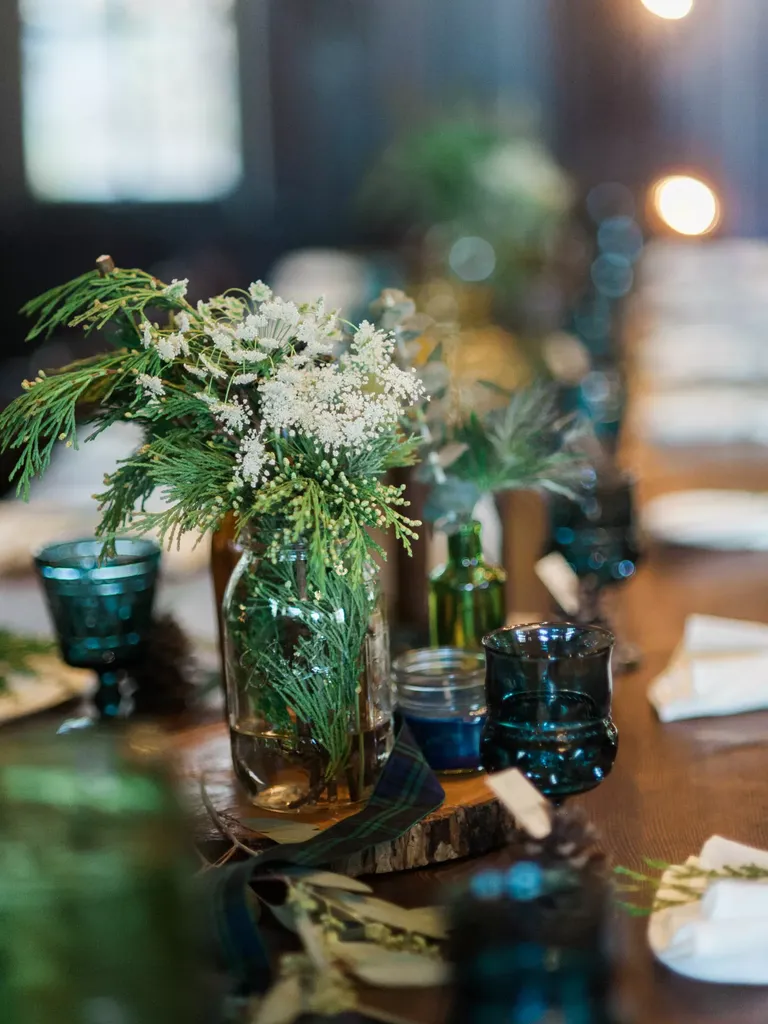 These shades are giving "La Push, baby" and those deep seaside vibes. Add some classic evergreens, and you've got yourself simple but stylish wedding decor.
Dazzling Lights and Hanging Vines
About three things we are absolutely certain: This. Decor. Stuns. (Plus, it's pretty true to the movie's aesthetic.)
"Twilight"-Themed Wedding Cake Ideas
For a "Twilight"-themed cake, you'll want to truly wow your guest with an amazing display. There are plenty of unique cake options that will stay true to the classic cake aesthetic at the Cullens' wedding while still letting you do your own spin. Here are some ideas that can fit right into your big day.
Floral Cake Straight From the Film
Now here's a cake that wouldn't make Jessica say, "I just thought it would be bigger." This has the same vibes as the one from the movie, complete with stunning florals.
Shimmers of Gold and Greenery
Gold leaf can easily elevate any cake, and this two-tier floral is a colorful alternative to the Cullens'. You can even serve cupcakes alongside this cake if you have more guests, and consider having them decorated in full "Twilight"-theme.
Unique Marbled Wedding Cake
"And then his cold, marble lips pressed very softly against mine." This cake is a subtle nod to the books while still having a unique style that wedding planner, Alice, would choose.
"Clair de Lune" Wedding Cake
Go extravagant and elegant with this ivory cake with floral cutouts. It's giving classic and romantic, just like "Clair de Lune."
"Twilight"-Themed Wedding Bouquet Ideas
Bella's bouquet in the movie used a mix of wildflowers and light shades to create a sense of romance and magic. Your unique wedding bouquet can take inspiration from hers while mixing your favorite blooms. (You can also check out some our favorite bouquets to create a one-of-a-kind arrangement for your "Twilight" wedding.)
"Do I Dazzle You?" Wedding Bouquet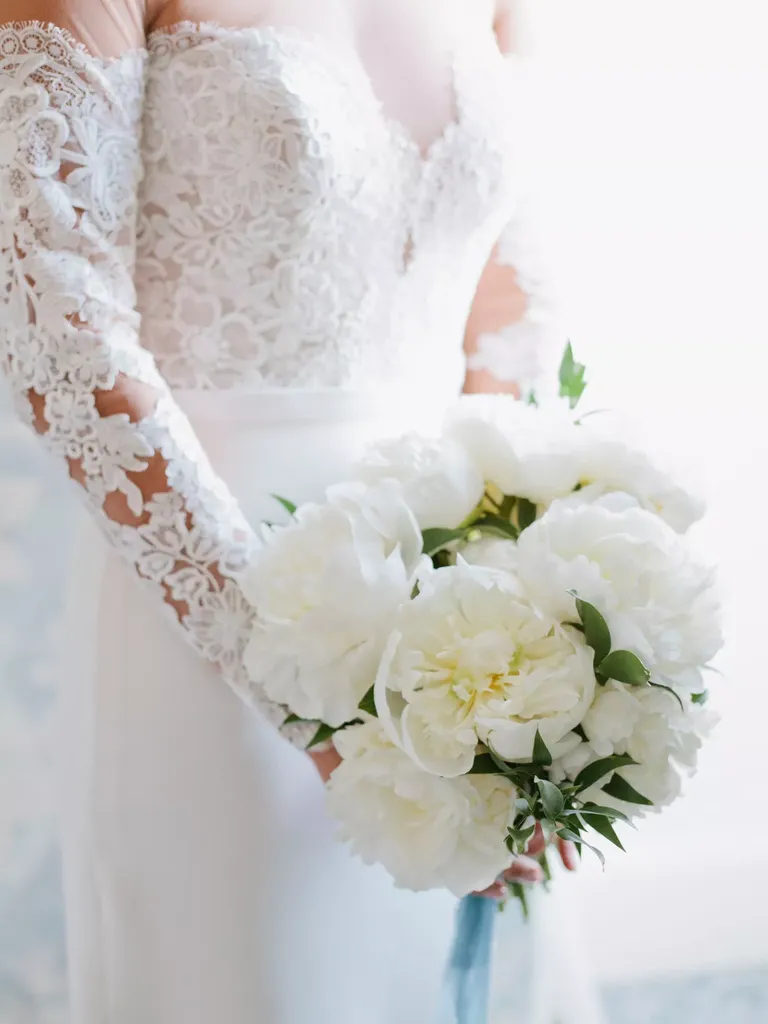 Dazzle your guests with this opulent bouquet full of creamy peonies. These florals take inspo from the series while still having your own fun twist.
The Swan Wedding Bouquet
Add your something blue to your bouquet with these pops of color. They'll also match the sapphire wedding comb Bella got right before her walk down the aisle.
"Let's Start With Forever" Wedding Bouquet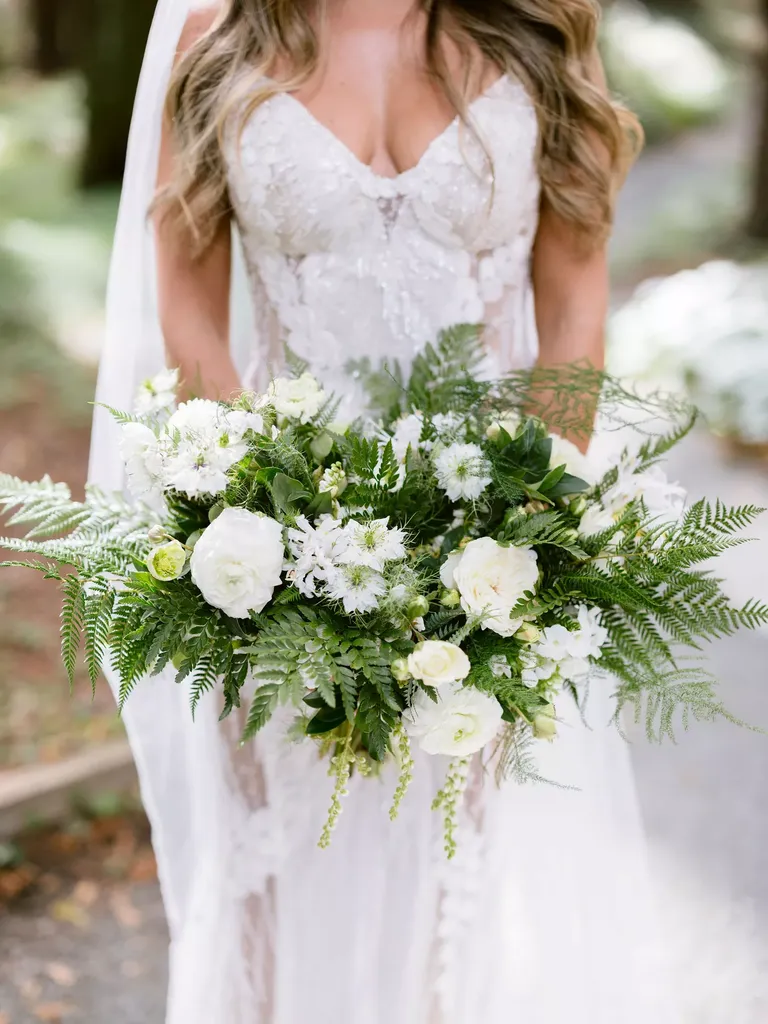 Fun fact: Bella's bouquet from the movie utilized ferns, much like this stunning arrangement. It's a classic bouquet that never goes out of style.
Forks Forest Wedding Bouquet
Now this is a bouquet that looks like it came straight from the forest. So many pivotal moments in the series happen in the woods, so why not incorporate that into your florals?
Wedding Bouquet Inspired by Edward's Meadow
This cascading bouquet will make you feel like you're Bella in Edward's meadow for the first time, surrounded by lush greenery. And it adds a beautiful blush to the creamy shades.
"Twilight"-Themed Wedding Centerpiece Ideas
Now, it's time for the stunning centerpieces that'll tie the look all together. And here's a pro tip: Make sure your centerpieces don't block people's sight, so think short and sweet or tall with a clear view. Don't make your guests ask, "Where the hell have you been, loca?" across the table. (IYKYK.)
"If I Could Dream" Wedding Centerpiece
Bella and Edward's centerpieces were heavy on the florals, so inject those vibes into your decor. Keep it green and natural while still adding a touch of that movie magic.
Tablescape Fit for Alice's Elegant Vision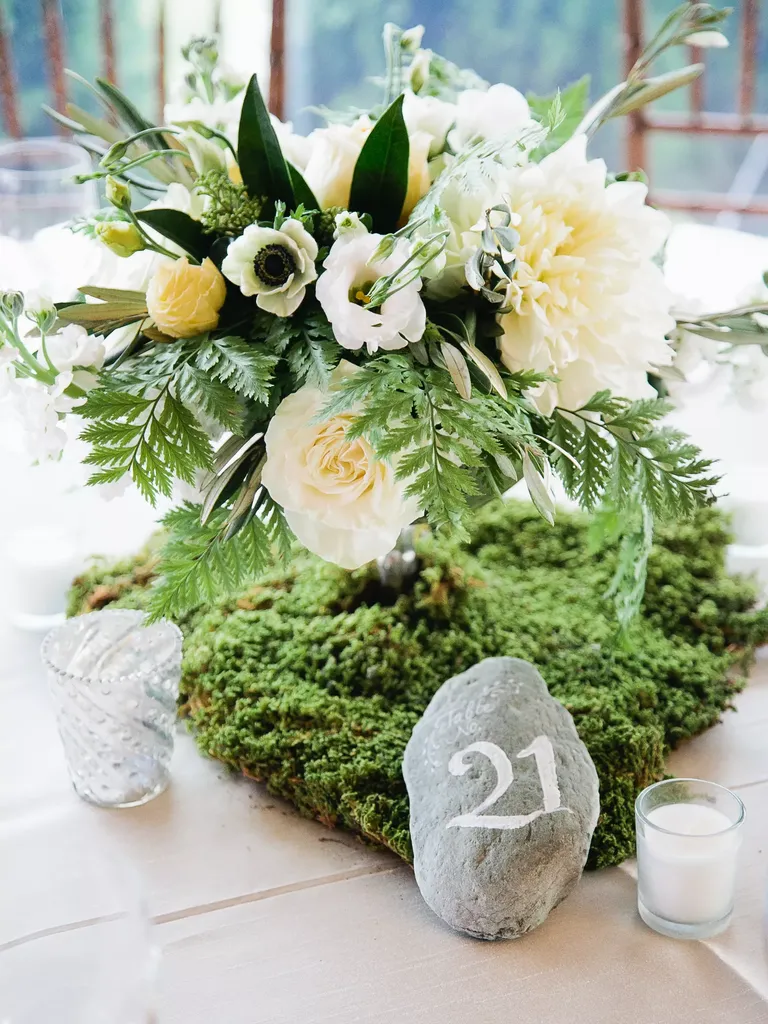 This centerpiece has greenery that trails along the table like a runner. To truly match Alice's vision, add some moody shades underneath and black accents.
Wedding Centerpiece Inspired by a Trip to the Mountains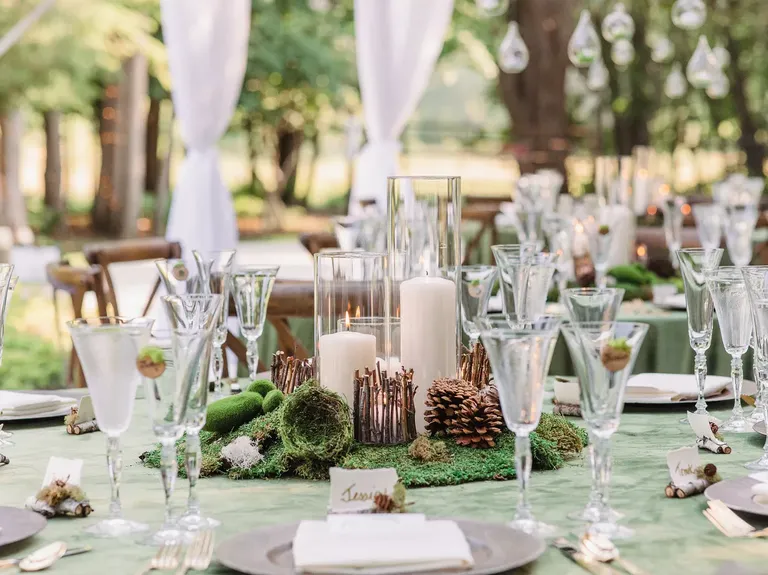 This centerpiece takes the "Twilight" theme in a new, but still familiar, direction. The rainiest town in the country is full of greenery and moss, perfect for a unique tablescape.
Bella's Lace Centerpiece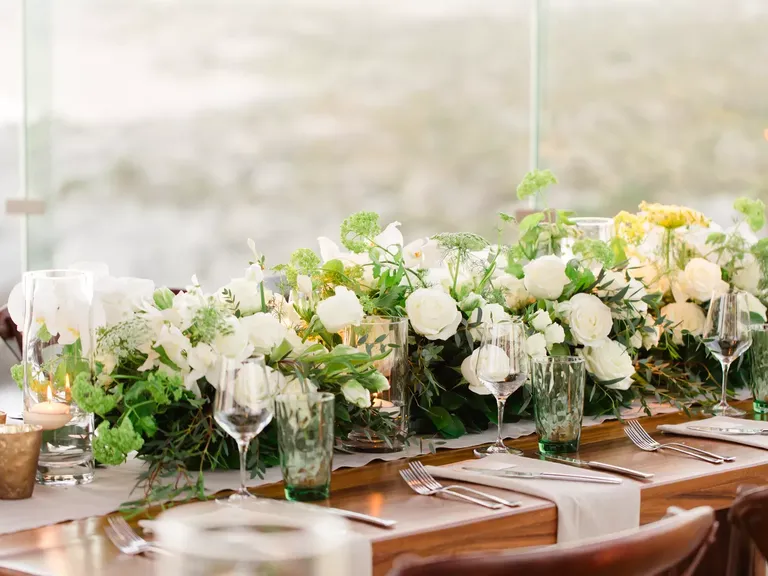 Does it get much more chic than roses and Queen Anne's lace? This is the kind of classic style Bella would love, one that is simple while still making a serious statement.
Our "Twilight"-Themed Wedding Favorites
Let's wrap this up with some of our other "Twilight"-themed favorites, like stationery and attire. With that classic, timeless aesthetic, you can't go wrong with these wedding looks for your big day.
Forks-or-Bust RSVPs
Let your guests know that they're about to take a trip to Forks, if not literally than metaphorically. These wedding invites feel like the opening credits to "Twilight," complete with "Full Moon" playing in the background.
The Forbidden Fruit Wedding Escort Cards
Here's a cute little nod to the "Twilight" cover, and even the moment Edward catches Bella's apple in the first movie. Plus, guests can snack on these which is a total win-win.
Every-Moment-of-Forever Wedding Ring
While it's not exactly like Bella's one-of-a-kind ring, it has the same vintage aesthetic. You can also use an old-school ring box for your wedding photographer to encapsulate the vintage vibes.
A Dress Fit for a Cullen
Bella's wedding dress was iconic with it's low-cut back and tapered fit. Thankfully, long-sleeve dresses are in style, making easy to emulate Mrs. Cullen's look on your own big day.
"Meet You at the Altar" Wedding Invites
These invitations are just like Bella and Edward's love: timeless. They're an elegant choice for the couple who wants to surprise their guests with the total "Twilight" wedding weekend.
"Twilight"-Themed Budget Priorities
Now that your head is buzzing with every vampire-worthy idea in the book, you're probably wondering how to make your "Twilight" wedding a reality. When it comes to must-have vendors for your "Twilight" wedding don't skimp on an epic venue, stunning florals and a solid wedding planner to keep things running as smoothly as the Cullen's can sprint. And if you want to glisten the way a vampire does in the sunlight, it's important to invest in a solid beauty team as well. Hiring expert vendors is the best way to plan a wedding that's as timeless and ageless as Edward Cullen.