7 Trader Joe's Items to Include in Your Welcome Bag
Nothing says "welcome" like cookie butter and cheddar popcorn.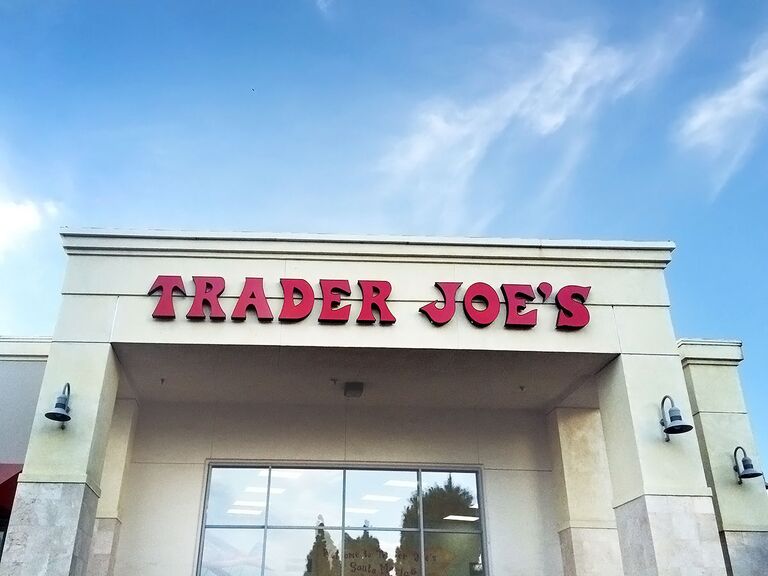 Geri Lavrov / Getty Images
Trader Joe's amazing prices and crave-worthy snack options actually make food shopping fun. And if you like your Trader Joe's finds so much, why not share them with friends and family in your welcome bag? Below, some items your guests will love from everyone's favorite grocery store.
1. Cookie Butter
Perhaps the most well-known, must-have snack from Trader Joe's, Speculoos Cookie Butter is sure to satisfy every guest's sweet tooth. Pair the original, cocoa swirl or crunchy cookie butter with crackers or pretzels for guests to enjoy.
2. Succulents
Trader Joe's has a great selection of plants and flowers, and a succulent is a perfect addition to a welcome bag. Tie a "thank-you" note to it and it doubles as a take-home favor for guests to remember your fun wedding weekend.
3. Baconesque White Cheddar Popcorn
What exactly does "baconesque" mean, you ask? This popcorn has a smoky flavor resembling bacon—but it's not bacon! The smokiness mixed with the white cheddar makes for the ultimate salty snack for vegetarians and meat eaters alike.
4. Charles Shaw Wine
Affectionately dubbed "Two Buck Chuck" for its cheap prices (ranging from $2 to $4, depending on the state), Charles Shaw wines will get the party started for your guests. It offers several varietals, including chardonnay, pinot grigio, white zinfandel, merlot and shiraz.
5. Peanut Butter Pretzel Bites
Peanut butter and salty pretzels are a match made in heaven. These tasty treats will satisfy your guests' late-night cravings.
6. Emergen-C
You can buy this standby in bulk at Trader Joe's as a morning-after remedy for your guests.
7. Cold-Brew Coffee Concentrate
Speaking of the morning after, your guests might need a little caffeinated pick-me-up. This coffee concentrate should do the trick—guests just have to mix it with water or milk.