7 Glamorous Ways to Decorate Your Fall Wedding With Pumpkins
Incorporating this popular gourd into your wedding decor doesn't have to mean carving for days.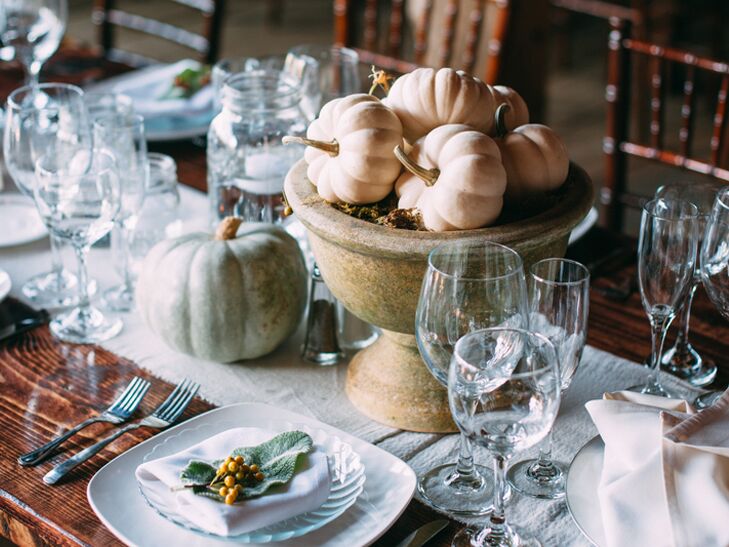 Rebekah J. Murray
You don't have to turn your venue into a black-and-orange Halloween bash if you want to include pumpkins in your wedding decor. Between dusty, natural green colors and pale shades of white, pumpkins can fit into any color palette you choose. Draw inspiration from the seven ways to use pumpkins below. From stationery illustrations to aisle decor, these real weddings did pumpkins right.
Wedding Invitations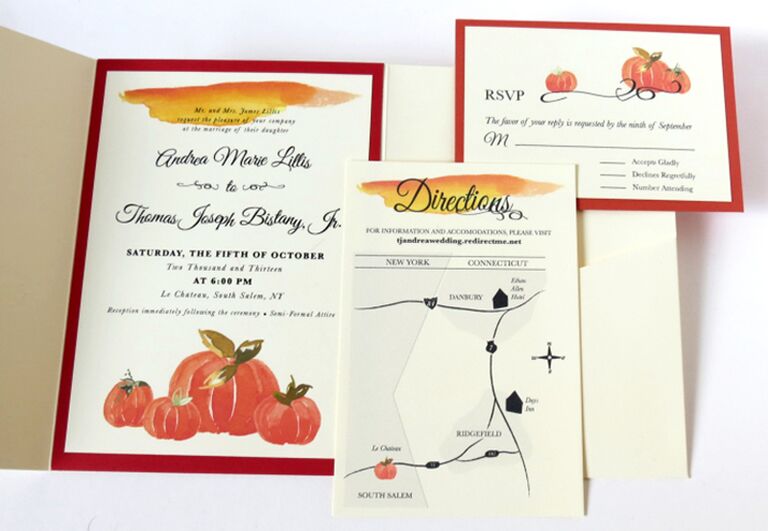 Set the scene for your guests with some seasonal illustrations. A watercolor swipe of orange and yellow, accompanied with a few pumpkins, is a hint of what to expect, without giving too much away. (Bonus: Going the seasonal route lets you off the hook for nailing down your theme, colors and decor before sending out your save-the-dates!)
Simple Pumpkin Aisle Decor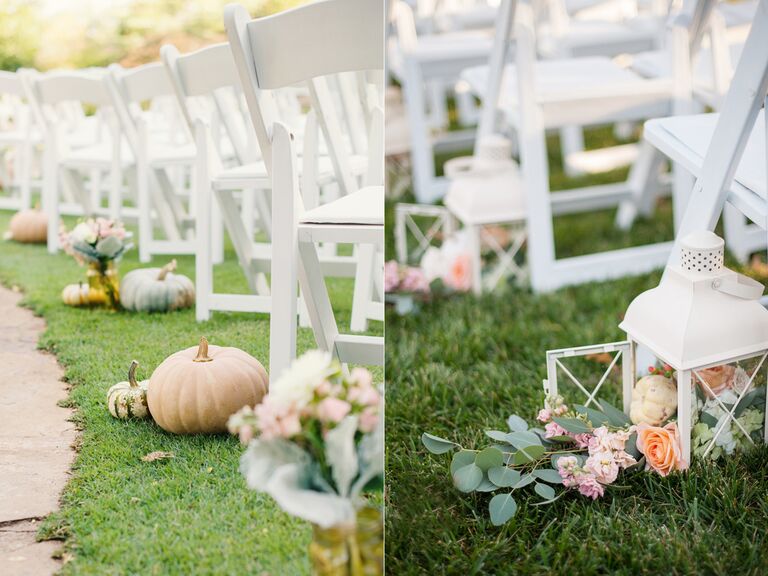 Line your aisle with a few pumpkins in varying sizes and colors for ceremony decor that's put together, but not too matchy-matchy. If you're exchanging vows closer to sunset, consider punching holes or carving a minimalist design into the pumpkins and adding candles for totally efficient and seamlessly integrated lighting. If you're going for a more understated look, arrange mini pumpkins with bunches of flowers or candles, so you get a hint of the season without allowing it to take center stage.
Pumpkin and Gourd Bar Decorations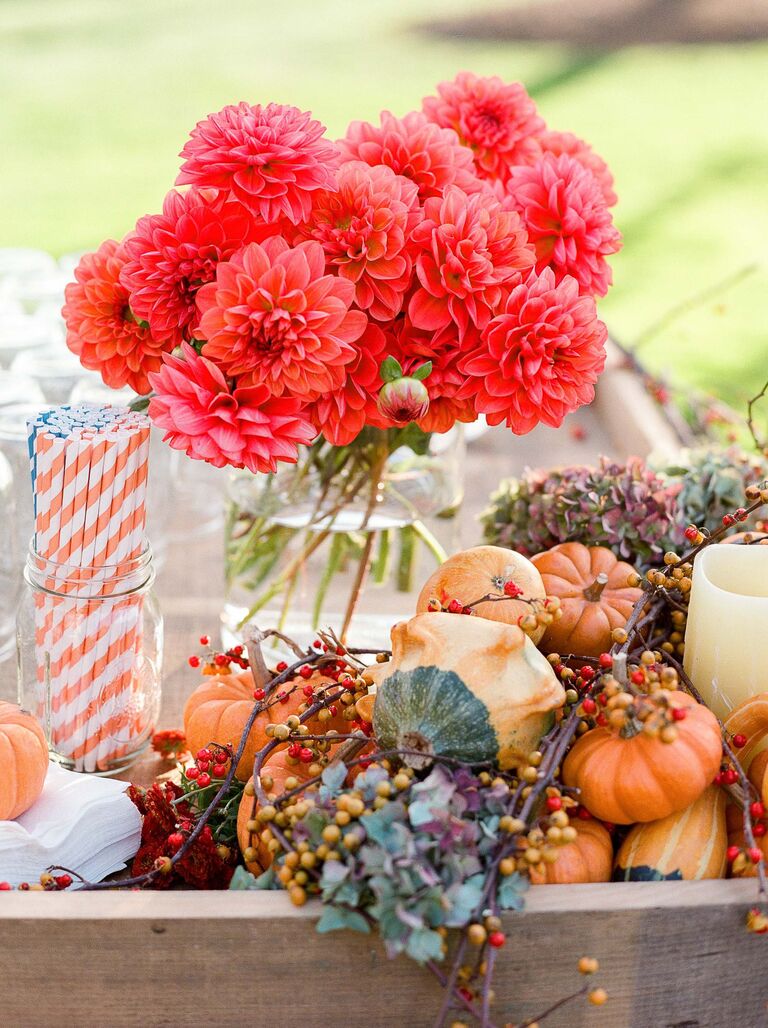 Incorporating pumpkins into your wedding decor could be as simple as arranging a cluster of them on a bar cart. Give the arrangement more color and texture by adding in a few different elements, like hypericum berries, gourds and leaf-looking florals such as antique hydrangeas.
Mr. and Mrs. Pumpkins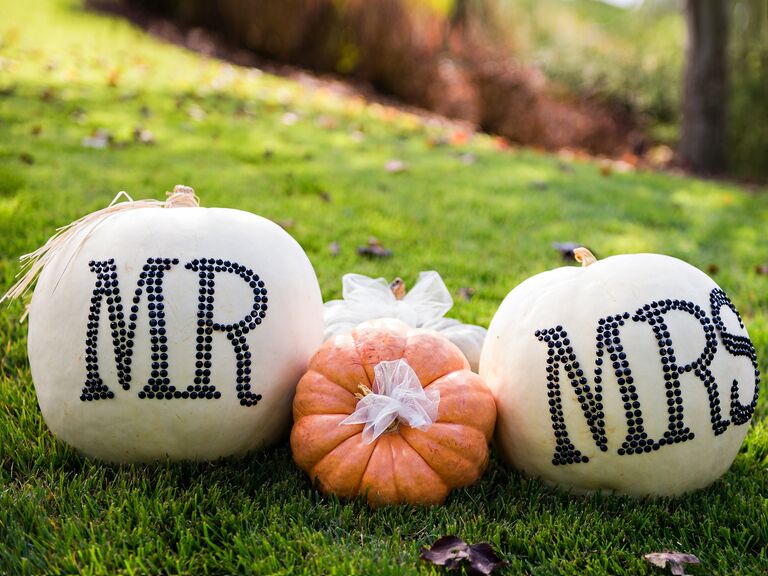 Carving pumpkins isn't the only way to adorn them with fun designs. Consider crafty, no-carve alternatives like washi tape, push pins, rhinestones, burlap, lace or glitter. (And take advantage of the stalk—tie something fun around them for a more bridal look, like white tulle or strips of lace.)
Escort Card Table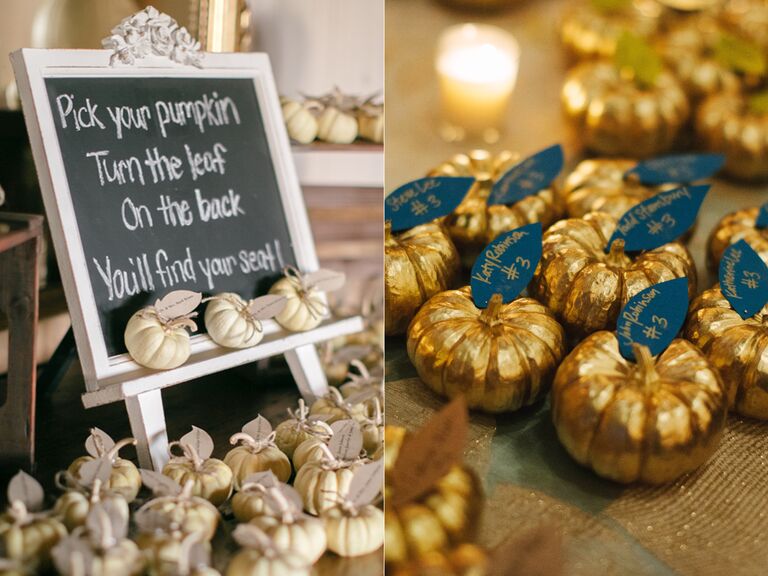 Petite pumpkins are a pretty versatile escort card display. They're easily rearranged and they're stable, so you don't have to worry about a strong gust of wind swooping up your meticulously planned seating arrangements. Either tie some "leaves" around stalks with names on them or cut a little slit into the top of each pumpkin to slide the escort card into.
Centerpieces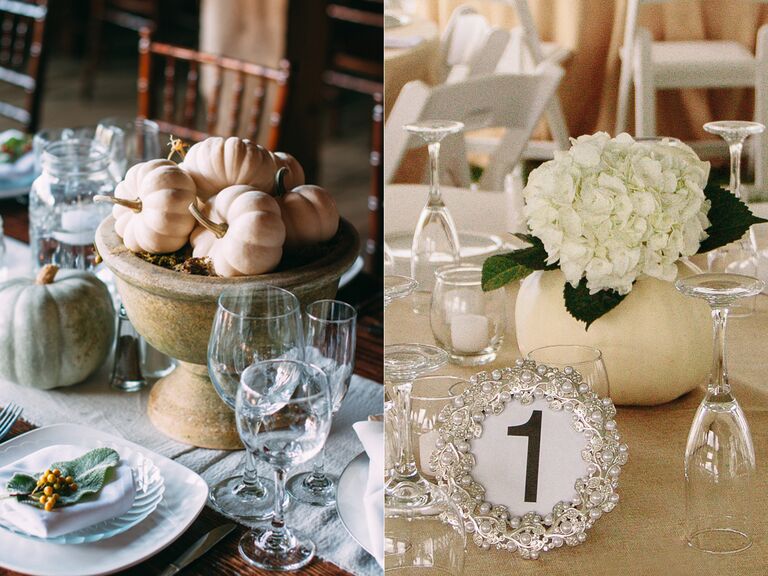 Flowerless centerpieces have been gaining some serious momentum. Depending on what you chose as a flower substitute, it can be much less expensive than the floral counterpart, and there's a higher chance it could be repurposed after the reception. Placing a cluster of little pumpkins on a pedestal fancies them up a little bit, but still keeps the tabletop looking casual. If you want to go the flower route, hollow out a bigger pumpkin and use it as a vase.
Cake Decorations
For some stand-out cake details, ask your baker to create some imitation pumpkins with fondant. They're less intricate to make than, say, full-bloom flowers with lots of layered petals, so the labor cost will be relatively low in comparison, while the overall style is still totally sweet.