7 Ways Beyond Bouquets to Add Tulips to Your Spring Wedding
Make the spring-blooming flower the perennial choice of your wedding day with these ideas.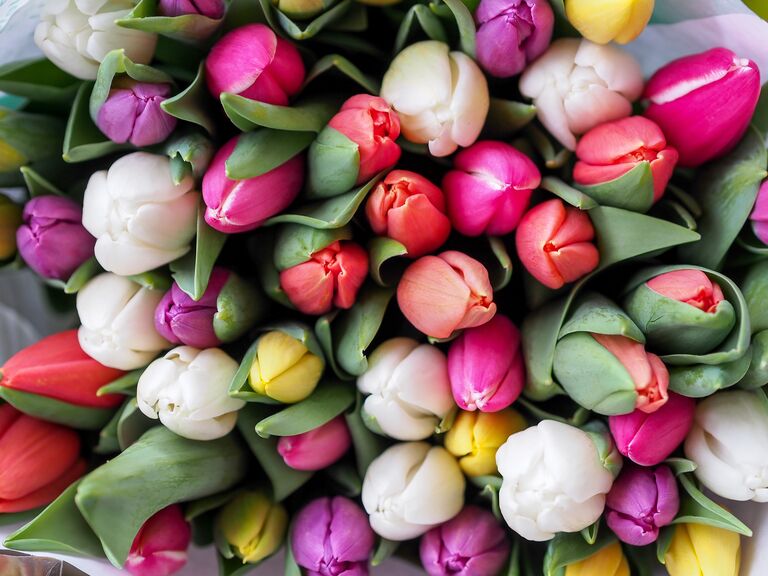 Unsplash Photography
Whether you're planning a spring-themed wedding or just want to add add vibrant pops of color to your day, tulips are the ideal bloom to create a custom look. Bouquets are the obvious way to display your favorite flowers, with tulips offering lots of beautiful options and a rainbow of color combinations. Still, don't overlook the following ways to incorporate the cheerful bloom.
1. Garden Attire
Choose a bespoke gown in a watercolor tulip print for a look that will leave jaws dropped.
2. Blooms for the Boys
Adorn the lapels of your no-fuss fellas with simply stated tulip boutonnieres. Choose a bold bloom that matches the bridal palette, or add color with flowers that complement.
3. You're Florally Invited
Set the tone and theme for your guests before your wedding day even arrives with invitations blooming in vibrant tulip graphics.
4. Center of Attention
Use tulips as tablescapes to create a consistent look throughout your reception space. Buds can be cut short and placed in small antique vases or add drama with tall, elegant centerpieces.
5. Dots of Decor
Marry tulip blooms with an eclectic blend of mismatched vintage items to create vignette style stations of decor throughout your ceremony and reception spaces.
6. Defy Gravity
Turn centerpieces on their heads with tulips that hang from up above. This is a great option if you love the look and vibrancy of tulips but aren't a fan of when their stems flop.
7. Petal Palate
While fresh flowers make a beautiful arrangement atop any cake, try tulips made from frosting to satisfy your guests' sweet tooth.