You're Not Going to Believe These Stunning Floral Decor Photos
These beautiful flower-filled weddings prove it's almost possible to be upstaged by your decor.
by Carrie Anton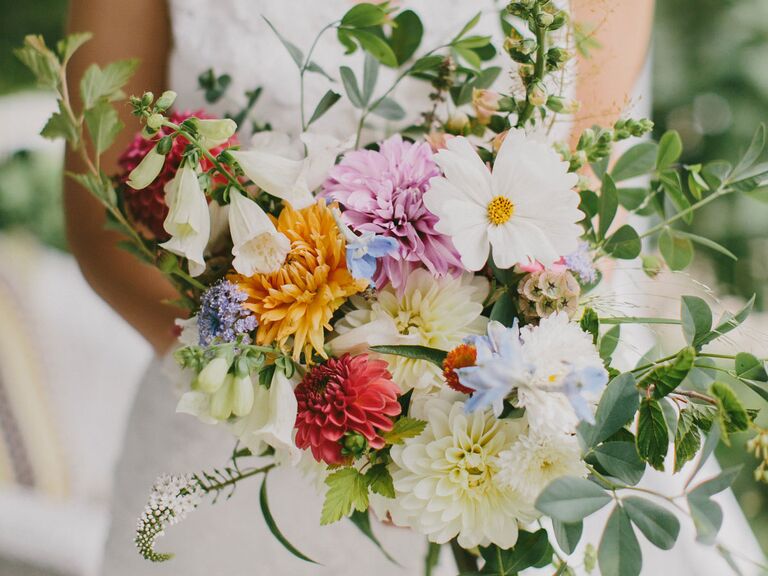 Emily Delamater Photography
If you love flowers, the following weddings just might leave you weak in the knees. That's because from floor to ceiling and every nook and cranny in between, blooms were the decor staple on display for guests to get their "oohs and ahhs" on. The gorgeous garden theme is not for the minimalist bride and groom—or the couple with spring allergies. But if you need a few ideas on more places to fit in florals, let these blooming weddings be your guide.

1. Flowers on High
Instead of simply lining the seats of your aisles with flowers, take your guests' eyes to the sky with dangling stems that hover overhead.
2. Swinging Centerpieces
Who needs vases when you can suspend beautiful bouquets above the table for amazing pops of color?

3. Grand Garden Entrance
Your gown doesn't have to be the only statement piece making an entrance. A staircase lined with lush, beautiful blooms can add even more grand elegance.

4. Blossoming Bridal Wear
But if you do what your dress to be the standout floral moment, go for a garden-themed gown flourishing with flowers.

5. Floral Floor
Let petals peek out from under foot with flowers that bloom beneath glass dance-floor panels.

6. Bloomin' Backdrop
Floral-covered draped backdrops are a sophisticated way to add color and life to even the simplest of spaces.

No one said centerpieces have to stay on the table. Add more fun to your flowers by letting them trail off to the floor in bright, bold colors and shapes.

8. Sweet Scents
Sugar and sprays will lead the way for guests on the hunt for decadent desserts.