The 14 Best Places to Buy Craft Supplies Online
Sometimes the only thing standing between you and that adorable Pinterest craft are mini hanging glass orbs or swing-top bottles. We know exactly where you can get those—in bulk—and everything else on your list.
by Andrea Fowler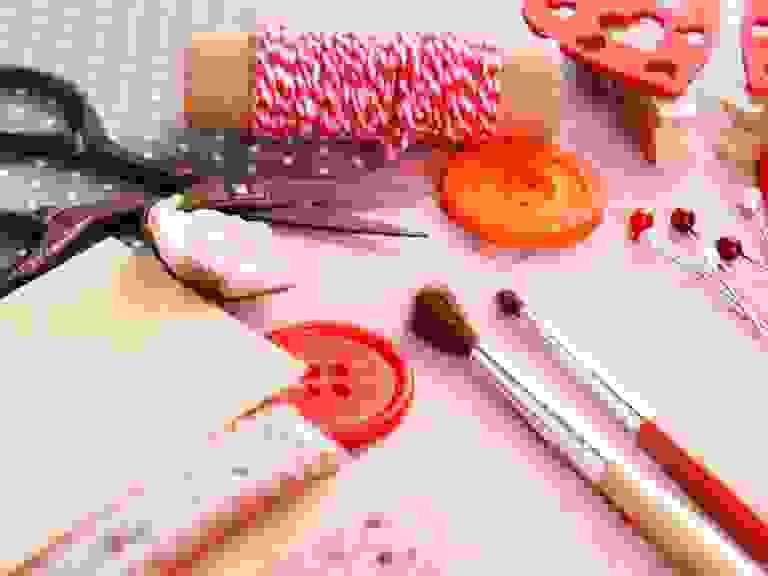 The only thing more difficult than crafting is trying to hunt down all your do-it-yourself materials. You can't just walk into your average corner store and pick up 75 swing-top glass bottles. Luckily, there's a website for everything these days—which also means you can ship instead of haul.
Packaging
Specialty Bottle: Any bottle, jar, or tin you could imagine is here, all in one place. If you're planning to make an edible favor, like jam or a fancy limoncello, this is the best source to buy these types of containers in bulk.
Paper Mart: This is one of those we-have-everything stores: cello bags, boxes, cartons, baskets and every other container you could dream up plus a wide selection of ribbon. It even guarantees the lowest prices and offers to match or beat any competitors' pricing.
Uline: Don't let the utilitarian look of this site deter you. It has a variety of solutions for any bulk packaging need. Check out the padded mailers for fragile save-the-dates or the burlap pouches that come in all sizes.
Decor
Shop Sweet Lulu: If Pinterest and a craft blog had a digital baby, this online boutique would be it. It carries all the "cute" party and craft supplies from polka-dot paper straws to glitter tape. Looking for take-home cake boxes? This is the place.
JamaliGarden.com: Need some silk flowers that actually rival the real thing? Or whimsical wood vases you just can't find anywhere? Look no further. Our current obsessions are these mirror-paneled cube vases, perfect for a romantic, lush centerpiece.

Oh Happy Day Shop: The popular lifestyle and craft blog just launched an online party shop. The blog-adjacent boutique sells all the raw supplies you need to craft, from crepe paper to miniature clothespins, plus decor odds and ends (think honeycomb balls, letter balloons, banners, confetti) that will turn up the volume on any celebration.
The Knot Shop: TKS does this handy little thing where decor is organized by wedding theme. So whether you're interested in outfitting your venue in rustic, bohemian, glam or industrial details, you can browse the selection and gather inspiration at the same time.
Paper
Paper Source: Perfect for high-quality envelopes, craft paper and stationery. We even shopped here for our envelope-liner DIY!
Paper Presentation: Making tags for your place cards or favors? Need a printable label? Paper Presentation has an infinite selection of sizes, shapes and patterns that fit exactly what you're looking for, plus a wide variety of other stationery supplies like colored envelopes and pocket folders.
Blick: Pens, tips, ink, kits and parchment paper—all your calligraphy needs—are met here. For any calligraphy newbie, we recommend looking into a kit, along with a teach-all book like Calligraphy in 24 Hours.
Odds and Ends
Oriental Trading: You might only think of this site as a catchall for novelty toys and party supplies, but it has craft and art materials aplenty. If having more than 30 different rolls of washi tape doesn't earn it a spot in the craft-supply category, we don't know what will.
Save On Crafts: One of the things that impresses us most about this site is its highly organized homepage—everything is categorized with pretty photos for easy navigation. It even has a "green crafting" section for the eco-friendly bride.
M&J Trimming Ribbons, trim and lace all available at the click of a mouse—but if you really want the full trim-shopping experience, visit its store in New York City. (If that's too far of a trek, pop over to its blog for all sorts of bridal inspiration!)
Blumchen: Metallic tinsel trim, crinkle wire, crepe paper, grass mats, and so much more. Blumchen specializes in old-fashioned, authentic craft supplies from places like Germany and Italy, so if you're looking to deck out a vintage wedding in DIY details, we recommend stopping by this retailer first.
Disclosure: This post contains affiliate links, some of which may be sponsored by paying vendors.