28 Charming Ways to Decorate a Fireplace at Your Wedding Venue
Bring on all the homey, welcoming vibes.
Having a fireplace at your wedding venue presents an opportunity to add even more decor to your special day, but if you're wondering where to start, let us take it from here. The good news is that there are so many different fireplace wedding decor ideas—all you have to do is figure out what you like best. These trendy and elegant fireplace mantel decor ideas will jumpstart your wedding vision board, whether you're into over-the-top floral arrangements, romantic candles, simple garlands or all of the above.
In this article:
How Do You Decorate a Fireplace for a Wedding?
The exact decorations you can use will depend on the specifics of the fireplace at your venue. For example, does the fireplace have a mantel or is the face of it totally flat? Does the hearth extend all the way to the floor or does the fireplace have some type of base that elevates it off the ground?
Luckily, most fireplace wedding decor ideas can be modified depending on your needs. If you can't stack rows of candles on top of a mantle, fill the inside of the fireplace with them instead. If there isn't enough room on the floor to display flower arrangements, bring in decorative stands or shelves to accent either side of the fireplace. And don't forget about the chimney above the fireplace—the wall is often another place you can add your personal touch with picture frames, mirrors, wreaths or other accents. When in doubt, ask your wedding planner or florist for their thoughts and artistic input.
Fireplace Wedding Decor Ideas
Now it's time for the fun part: collecting inspiration for your fireplace decor. Check out these ideas for all seasons and styles.
1. Blue Delphinium
Getting married during the summer? You can still decorate the fireplace for your wedding day. Brightly colored flowers, like these delphinium and hydrangeas, will bring a lively element to the space.
2. Greenery and Pink Roses
This fireplace wedding decor idea is easy to customize depending on your theme or color palette. Add flowers to a base of greenery, then finish with candles, baskets or other decorations to fill the hearth.
3. Geometric Lanterns
Decorate a non-working fireplace with gold geometric lanterns and candles. A one-sided floral arch allows the embellishments of the mantel to peek through, such as carvings or decals.
4. Flowers in Bud Vases
Flowers are a great way to decorate the fireplace at your wedding, but you don't need to go overboard. Use single-stem flowers in bud vases for a sweet but simple decorative accent.
5. Draped Flower Arrangement
Allow greenery vines and flowers to drape over the edge of the mantel for a romantic, wild look—just make sure the fireplace isn't lit.
6. White Pillar Candles
Here's proof that sometimes less really is more. Clusters of candles in the hearth and along the mantel will add a warm, cozy glow to your reception space after the sun sets.
7. Floating Candles
Another fireplace candle idea we love: Use floating candles in glass vases along the mantel. Even better if you can place a mirror against the wall behind them to reflect the glimmering light.
8. Initial Letters or Monogram
Decorative letters will turn any fireplace into a custom wedding backdrop, whether it's for your ceremony, sweetheart table or simply a photo op for guests.
9. Winter Greenery and Logs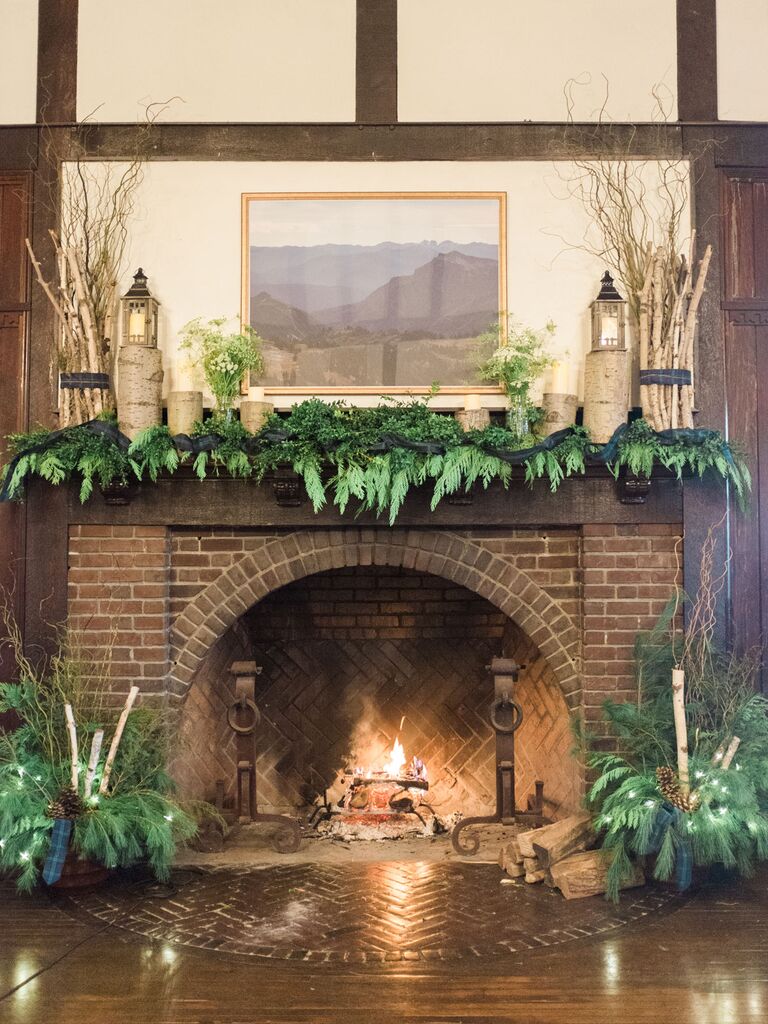 Cover your fireplace with cedar branches, logs and tartan ribbons for fireplace wedding decor that's perfect for Christmas weddings and the winter season.
10. Decorative Ceramic Pots
Colorful vases will add flair to a fireplace mantel even if you don't fill them with flowers. These terracotta pots are great for a boho wedding theme, but you could use blue chinoiserie for something classic or metallic vases if you prefer a glam look.
11. Taxidermy Display
This rustic fireplace decor is just begging to be a winter ceremony backdrop. To replicate, look for a faux taxidermy wall accent, such as antlers or horns.
12. Wooden Cross
Pair a wooden cross with fresh greenery vines for a simple ceremony altar or decorative reception backdrop.
13. Vintage Standalone Mantel
If your wedding venue doesn't have an existing fireplace, no worries. Reach out to an event rental company in your area to find a vintage mantel you can decorate for the day.
14. Hanging Floral Arrangement
Floral chandeliers, hoops and other hanging wedding arrangements are great for filling out the space if your venue has high ceilings. Match the hanging arrangement to the decor around the fireplace for a cohesive look.
15. Oversized Flower Installation with Candles
Love flowers? You'll love this garden-inspired wedding fireplace decor (and so will your guests). Use tons of greenery, flowers and tall taper candles to recreate the romantic fairytale vibe.
16. White Orchids and Greenery
For a modern wedding theme, you can't go wrong with white phalaenopsis orchids. Arrange them across the fireplace mantel, then add dark greenery vines to bring contrast and movement to the structural flowers.
17. Wedding Cake Backdrop
If you're wondering how to decorate a non-working fireplace at your wedding venue, try using it as a backdrop for your wedding cake table or dessert display. Finish the setup with a few flowers in colors to match the desserts.
18. Fresh Greenery Garland
Keep your fireplace wedding decor super simple by stringing a single garland around the top. Larger greenery leaves, like magnolia leaves, lemon leaves or philodendron leaves, will make more of an impact.
19. Mini Floral Arch
If the fireplace at your wedding venue doesn't have a mantel, create one. This bridge-style wedding centerpiece perfectly frames the screen.
20. Pampas Grass Clusters
Use an assortment of pampas grass, dried flowers, greenery and candles for wedding fireplace decor that's the epitome of boho chic style.
21. Ornate Details
A fireplace that's already decked out with marble carvings and other ornate details doesn't need much else. Let the mantel take center stage by keeping your decorations simple, such as votive candles and minimal greenery.
22. Stacked Candles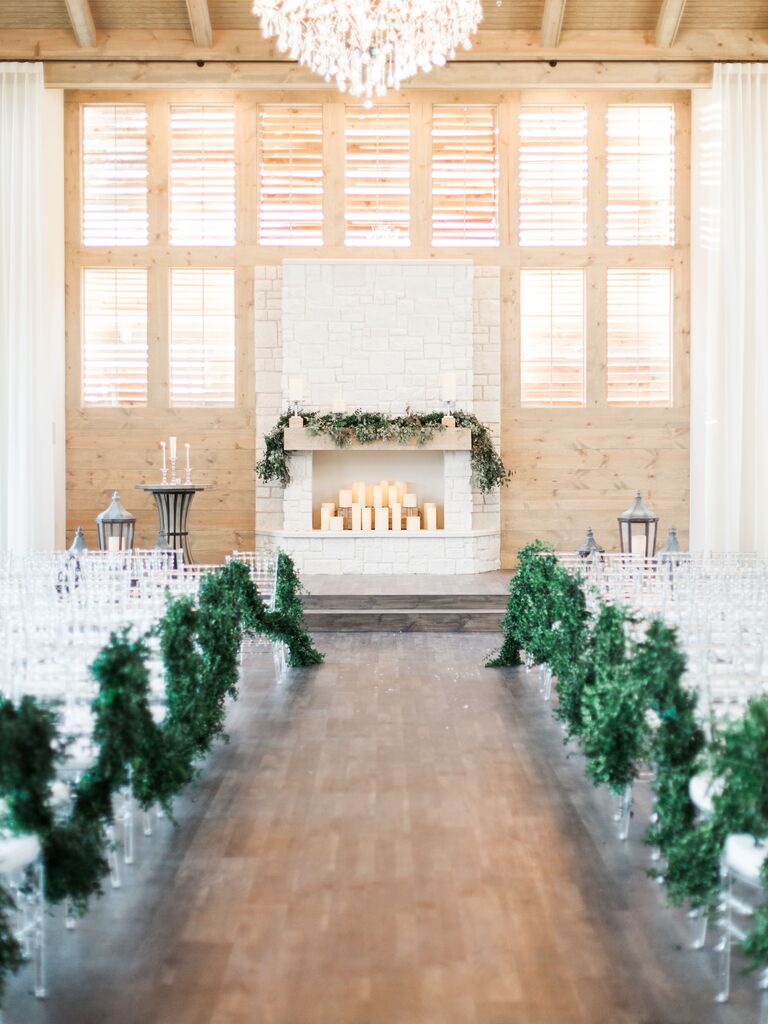 Stack multiple sizes of white pillar candles on top of bricks and boxes to create a layered, dimensional display inside the fireplace.
23. Colorful Tiles
Colorful, antique tiles can be the focal point of your wedding fireplace. Add flowers to one side of the mantel for a little bit of flair.
24. Wedding Lounge Area
If there's enough space, set up a wedding lounge area in front of the fireplace to turn it into a cozy hangout spot for your guests.
25. Empty Picture Frames
Use a collection of vintage-style picture frames above the fireplace if you're going for an eclectic look. Check out thrift stores to find frames in different sizes and shapes.
26. Monochromatic Decor
Signs, candles, figurines and pottery are all alternatives to using flowers for your fireplace wedding decor. We love the sleek, contemporary feel of this monochromatic white decor.
27. Family Photos
Weddings are a special time to celebrate with your closest loved ones and reminisce. What better way to do that than by showcasing some of your favorite family photos above the fireplace? Use your parents' or grandparents' wedding photos, or take a moment to honor those who are no longer with you. Guests will love the extra-personal element of the display.
28. Fall Centerpieces with Fruit
These matching arrangements of antique hydrangeas, red roses and pomegranates are right on cue for a classic fall wedding.