Fall Wedding Pitfalls (and How to Avoid Them)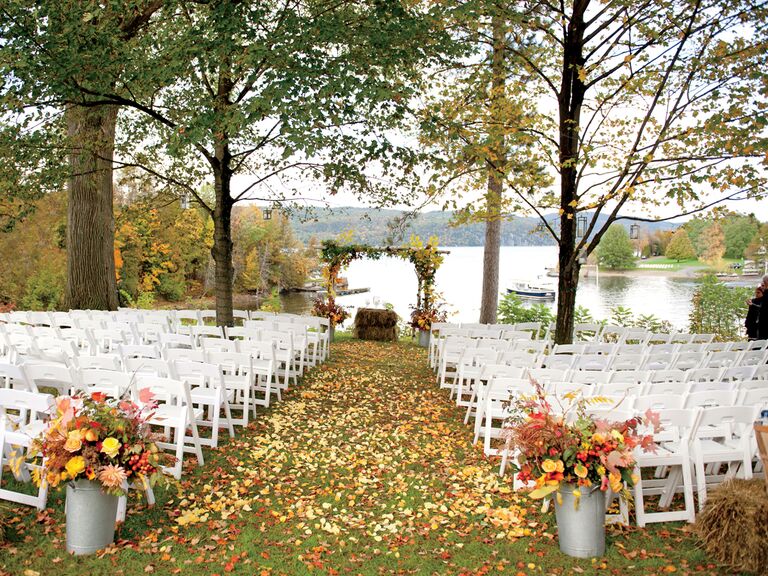 Orchard Cove Photography
It's no wonder fall weddings are so popular: Changing leaves create amazing photo ops and, with the summer heat long gone, no one will be sweating through their attire. But the season has its own wedding-planning obstacles. Here's how to deal with four common fall wedding hang-ups.
The Dilemma: An outdoor ceremony complete with natural foliage backdrop sounds perfect -- until your Indian summer wedding gets frostbitten by an unseasonable cold front.
How to Deal: An outdoor fall wedding is definitely doable, as long as you (and your guests) are prepared for the elements. Make sure guests aren't left shivering by clueing them in on the forecast -- use your wedding website to give guests a friendly reminder that the evening might turn chilly. And consider other ways to keep everyone comfy: Display a basket of inexpensive wraps near the entrance to the ceremony, set up heat lamps around any outdoor area where guests might mingle, and, if your reception site permits, set aside space for a fire pit (along with fixings for s'mores, of course!).
The Dilemma: You've always loved lily of the valley, but three little words dash your hopes of carrying them down the aisle: out of season.
How to Deal: One way to keep wedding costs down is to use in-season flowers, and though you might not be able to pack each arrangement with your favorite blooms, you've got tons of options for elegant fall floral arrangements. Dahlias, chrysanthemums, and asters are all at their peak. Also consider a few non-floral elements to create a bouquet that really plays up the season. Incorporating fall fruits and vegetables -- like crabapples, ornamental cabbage, and peppers -- can create an arrangement that's equally elegant and eye-catching. And if it's lily of the valley or bust, there's still hope -- many florists can provide greenhouse-grown flowers, albeit for a steeper price.
The Dilemma: Between Labor Day, Thanksgiving, and the Jewish high holidays, convenient weekends seem few and far between.
How to Deal: No matter how early you send out save-the-dates, the unfortunate fact of picking a wedding date is that someone will likely have conflict. That said, a little research can go a long way toward making sure most of your guests are able to attend. Check out these wedding dates to avoid to find a weekend that's more likely to work for everyone. And if you hear any grumbling from an invitee about your wedding date, remind them that there's a silver lining: Travel expenses are usually lower in the fall, since it's not peak vacation season.
The Dilemma: Fall foliage can make a scenic backdrop for an autumn wedding, but that ragweed can wreak havoc on a seasonal allergy sufferer. And puffy, red eyes just won't cut it in your wedding photos.
How to Deal: As your wedding date approaches, check the National Allergy Bureau (AAAAI.org) for updates on pollen counts in your area and find out when your sinuses may be in for trouble. Even if you're not usually the sort to suffer an allergy attack, play it safe on your wedding day by keeping a non-drowsy, over-the-counter antihistamine, tissues, and eye drops on hand.