7 Groom's Cakes That'll Score Big With NHL Fans
Make a power play with these hockey groom's cakes inspired by the Stanley Cup playoffs.
by Carrie Anton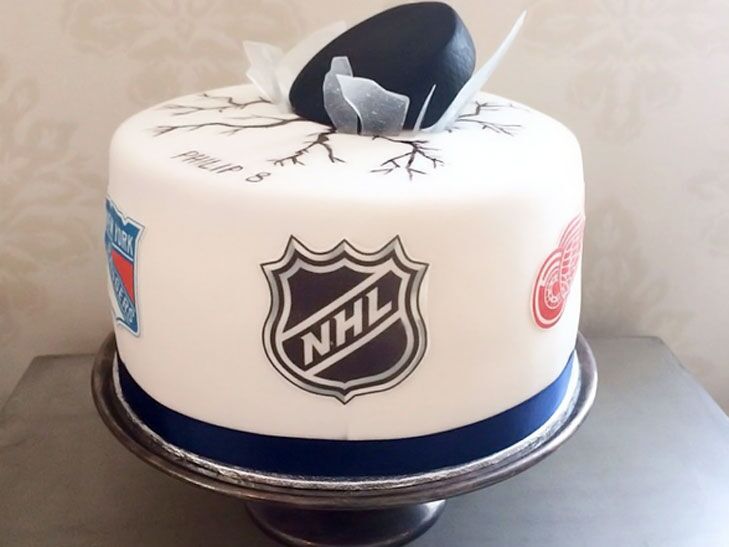 Instagram.com/CakesByHelena
Which NHL team will take home the 2016 Stanley Cup trophy is yet to be determined with playoff games still underway. If your spouse-to-be is cheering for the home team, or just a die-hard hockey fan in general, get inspired by the on-ice game and face off with these groom's cakes that really go for the goal.

1. Fondant Fan Gear
While your man might be wearing a suit or tux on your wedding day, he can still enjoy the ultimate fan gear with this hockey jersey cake.
2. A Cake With League Status
For the fan who simply loves the sport without one favorite team, this cake is the perfect puck.
3. Make It the Mascot
While broken noses and missing teeth are often the real face of hockey, you can also celebrate the team mascot to serve up a sweeter-looking confection.
4. Pull Your Goalie
Shoot and score with a cake that's all about the goalie.
5. Cupcake Check
Skip the solid cake and go for cupcakes that bring the big picture to life.
6. Team Player
If your groom's a fan of hockey because he plays the sport, give him a cake that's as good as his gear (but a lot better smelling!).
7. Keeper of the Cup
There's no bigger win in hockey than the Stanley Cup itself. Serve up a replica confection, adding your groom's name to the list of winners.