6 Statement Orchid Centerpieces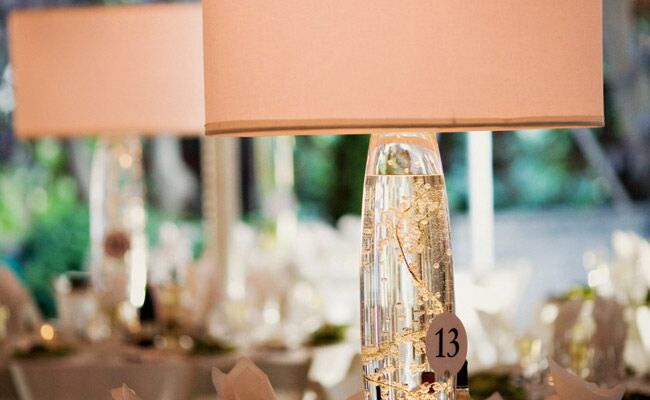 Photo by: Thorsen Photography
Orchids are beautiful all on their own but take them up a notch by displaying them in new and interesting ways. Here, six submerged orchid centerpieces that will make your reception pop!
Floating Orchid Lamp Centerpiece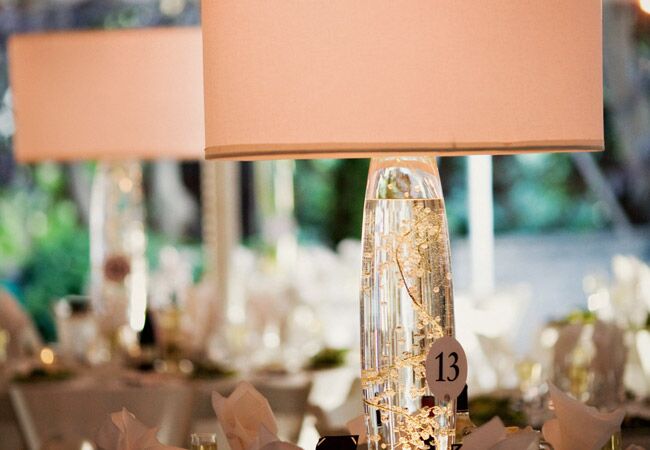 Photo by: Thorsen Photography
First up, take a peek at these totally creative orchid lamps. The couple's florist, Heffernan Morgan Designs in Chicago, designed their centerpieces using white lampshades and glass vases filled with water and small strands of white orchids. Inside each lamp was a pink light bulb (hence the soft pink glow). To finish them off, each centerpiece was lit from the bottom up using a mirrored light box. A fairly involved set-up, but very scene-setting! (See more photos from the wedding here)
White Lamp Centerpiece with Hydrangea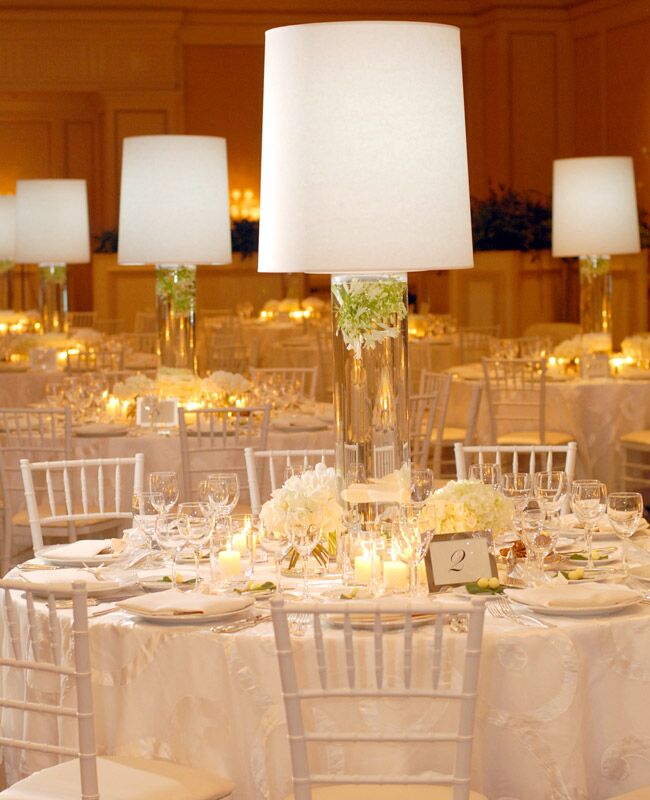 Photo by: Susan Jackson Photography
And here it is in all white for a more traditional vibe. I love how the white hydrangeas anchor the entire look. (See more photos from the wedding here!)
Ice Sculpture Table Decor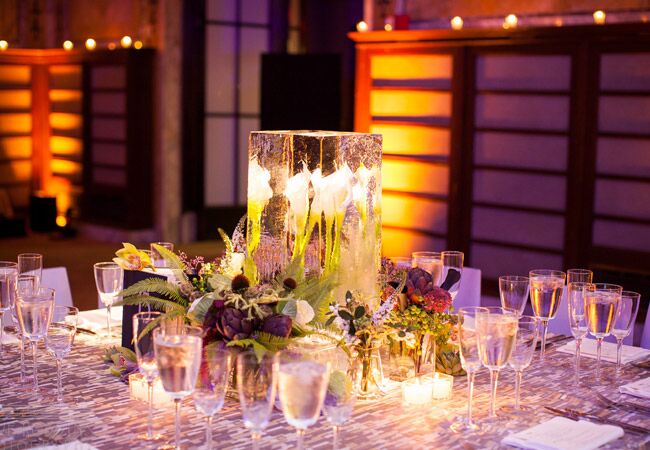 Photo by: Dave Robbins
Ever seen an ice sculpture as classy as this? Frozen calla lily stems are lit from the bottom and surrounded by orchids and foliage to create a real conversation starter.
Cascading Orchid Escort Card Display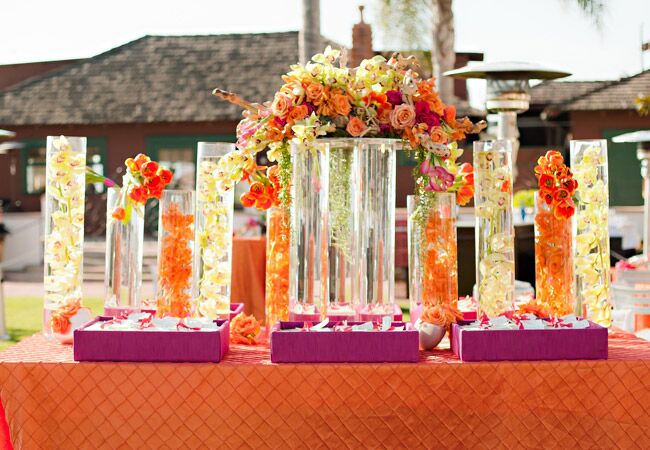 Photo by: The Youngrens
Guests entering this outdoor reception were wowed with a decked out escort card table. Tall hurricanes filled with cascading orchid blooms help to define the space– and they are certainly easy on the eyes! (See more photos from this wedding here)
Tropical Bouquet Centerpiece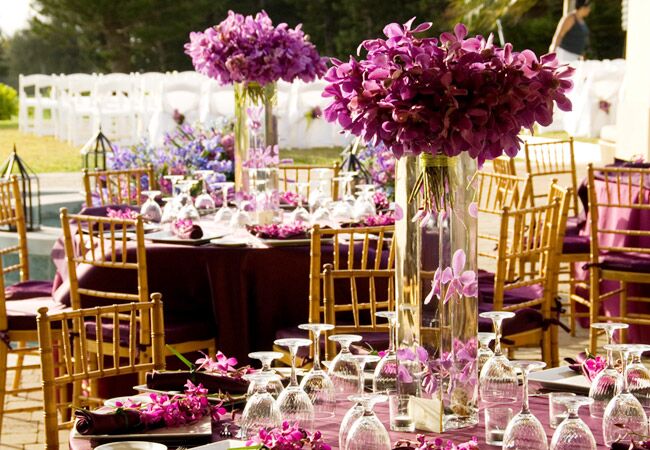 Photo by: Photography on Maui / A White Orchid Wedding Inc.
Orchids all around! For a luxe island look, bright tropical blooms are strung on a spiraling wire and submerged in tall cylindrical vases. Full bouquets sit atop the vases and scattered orchids decorate the place settings.
Floating Candle Orchid Display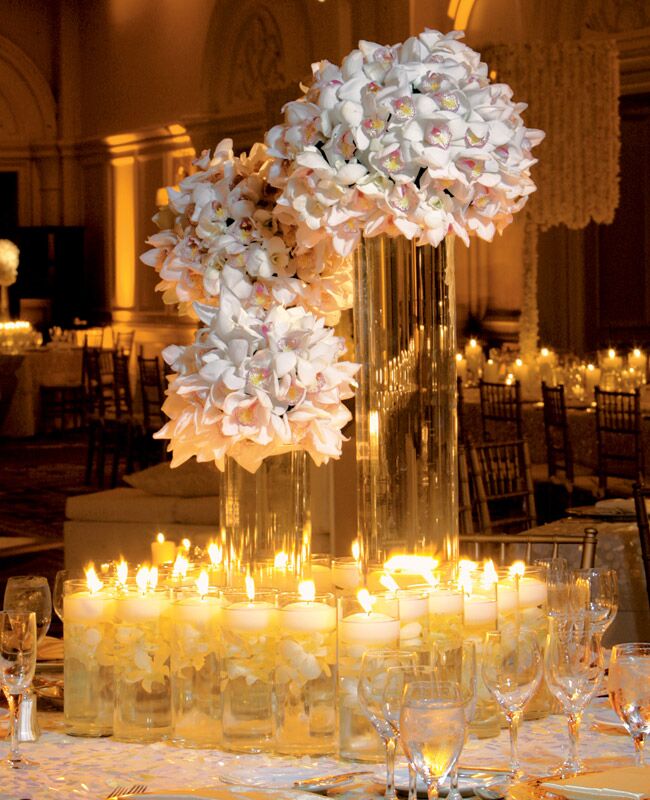 Photo by: Roy Llera Photographers
Take it indoors and cluster small vases filled with submerged orchids and floating candles. Pair with tall centerpieces at varying heights for that va-va-voom factor. (See more photos from the wedding here!)
Bottom line? Sink your orchids for the ultimate in tabletop drama.
Want more of the hottest flower trends?
> 7 unexpected centerpiece ideas
> Glam up your wedding flowers with these hot tips
> See 25 flowers we're loving now!