How to Start the Wedding Planning Process During COVID-19
Even if you just got engaged, there's still plenty you can accomplish from home.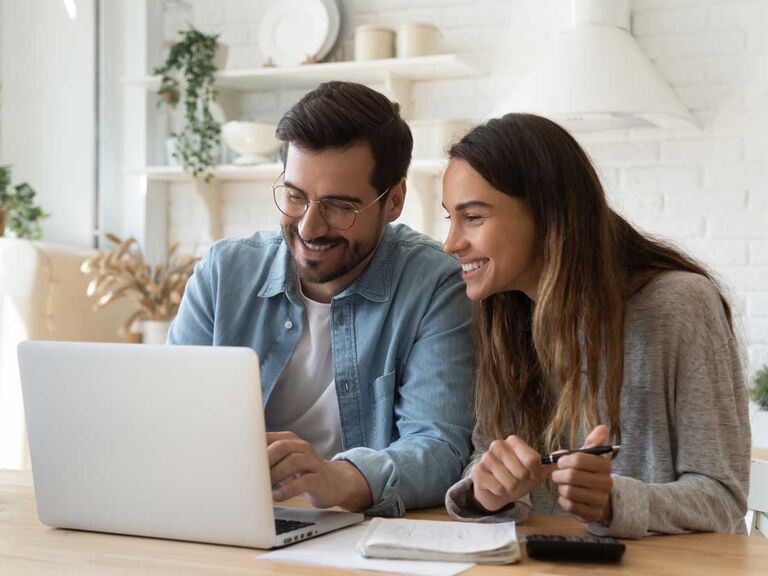 Fizkes / Shutterstock.com
If you got engaged during the COVID-19 pandemic, you might feel overwhelmed by the thought of starting to plan a wedding from home. But even with social distancing guidelines and public gathering mandates, there are still plenty of tasks you can accomplish from your couch. In fact, vendors are now adapting their businesses to help couples get started on planning their dream day—online.
Below, we've outlined a checklist of tasks you can work on when you're ready to begin planning your wedding during COVID. (But first, we recommend you take a moment to enjoy your newly-engaged status.) Once you're ready to plan, you'll be able to make serious progress on your to-do list (from virtual venue tours to online quizzes) without even leaving your house.
Set Your Budget
First, set your budget to help guide the rest of your planning decisions. "At the beginning of the planning process, I recommend all couples have a conversation about their wedding budget, ideal time of year to have a wedding, and headcount goal," says Ashley Chamblin, owner of Ashley M Chamblin Events. "These discussions will help you direct your attention to what venues to start looking into and possibly bringing on a wedding planner. Even though large gatherings of people are on pause now, venues still book weddings 12-18 months in advance. It's best to move forward with looking into event spaces sooner rather than later, especially for prime wedding season and Saturdays."
Pick a Date
While it might feel daunting to pick a date given the uncertainty of the pandemic, choosing a day far in advance will help ensure that you get the venue and vendors that you want most. According to The Knot 2019 Real Weddings Study, the average length of an engagement is 15 months. Since this is an average, specific timelines will vary among couples. However, you can use this as a general guideline to help determine when to set a wedding date. Venues and vendors are still booking weddings, so as soon as you pick a date you can move forward with planning duties.
Identify Your Vision
Once you have a date and a budget, identify your wedding vision and how you want to bring it to life. Start your wedding planning during COVID by taking The Knot Wedding Style Quiz to get personalized inspiration for initial guidance. Browsing Real Wedding galleries will also give you plenty of ideas for your own style. Now's the time to break out your Pinterest boards and work with your S.O. to find a wedding theme you both love.
Even if you feel like you need some guidance from your pros, having a few preliminary ideas will help your vendors work with you to execute your ideal vision. "Technology is primed and ready for the challenge of designing virtually for a client," says Josh Spiegel, Creative Director and President of Birch Event Design. "Screen share has been a fantastic tool for us that, in many ways, has been better than presenting in-person. We assess both inspiration and our complete design proposal on a deeper level than ever."
Start Researching Vendors
Head to The Knot Marketplace to start searching for vendors to build your wedding day team. The COVID-19 pandemic hasn't halted the work of wedding vendors—in fact, plenty are working even more closely with couples than ever before. "I have been using extra time this year to help clients plan their big day," says photographer Christine Chen. "We can walk through multiple drafts of their timeline, plan for contingencies, talk through tips and tricks, brainstorm engagement photoshoot ideas, and more."
Plus, one of the biggest benefits of securing vendors as soon as possible is having their expert help to navigate this unprecedented time. If you're feeling particularly unsure of where to begin, consider hiring a planner if your budget allows. "The benefit of hiring a wedding planner, especially during the course of this pandemic, is their expertise and experience," advises Chamblin. "We have all been working tirelessly with other couples who have had to postpone their wedding due to the ongoing crisis. Having a professional on your team who can inform you of other couple's experiences with COVID-19, what steps you may be able to take to prepare yourselves should your wedding be affected, and knowledge of how certain vendors are choosing to handle postponements is invaluable."
Meet With Pros Virtually
In order to finalize your pro team, organize virtual meetings to get to know your potential vendors. Being able to talk with them will help you make an informed decision on the best pros for your wedding day. "Many vendors, especially photographers, are used to doing virtual meetings," says Chen. "There are more tools than ever to make it easier to meet virtually. I always recommend video chats with potential vendors if you can't meet them in person."
Once you're ready to secure your vendors, continue to have frequent and transparent communication with them throughout the entire process — an especially important step in planning a wedding during COVID. "The professionals in the wedding industry are standing behind couples," says Chamblin. Regardless of how the pandemic will affect weddings, your vendors will be able to help you make informed decisions as you move forward.
Spiegel also suggests addressing important questions with your vendors from the start—that way, you'll be on the same page from the beginning. "We recommend vendors and clients come to an agreement and commitment with one another while addressing all the possible outcomes," he advises. "Ask questions like, 'What if our date comes but we are only allowed X number of guests?' and 'What if my guests aren't comfortable attending or flying on that date?' and 'What if we have to postpone again?'" While the future ramifications of coronavirus are unpredictable, it's best to address any possible issues upfront. In turn, having these discussions will help eliminate any miscommunications down the line.
Take Digital Venue Tours
Plenty of wedding venues are now offering virtual tours to help couples find their location without leaving their home, so they can keep wedding planning during COVID. "Virtual tours allow the couple to see the venue in real time, and it still provides the opportunity for 'face to face' questions without risking their health and safety during this very challenging time of uncertainty," says Ron Nagy, General Manager of Bohemian Hotel Celebration in Celebration, Florida. This hotel is one of many that has adapted to the coronavirus pandemic by creating virtual tours that are just as interactive as on-site meetings. "As with a traditional site visit, our event space is set with various table arrangements, menu options are reviewed (including meeting the chef), and guestrooms are explored. Everything that would be shown and discussed in person is shared during a virtual tour," explains Nagy.
If you're feeling apprehensive about virtual tours, know that vendors continue to find progressive new ways to make it as simple as possible to location scout from home. "As event planners, we provide as much detailed information about the venue prior to the tour so that couples are very familiar with the property and services provided," Nagy says. "This makes for a smooth start to the visit and alleviates any feeling of awkwardness for the couple."
If you'll be virtually touring venues, come prepared like you would for an in-person visit. "Have a list of questions created in advance of the tour," Nagy advises. "Share the vision of your wedding with your catering sales manager prior to the tour, as they can then tailor the site visit to touch on areas that are important to you." He also suggests asking to see place settings and linen options to help get a full picture of what your event would look like. If possible, also request to speak with the on-site chef or catering lead to ask questions about menu options.
Finally, Nagy encourages clients to invite guests, such as their wedding planner or their parents, to join the virtual tour. And, to make it special, popping a bottle of champagne will make any virtual tour feel like an in-person experience.
Look Into Wedding Insurance
Some wedding venues require insurance—but after the COVID-19 outbreak, experts recommend that couples look into getting wedding insurance no matter what. Since there are a variety of insurance policies that cover different situations, work with your planner or an insurance broker to find a premium that's best for you. You can purchase wedding insurance at any time, from the day you secure a venue until right before your wedding. However, keep in mind that getting it sooner will give you more protection. If you're unsure of where to start, we break down everything to know about wedding insurance during COVID-19 here.
Make Your Registry and Wedding Website
Looking for some wedding planning tasks you can accomplish from your couch? Start tackling your registry and wedding website. Both are essential resources for your guests, and you can easily make progress while binge-watching a new show with your S.O. Use The Knot Registry to compile all of your wishlists in one easy-to-use spot for your guests. Browse products from your favorite stores, or get started on making a newlywed cash fund. Keep in mind that guests will want to shower you with celebratory gifts from the moment you get engaged. The sooner you have a registry put together, the sooner they'll be able to shop your most-wanted products.
Getting started on your wedding website is also a great way to organize your wedding information and address questions your guests might have. Since your loved ones may have questions about how the coronavirus may impact your future wedding date, Chamblin suggests addressing it from the start. "I recommend having a COVID-19 statement on your wedding website for your guests," she says. "This way, they know that you are monitoring the situation and will continue with the celebration as soon as it is possible."
From there, get creative by personalizing your wedding website. Share your proposal story and photos of the moment (especially if it took place at home), and include any wedding details that are available. Update your site as you get more information to share with your guests.
Gather Contact Information for Invites
Before you're ready to send out save-the-dates and formal invitations, gather contact information for your entire guest list. While it's one of the more tedious wedding planning tasks, it's one that you can easily accomplish while you're at home. Once you're ready to put the invites in the mail, you'll have all of the information you need ready to go.
Draft a Day-Of Timeline
If you hired a planner, work together to construct a tentative wedding day timeline. Once you have a general idea of what the day will look like, you can focus on smaller details, like coordinating your cocktail hour or looking into late-night snack deliveries. If you don't have a planner, use these sample timelines to map out your schedule.
Brainstorm Menu Ideas
What's a wedding without food? Use your time at home to work though potential menu options with your S.O. Once you have a general idea of what food you want to serve, connect with your caterer or your venue's onsite chef to start building your menu.
Start Planning Reception Songs
Finally, one easy task to get a head start on is your wedding music. Regardless of whether you want to hire a band or DJ, you can use this time to start thinking about the songs you want to hear on your big day. "Create music playlists for your ceremony, cocktail hour and reception," suggests Chen. "As you hear songs that resonate with you, drop it into a Spotify playlist. This might turn into a living room dance party and that's okay." Not only will your setlist get you excited for the big day, you'll have a killer playlist to listen to while accomplishing all of your wedding planning tasks.