Our Favorite Wedding Eats Ever
You don't have to settle for basic baked chicken, fish or beef. Put as much personality into your menu as the rest of your wedding details with these super-cool ideas and crazy-delicious combos. Your guests will be talking about your wedding long after the last dance.
Breakfast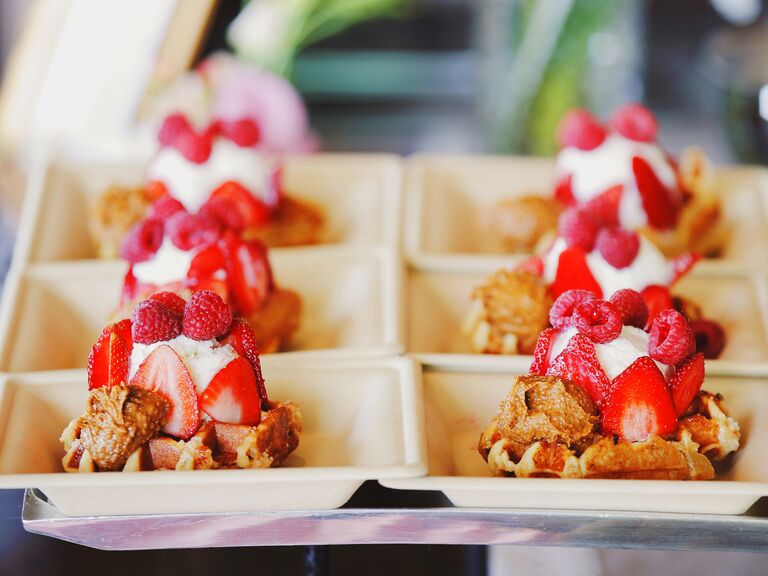 Breakfast for dessert? This is an idea we can totally get behind—especially if there are Belgian waffles involved! There are so many amazing options—think: tiny bacon, egg and cheese sandwiches; mini-bagels, scallion cream cheese and lox; and even silver-dollar-sized blueberry pancakes. Guests can wash these down with brunch-ready jumbo-shrimp-spiked Bloody Mary shooters (trust us, they're amazing).
Miniature Bites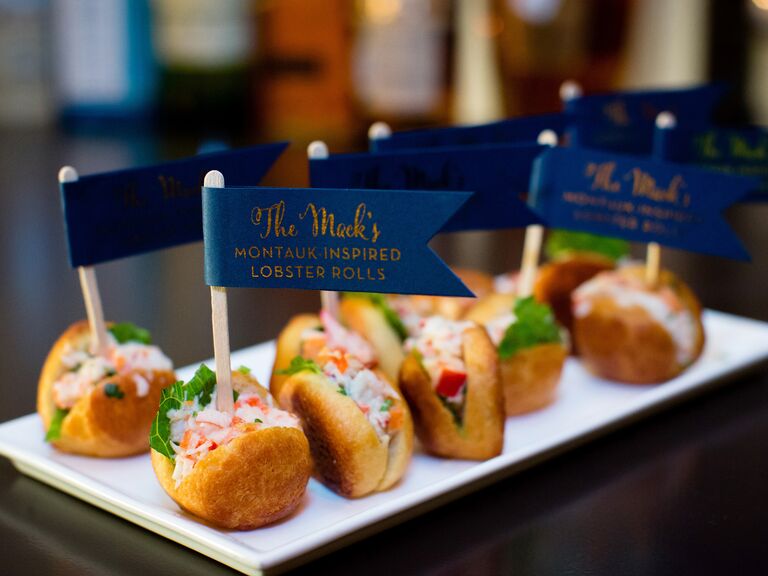 Imagine your favorite foods—only shrunk down to easy-to-eat mini-versions. Consider bite-size lobster rolls, fresh spring rolls, Reubens, soup shooters, and even ice-cream cones and strawberry shortcake. Guests will rave about how cute—and tasty—they are.
Craft Creations
One trend we love: giving your guests a gourmet, farm-to-table experience with yummy, carefully crafted eats and drinks. Serve up home-brewed or locally made beer; put out a spread of farm-fresh cheeses, locally grown veggies displayed on a wooden plank, flavorful homemade pickles and chutneys during cocktail hour; or make locally sourced meats and vegetables the stars of dinner.
Anything on a Stick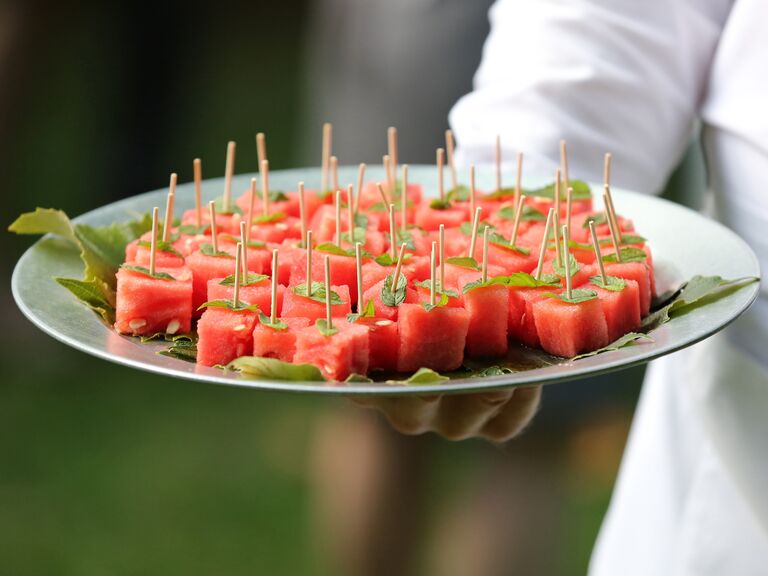 From prosciutto-wrapped melon to caprese salad and spicy chicken satay skewers, anything on a stick will be a hit.  Why? Guests won't have to hold a plate and napkin to eat them, making it easier to carry on conversations during cocktail hour.
Edible Escort Cards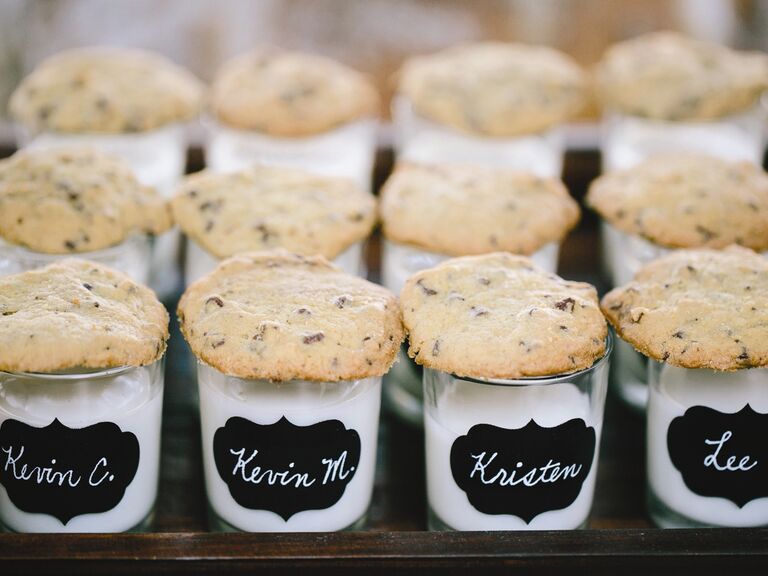 Milk and cookies in personalized shot glasses or labeled fresh fruit can help guests find their seats and make for a delicious pre- or postdinner treat.
Curated Food and Drink Pairings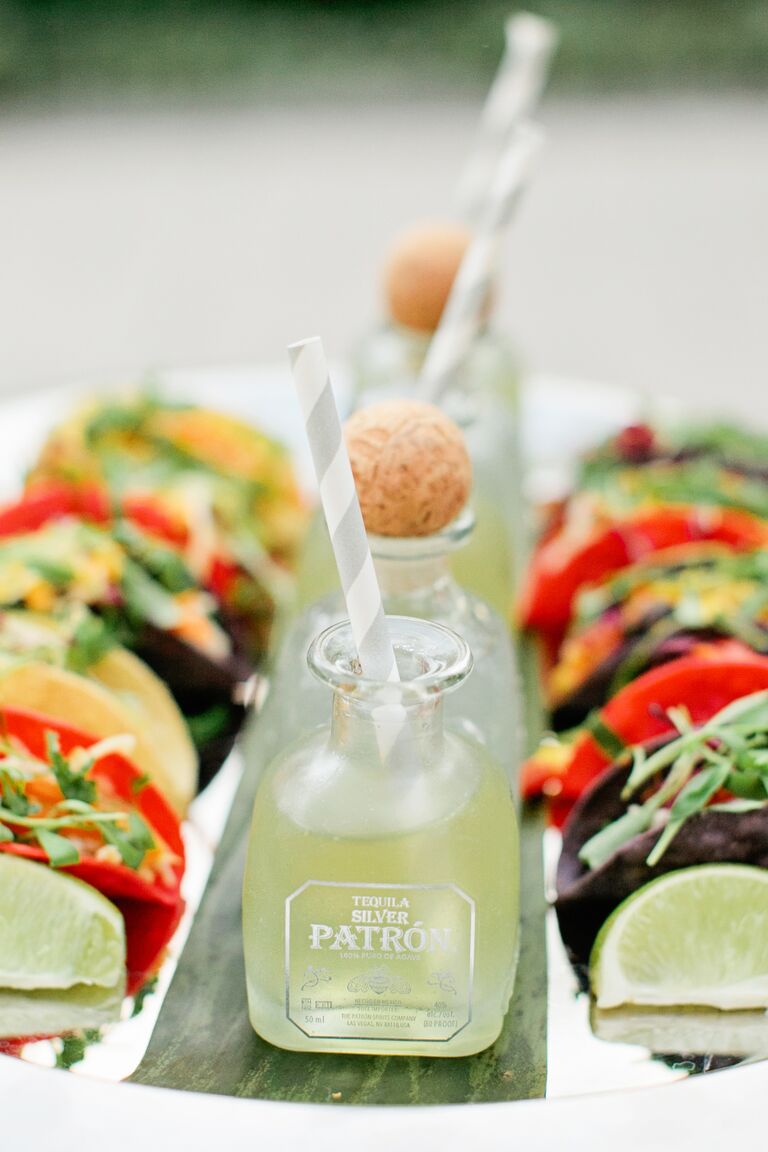 Wine pairings are always nice, but right now, cutting-edge caterers are pairing miniature passed appetizers with drinks of petite proportions. Imagine tiny lobster tacos with mini-margaritas, bite-size pastrami sandwiches paired with mini-mugs of locally brewed craft beer, or even caviar and crackers with shots of vodka on ice.
Delicious Doughnuts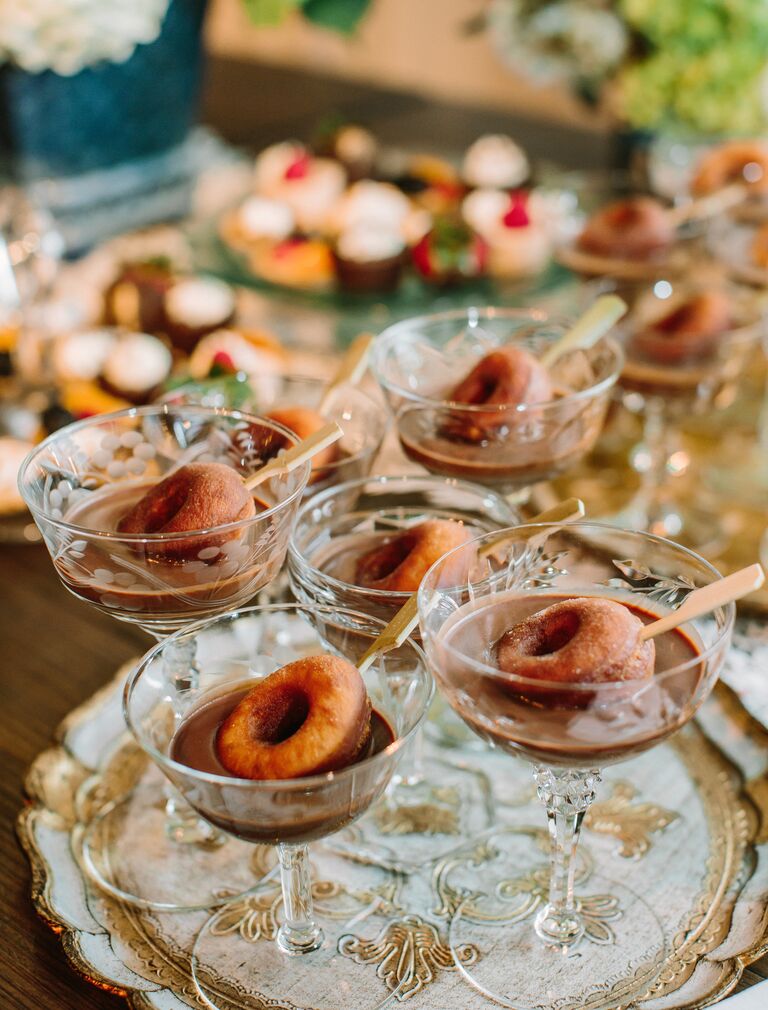 Just like pies and cake, people generally can't pass up this old-school pastry. Serve up retro classics, like cream- and jelly-filled varieties, plus new treats like white chocolate and almond or coconut-lime doughnuts (or even cronuts!). For a sophisticated twist, serve classic plain doughnuts with velvety dark chocolate in elegant, vintage coupe glasses. If you decide to replace your wedding cake, stack up the pastries into a tower to slice!
Classy Carnival Fare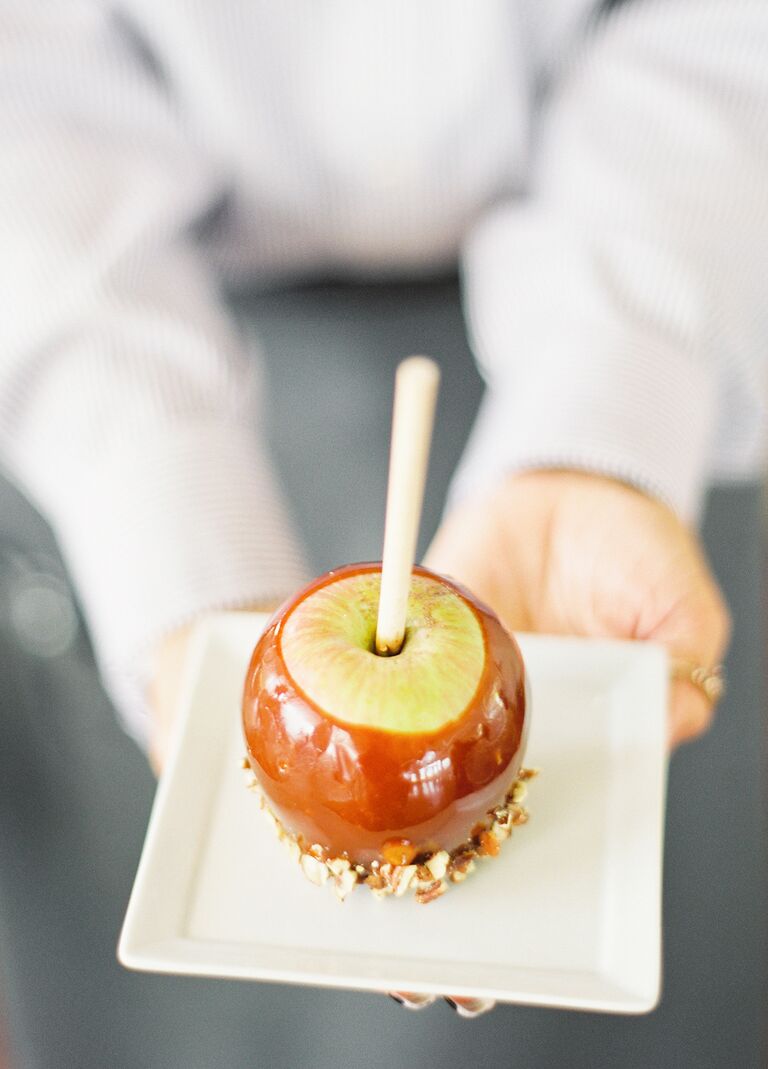 We're talking cotton candy, Cracker Jack, caramel apples and anything else you might find at the carnival—all dressed up with a festive display (think: bright colors and lots of stripes). Complete the carnival theme with a popcorn bar for late-night snacking and a funnel cake cart for fresh, hot confections.
Dressed-Up Comfort Food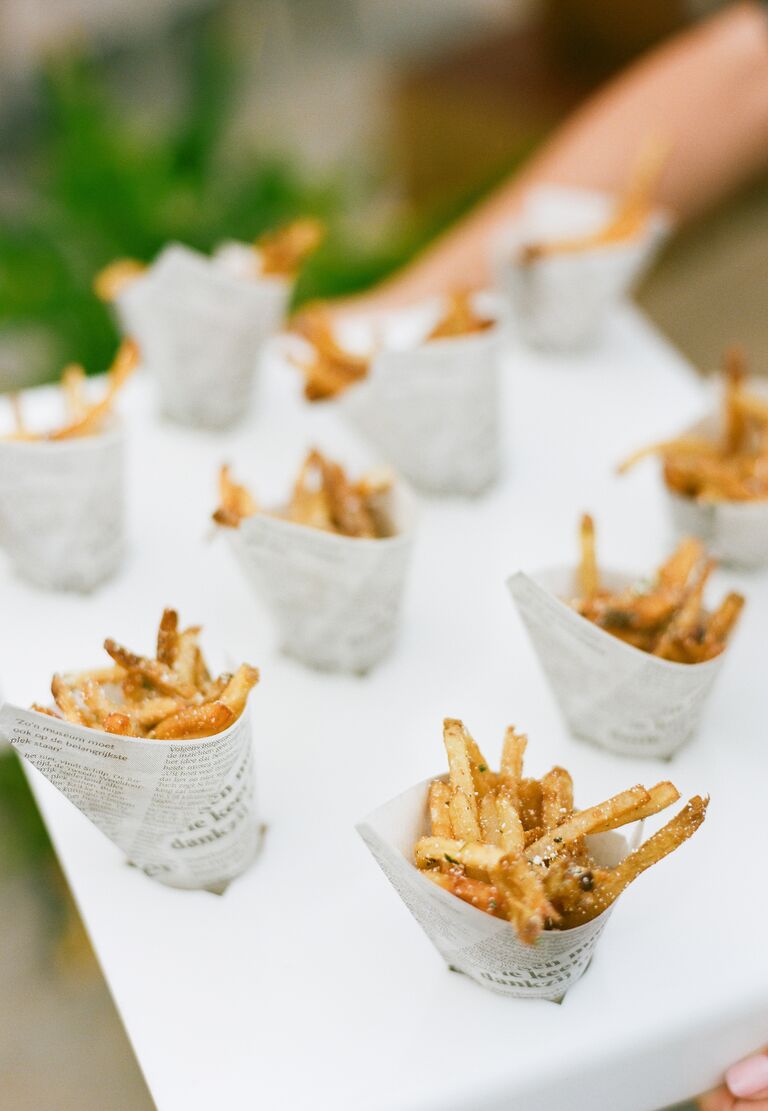 Comfort food has been popular at weddings for years, but now it's all about the presentation. Try French fries wrapped in monogrammed paper, chilled heirloom yellow tomato soup in a shot glass with warm Grafton cheddar and bacon panini, or veggies and dip in baguette cups.
Cheese-Wheel Cakes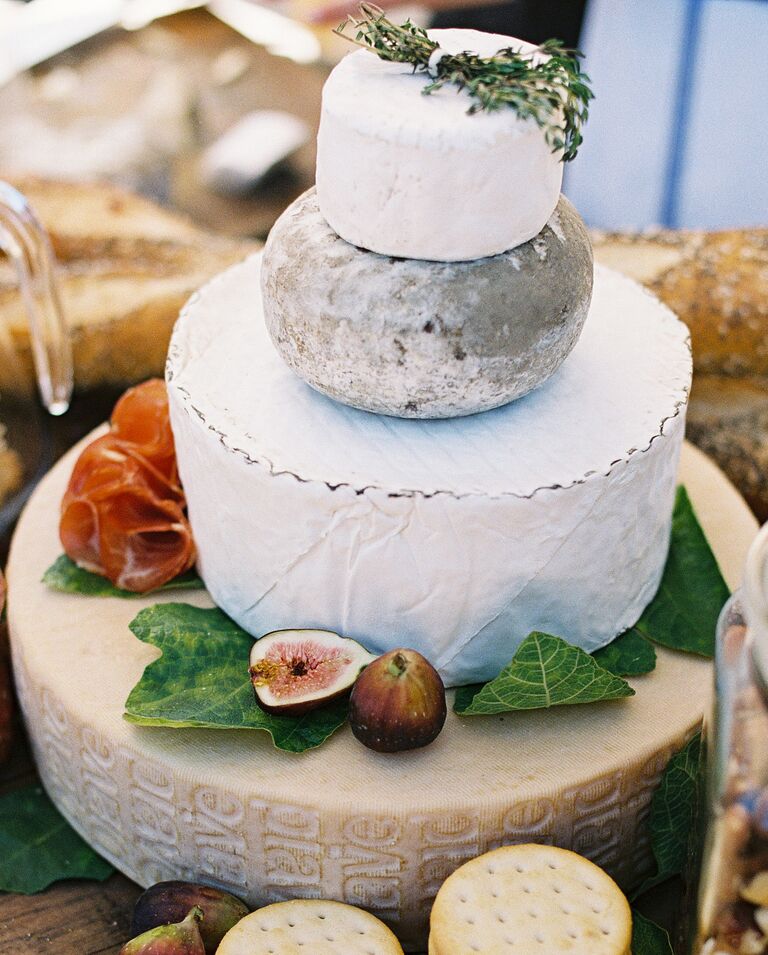 Okay, so maybe a cake made from wheels of cheese isn't going to replace a traditional wedding cake, but it's perfect for a pre-reception wine-and-cheese-focused cocktail hour. Each layer is a different variation—for instance, goat cheese, smoky gouda and sharp cheddar—with a garnish of fresh herbs.

Food Trucks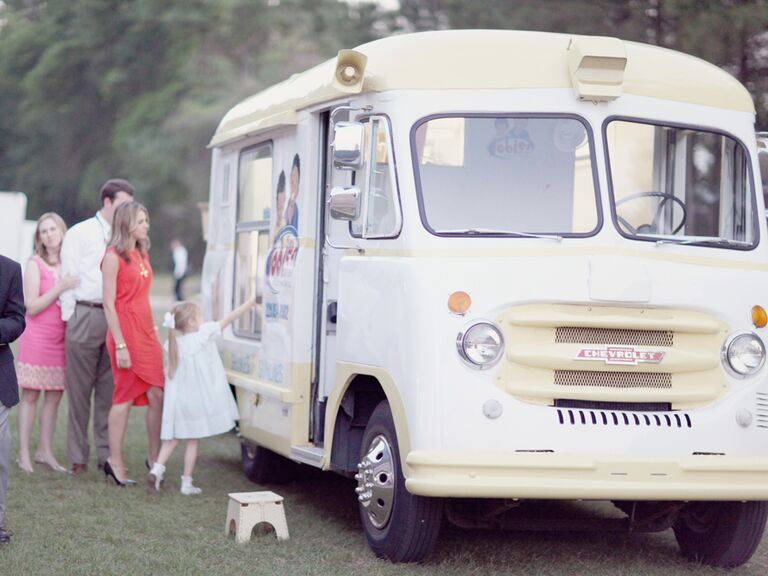 Food trucks aren't just for a quick weekday lunch anymore—for the past couple of years, they've been a fun way to serve guests hand-held eats for cocktail hour (think: grilled cheese made-to-order) or dessert (upscale ice-cream sandwiches for a super-sweet end to the night). But some couples are going all out and serving the main meal via a few restaurants on wheels (favorites options include pulled pork and mac 'n' cheese or gourmet vegetarian and meat tacos).
Vegan Anything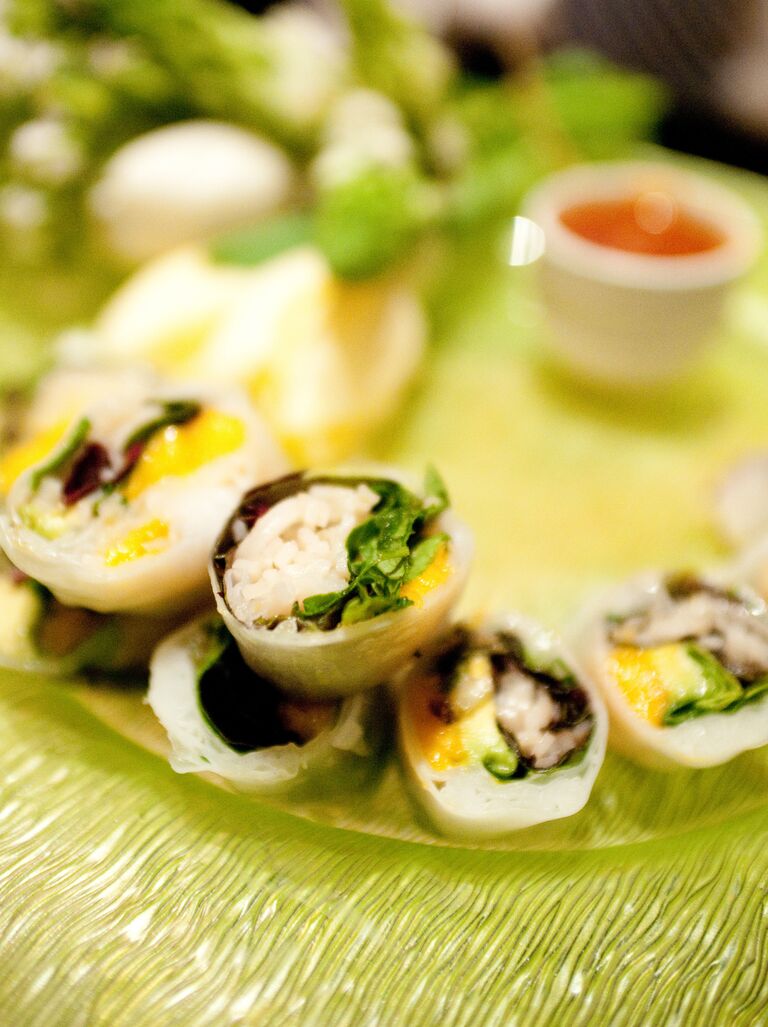 It's a given that you'll have at least one or two vegetarian options at your wedding, but these days more and more couples are serving vegan and gluten-free foods too. It's not just to accommodate guests with food allergies—caterers are creating really incredible menus that even your meat eaters will love. A few of our favorite vegan ideas: veggie sushi, falafel sliders and tomato risotto cakes.
Push Pops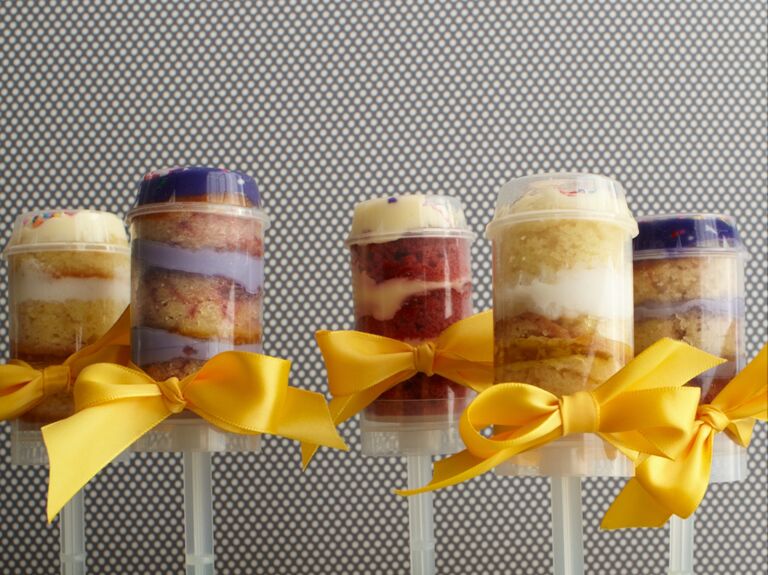 Remember push pops? Some creative caterers are bringing them back and putting them onto dessert menus. We've seen everything from cheesecake to macarons, moon pies and red velvet cake push pops. Hint: They also make for an unexpected groom's cake alternative.