Expert Tips on Pulling Off Your Own Dream Wedding
We asked our fabulous Dream Wedding pros how to plan an out-of-this-world celebration anywhere, anytime.
After you voted on all of the important details for The Knot Dream Wedding, we watched it unfold on May 13. With the help of some of the best pros in the industry, we threw an amazingly personalized and family-centric celebration for NFL player Devon Still and his fiancée, Asha Joyce, at The New York Public Library. Devon's 6-year-old daughter, Leah, who fought and won her battle against pediatric cancer last year, made special appearances during the wedding ceremony, the first dance and (of course!) the photo booth, making this year's Dream Wedding as much about family as it was about marriage.
Event designer and florist David Beahm pulled it all together with the help of an all-star team of vendors. With all that talent, we simply had to ask about their secret tricks of the trade. From stationery to favors, read on for 10 expert tips on how to personazlie your wedding and turn it into a truly memorable celebration.
1. Personalize Your Stationery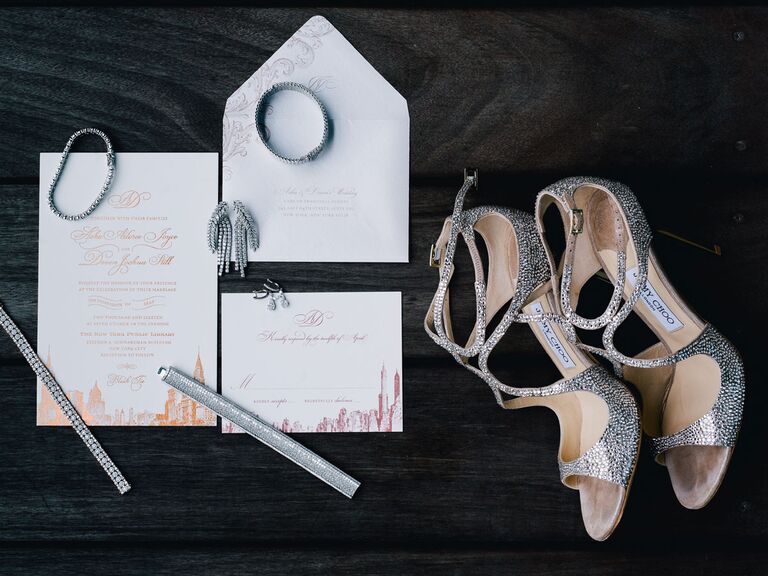 A Big Apple wedding held at the iconic New York Public Library is an amazing source of inspiration, and The Knot readers totally embraced that when it came to voting for the invitations. The winning stationery was a hand-drawn New York skyline design, depicted in an old-world engraved style font in a rose gold foil. What's the best way to make your own invitations feel extra special? Margot Hallac, the founder and creative director of Atelier Isabey, looks to monogramming. "Monograms are incredibly personal and the ultimate keepsake," she says. "We provide all of our clients with a range of monograms to choose from, which really helps to add that extra touch that makes the invitations feel unique and handcrafted, like a family heirloom."
Atelier Isabey Madison invitations, AtelierIsabey.com
2. Work With Your Venue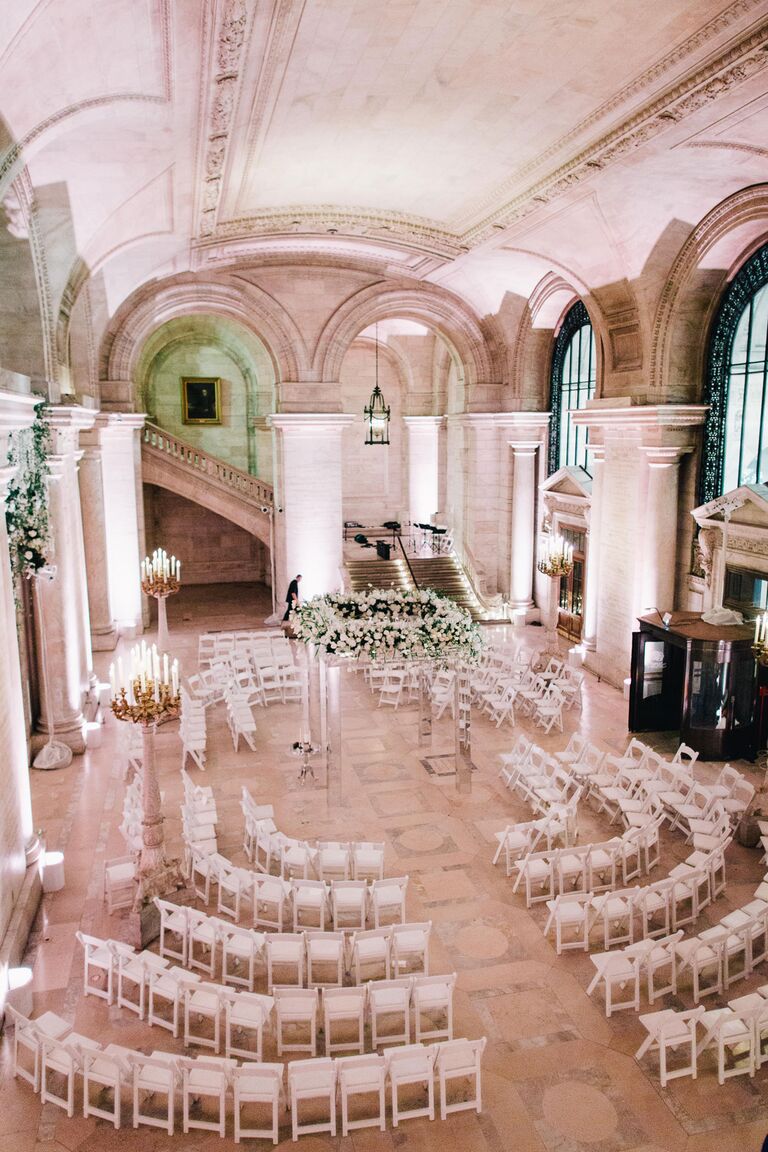 "With such a stately venue, the flowers have to be complementary instead of competing with all the lines in that space," says David Beahm. Even the ceremony seating was planned with the venue's beautiful architecture in mind. "Ceremonies in the round are very special because everyone's no more than four or five seats away from the couple," says Beahm. "All the while, they can also enjoy the grandeur of the room."
New York Public Library venue, NYPL.org
3. Leave Room for Lounging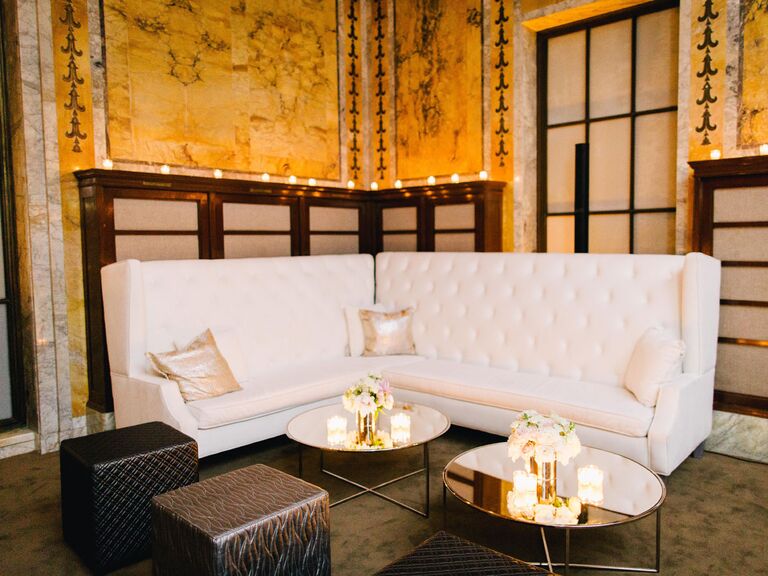 Lounge areas are a great way to create a sense of intimacy in an otherwise open space. For a balanced design, pick a furniture style that complements the ambience of your reception space. "We opted for 'classic modern' favorites: high-backed banquettes paired with mirrored coffee tables. The look was incredibly elegant and fit perfectly with the floral designs," says Christina Therrien, director of special events at Taylor Creative Inc.
Taylor Creative Inc. rental furniture, TaylorCreativeInc.com
4. Create Focal Points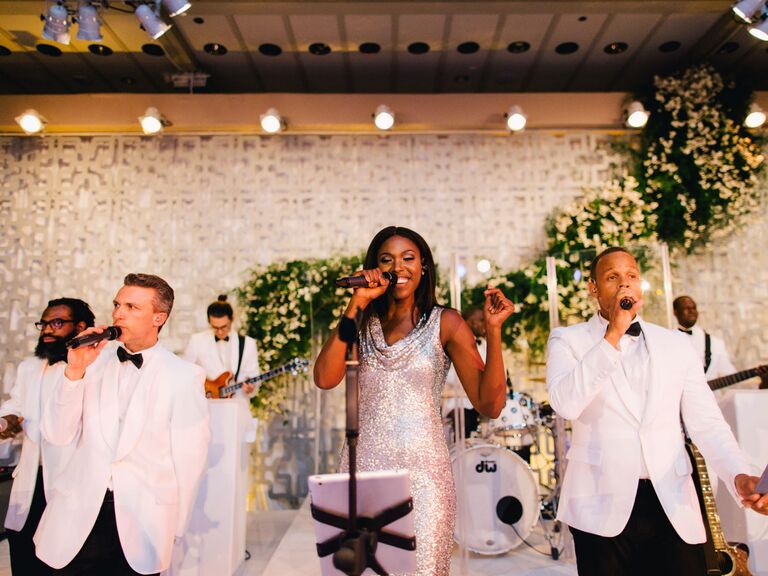 An attention-grabbing flower arrangement can change an entire room. "There's always a way to make flowers into statements. Place them on a bar, buffet, either side of a stage or the entrance to the reception room," Beahm says. "Even if it's just one huge arrangement in the middle of the space, that can really speak volumes." Florals not your thing? A dramatic backdrop can achieve a similar effect. For the Dream Wedding, a fabric draping set behind an intricate laser cutout pattern called attention to the stage.
Atomic Designs laser cutout pattern, AtomicDesign.tv; David Beahm Experiences floral backdrop arrangement, DavidBeahm.com
5. Set Up Interactive Entertainment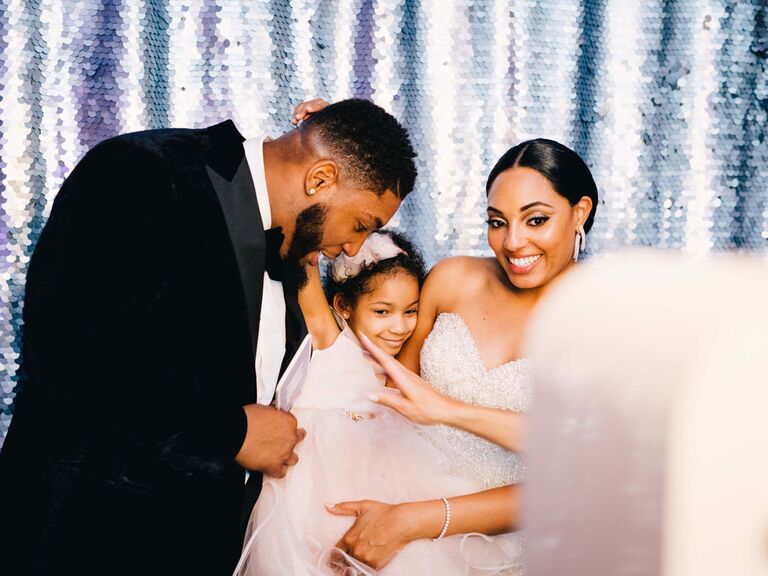 Not only are photo booths an amazing way to get people laughing, they're also a nice opportunity for family and friends to snap a few pictures together while they're dressed to the nines. "It breaks down walls and allows people to just laugh, have fun and capture raw emotion," says Zach Schiffman, owner of Studio Z Photo Booths. "There's nothing I love more than when Grandma and Grandpa share a funny pose or kiss in the booth, and I can provide that image to a couple to have and cherish." Outfit your booth with some funny props like sunglasses or sports hats so each guest can show off their personality and get a little silly.
Studio Z photo booth, StudioZPhotoBooths.com
6. Craft a Signature Sip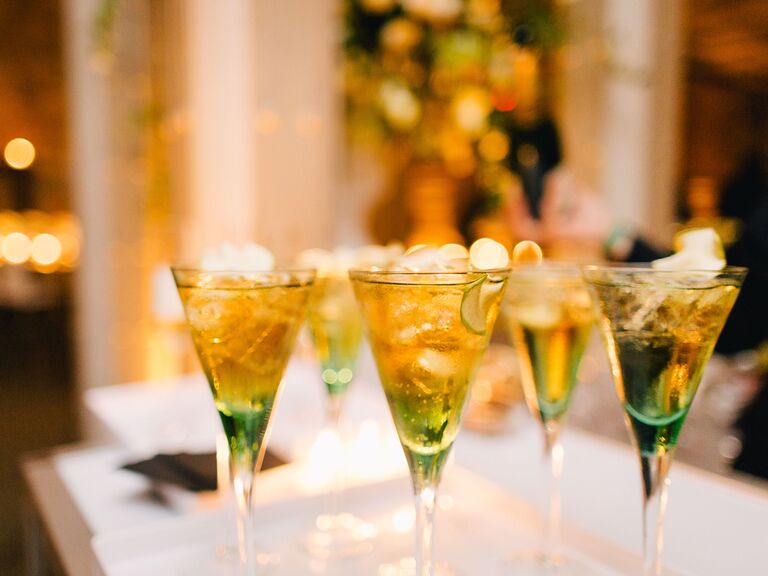 A cocktail hour is usually the first opportunity guests have to mix and mingle together after the ceremony—it's when the celebrating really begins! Treat your guests to a signature sip that speaks to your style as a couple, maybe it's a martini for her and a specialty brew for him. For Devon and Asha, Marcia Selden Catering muscled up a tasty Crown apple and ginger ale cocktail.
Marcia Selden Catering food and drink, MarciaSelden.com
7. Go Big With Your Wedding Cake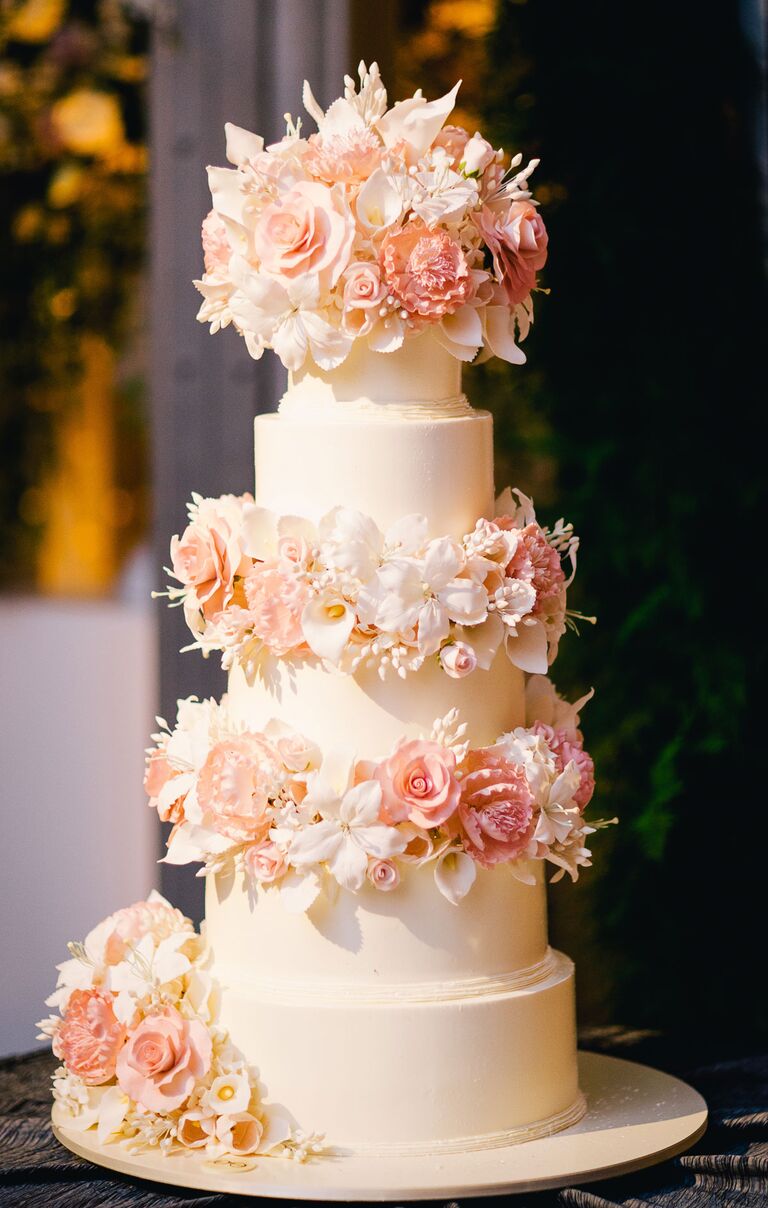 The wedding cake is the exclamation point to your day, so make it a big one! If you want the height without a bigger bill, ask your baker about adding a tier or two of Styrofoam into the design—that's especially handy if your guest list isn't big enough to devour a five-tier confection.
Sylvia Weinstock Cakes wedding cake, SylviaWeinstock.com
8. Set the Mood With Lighting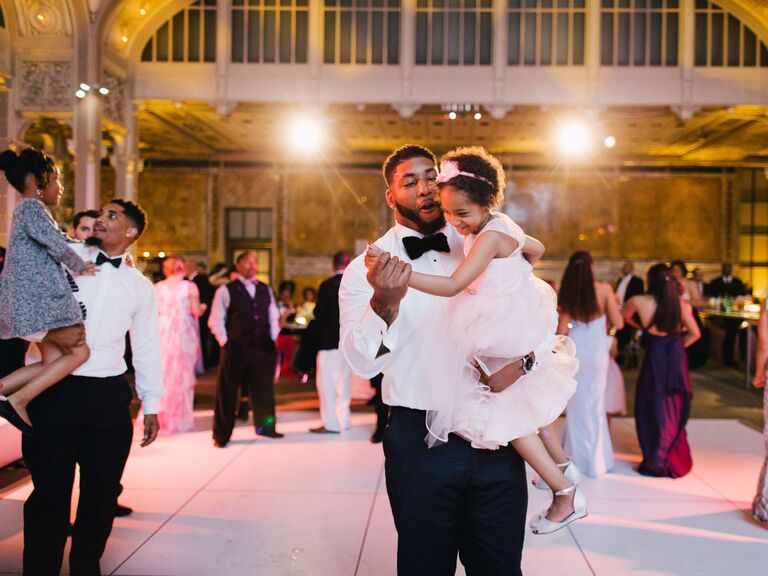 Want to make your dance floor the hottest place to be? Light it up. Want all the attention to be on your cake display? Put a spotlight on it. Lighting can make all the difference when it comes to what your guests see, and it can transform the whole vibe of your celebration.
Luminous Designs event lighting, LuminousDesigns.com
9. Have Fun With the Groom's Cake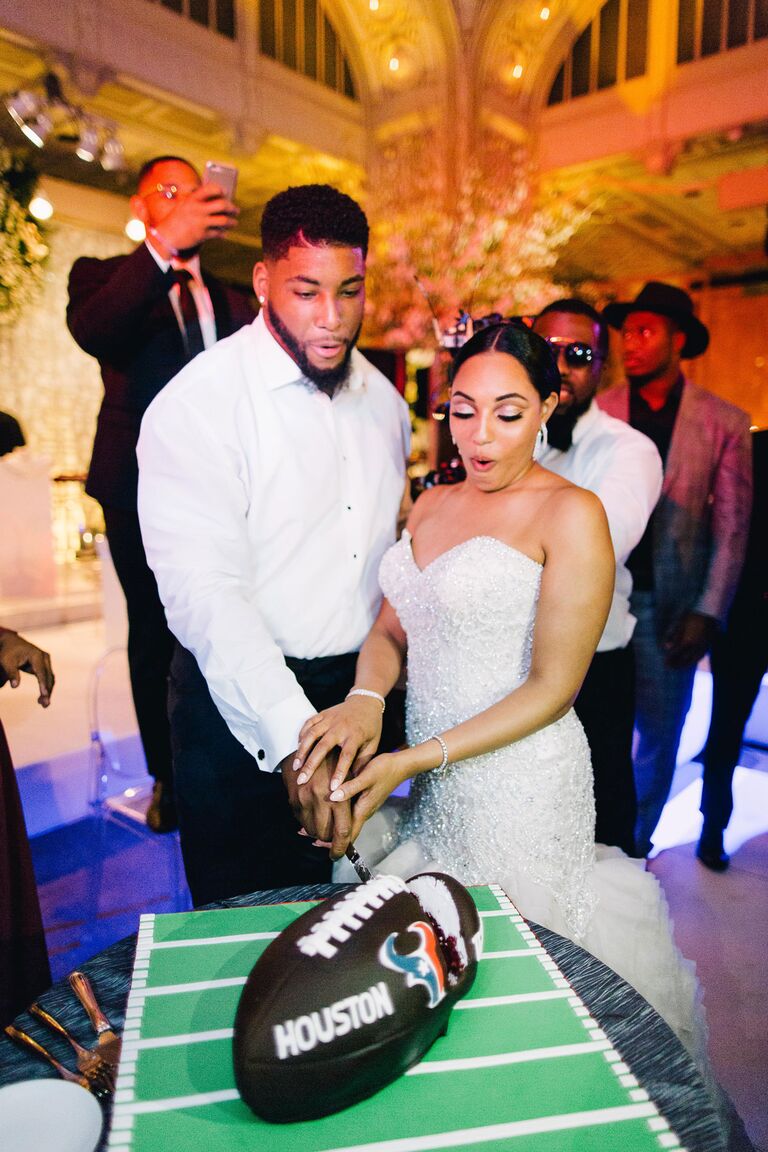 When it comes to the groom's cake, there are no rules. Any flavor, any style, any design is fair game. As a professional athlete, it was only fitting that the red velvet groom's cake took the shape of a football. "Oftentimes the bride gets all of the little details, but the groom's cake is a fun and playful way to shower the groom with some extra attention," says Victoria Zagami of Made in Heaven Cakes.
Made in Heaven Cakes groom's cake, MadeinHeavenCakes.com
10. Leave a (Tasty!) Final Impression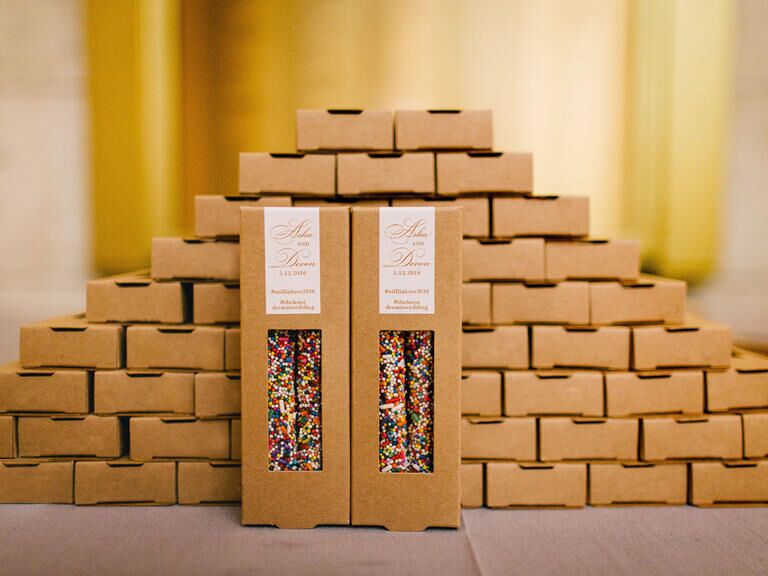 You really can't go wrong with an edible favor. It's a definite way to make sure you're not gifting your guests with something they may already own, and let's be honest, instant gratification always satisfies. "The pretzels added a tasty burst of fun and color—and a touch of nostalgia—to the Dream Wedding," says Ali Borowick Zmishlany, CEO of Fatty Sundays. Not to mention, when you give out a snack that's both sweet and salty, everyone wins.
Fatty Sundays chocolate-covered pretzels, FattySundays.com