I'm Second-Guessing Nearly Every Wedding Decision I've Made -- Help!
My friend is three months away from her wedding and says she's over it.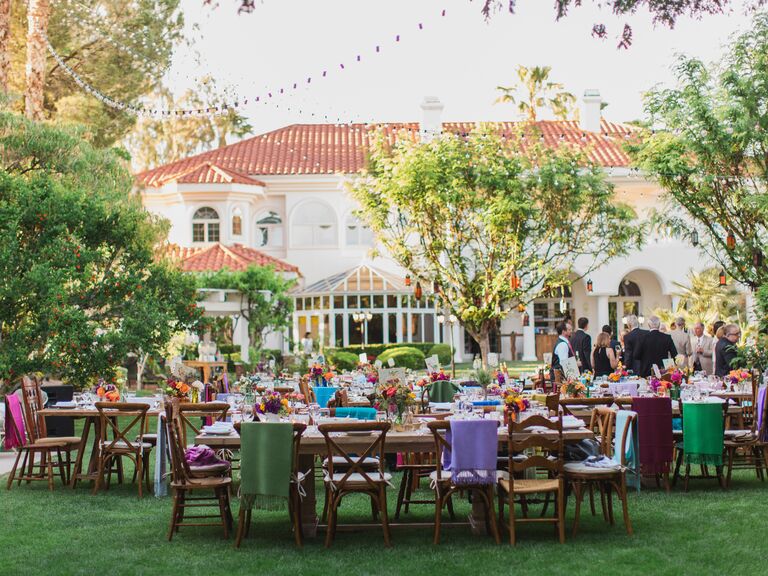 J. Renee Studios
The following is a conversation that took place between myself and one of my best friends, Kat.*
Kat is nearing the end of the wedding planning process (her wedding is three months away) and let's just say she's at a breaking point that has led her to second-guess everything she's planned. This includes, but isn't limited to, wanting to elope, wanting to change everything she's already decided on, wondering why she invited the people she invited, and asking me why she chose the venue she chose.
She's not alone. In fact, we're sure that there's an entire host of engaged and newly married people (women and men) who can identify.
Below, my candid conversation with Kat, and hopefully a few helpful put-it-in-perspective tips for the taking.
*****
Kat: I've been loving helping our friend Jane** plan for her wedding. It's so much better than planning my own. I'm over my own.
Me: No way, you're not truly over your wedding.
Kat: No, I guess I'm not.
Me: I think this feeling is probably just excitement over seeing NEW details. A different person's budget, and a different city would be exciting.
Kat: But I made the mistake of having the engagement be too long. If I had to do it over, I think I'd have my engagement be shorter.
Me: You think so?
Kat: Yeah, basically everything is done now, so I'm just waiting. And while I'm waiting, I'm imagining EVERYTHING that could go wrong. And second-guessing myself on literally everything.
Me: You don't think you would have felt rushed in a shorter engagement? Would you have had the same options at the same prices if you were deciding within a shorter time-frame?
Kat: Maybe, but it might be better than this insanity. I pretty much locked down my venue right away. And, since my wedding is on a Friday night, I had more options in general. I don't think a shorter engagement would have limited me that much.
Me: But don't you think it's been nice not to have to feel stressed the whole time? Like, hasn't it been nice that you've had this time to relax a little bit, and take it slow? Other couples are planning up to the week before they're walking down the aisle and that can cause a lot of anxiety.
Kat: But, the thing is is now it is backfiring on me. I thought having a longer engagement would be better, but now I'm just over-thinking everything.
Me: So you're second-guessing the types of decisions you made early-on?
Kat: Mmmhmm
Me: How fundamental are the types of things you're over-thinking? Like ALL COLOR CHOICES or like, the type of fork wedding party members will eat with at the head table?
Kat: Like actually everything.
Me: Oh God. Haha, yikes!
Kat: From the venue, to the guest list, to the wedding party. Like as fundamental as it gets without second-guessing my fiance. Hahaha.
Me: The wedding party? You don't even like the bridesmaids and groomsmen you chose?
Kat: Yeah! Like why did I choose nine bridesmaids? Why did I invite anyone? Why haven't I eloped?
Me: This is something actually everyone goes through, though.
Kat: Yeah, I know it's going to be fine and that I'm just going slowly insane.
Me: It's just when you're too close to something and you can't see the big picture anymore. Your wedding is going to be beautiful! I know because you've told me all about it!
Kat: But I've realized that I overthink everything when given the extra time. So I think that's why I'd go back and shorten the engagement.
Me: What about flipping that around? Don't you think if you had less time you might have risked under-thinking? And potentially forgetting crucial things?
Kat: Not really.
Me: Well, for the record, I think you will be so happy to have all the people around you that love you and care about you surround you on your wedding day. I think your wedding venue is unique and exciting and I know that everyone who is invited and is coming can't wait to celebrate with you in general, and can't get over your awesome location.
Kat: You're right, of course. I'm just having a hard time not over-thinking! I think I need a hobby or something.
Me: No, I totally get it. It also makes sense that Jane's wedding seems like so much more fun, because there's no responsibility associated with it. It isn't your money, it isn't your family. It's someone else's problem. But, it is still fun because it's a wedding.
Kat: Exactly.
Me: The good news is that I know lots about your wedding and I know it is going to be great and everyone (including you) is going to have a blast when it comes time to celebrate. The other good news is that literally everyone else who plans a wedding goes through this. Like other editors at this site, who are all about weddings and know everything there is to know about them, went through this very thing when they got married. They second-guessed everything. They were over their weddings from time to time.
Kat: That makes me feel a bit better.
Me: But you know what the best part about it is, that they told me? That the day-of, you experience all the emotional parts of the wedding that you really don't (and honestly can't) plan for. Not the table settings, or the linens, or the song picks for the DJ. When it comes to that day (no matter how far away or close it is, no matter how long your engagement is, or how short it is), you are actually going to be marrying John***, and the colors will be beautiful, and your bridesmaids will be crying with happiness, but the man who is there will be the one you want to spend your life with, and you actually get to spend your life with him! You're making it official! That's really the only thing that's going to matter to you.
Kat: Yeah, you're really right.
Me: I think what happens is that people get so focused on the wedding (which is great!), but maybe your new focus should be on what happens after. Instead of on all the decisions you've already made. Those decisions are done! Why go back and think them through again? That's double the work!
Kat: No, that makes a lot of sense. I think that's a way better thing to focus on. Like the wedding is coming and it will be great, but I've pretty much done everything I can do at the moment. Thanks, I really needed that.
Me: No problem! Love you! And I honestly can't wait for your wedding -- it's going to be fabulous, but so is the part that comes next ;)
*Kat's name has been changed for privacy purposes.
**Jane's name is also not really Jane.
***Yep, you guessed it. John's name isn't John.
A few helpful links for anyone this resonated with:
> 11 Things No One Tells You About Wedding Planning
> 15 Stages Every Bride Goes Through