18 of Our Favorite Over-the-Top Wedding Ideas
These ideas may not be budget friendly, but they're totally creative and inspiring.
Here's the truth about big, over-the-top weddings: It takes more than an unlimited wedding budget to really pull off something different and amazing. The secret? A great team and lots of creative details designed in unexpected ways. From a flower-filled dance floor to a garden-like ceiling, see the most amazing wedding ideas we can't stop talking about.
1. A Hanging Flower Dance Floor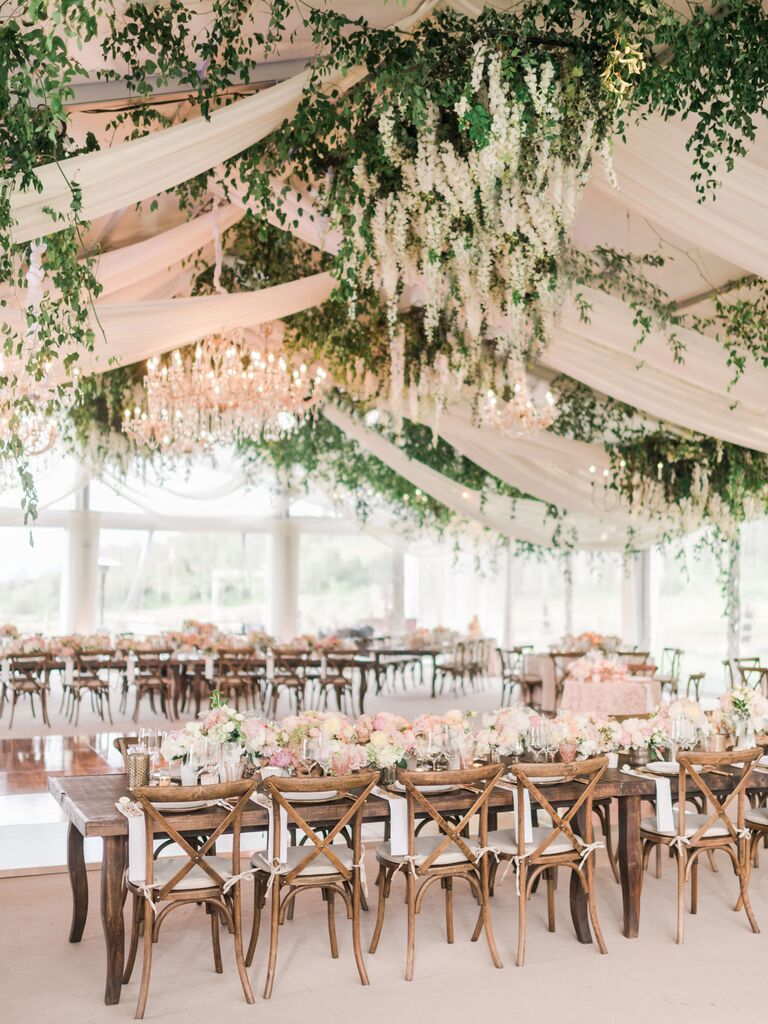 Not that you need a reason to put pretty flowers and greenery everywhere, but here's another one. This hanging flower installation created a stunning focal point right above the dance floor.
2. A Dramatic Red Reception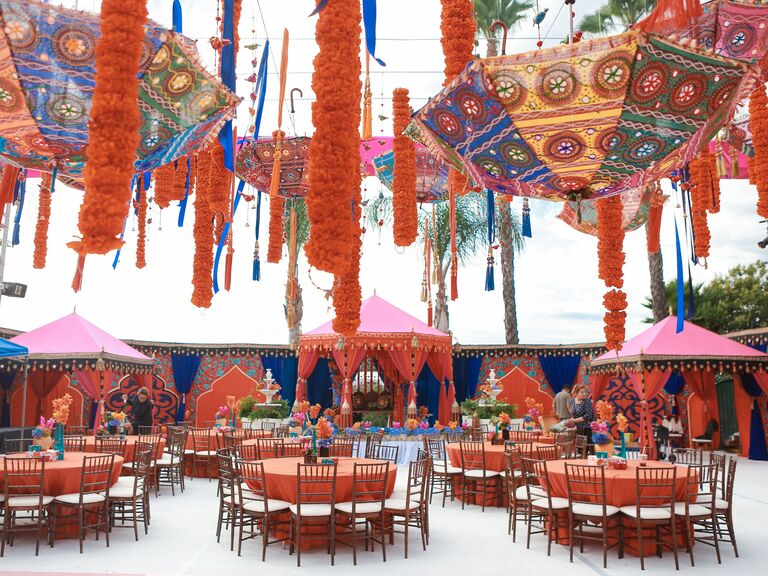 Go big or go home with a saturated color palette. This couple put on an open-air lunch reception complete with vibrant Indian umbrellas strung up next to matching floral garlands. 
3. A Dreamy Getaway Car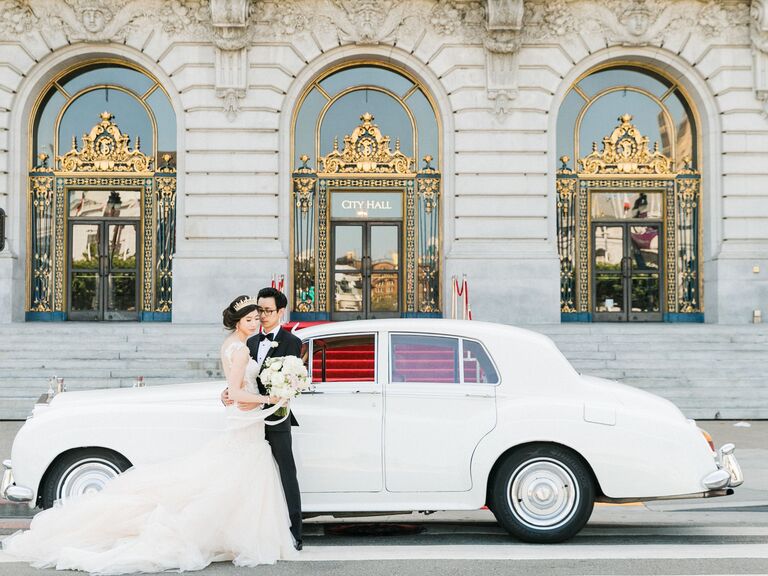 Now's your chance to drive off in a car you normally wouldn't get a chance to. Take a cue from this couple and dream big (Rolls Royce, anyone?). 
4. Hanging Floral Centerpieces
Tons of white orchids floating above the tables seem to defy gravity in these hanging centerpieces. But beyond its beauty, this design is also pretty practical—elevating the centerpieces above the table leaves space open for guests to mingle. (Over the top, but functional, if you will.)
5. An All-White Curtained Ceremony
Set the tone for a dramatic-yet-elegant ceremony with stunning all-white curtained décor. 
6. A Luxe Nine-Layer Cake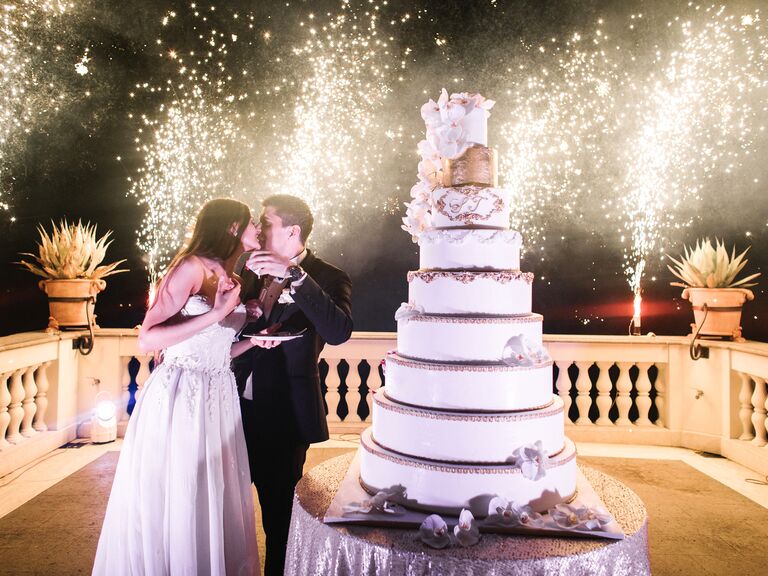 This couple cut a colossal nine-layer gold and white cake as sparklers lit up the sky with sparkling light behind them. 
7. Glamorous Gold-Dipped Eucalyptus Leaves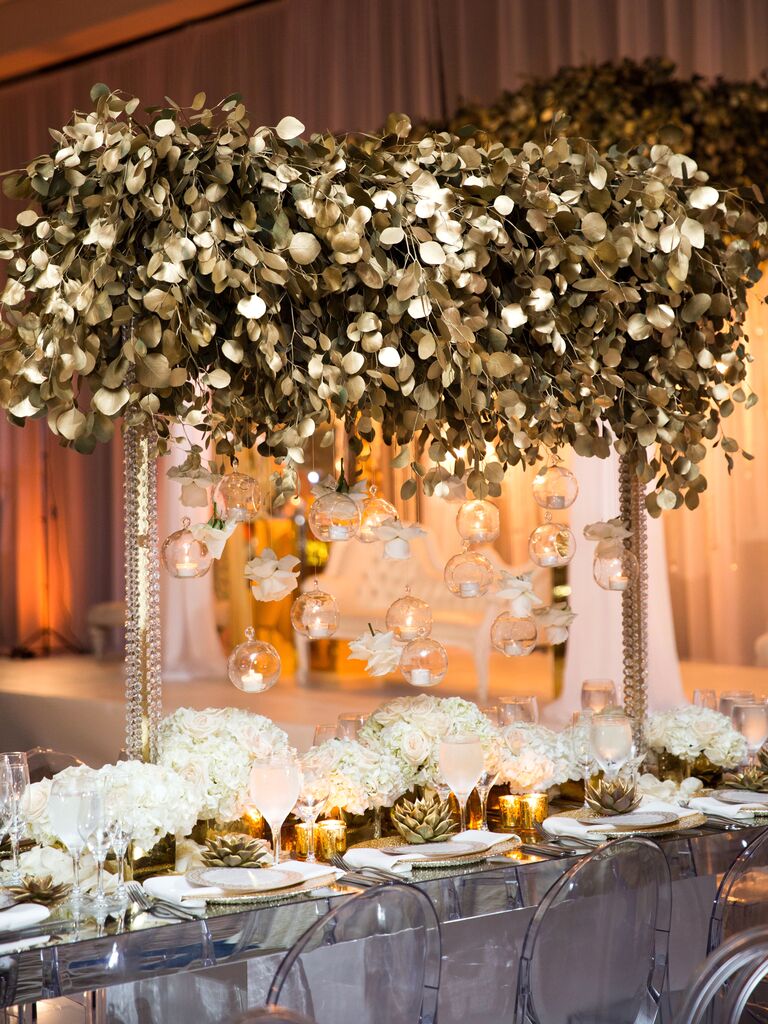 An accent wall with gorgeous touches (like gold-dipped leaves, florals, greenery and hanging lights) will have your guests in awe. 
8. An Open-Top Tent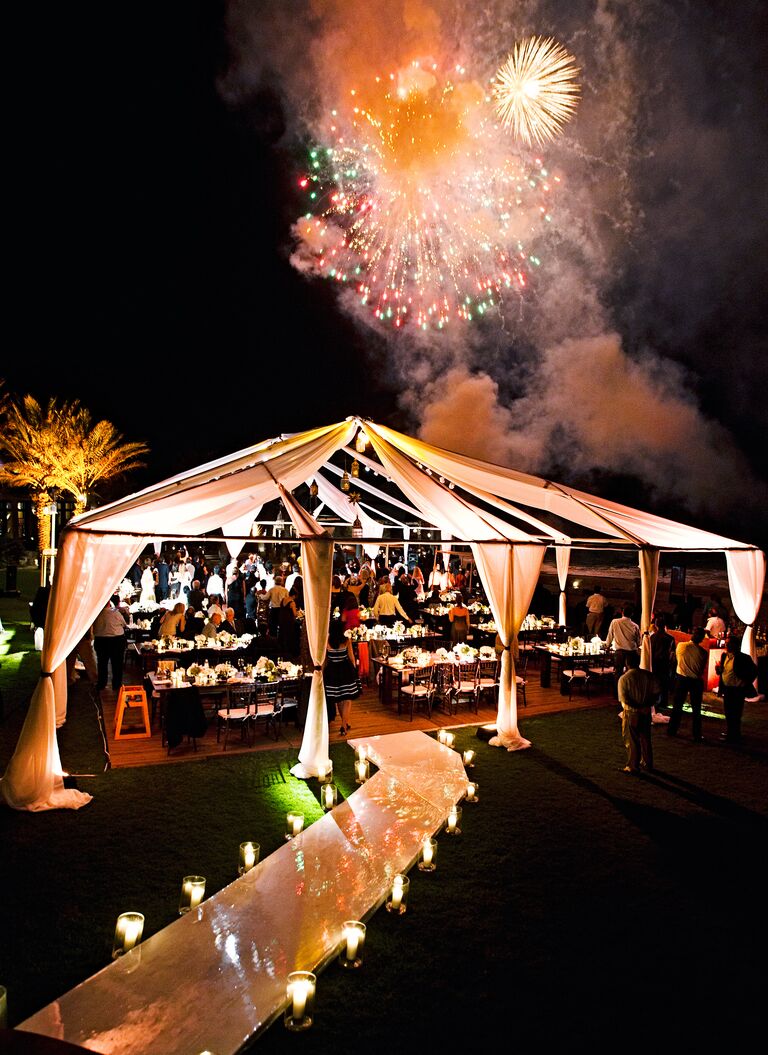 When you think about it, nature really does provide some of the best décor—just take a starry night sky, for example. It also means guests can get a great view of fireworks at the end of the night, if that's in your budget too. 
9. An Opulent Sweetheart Setup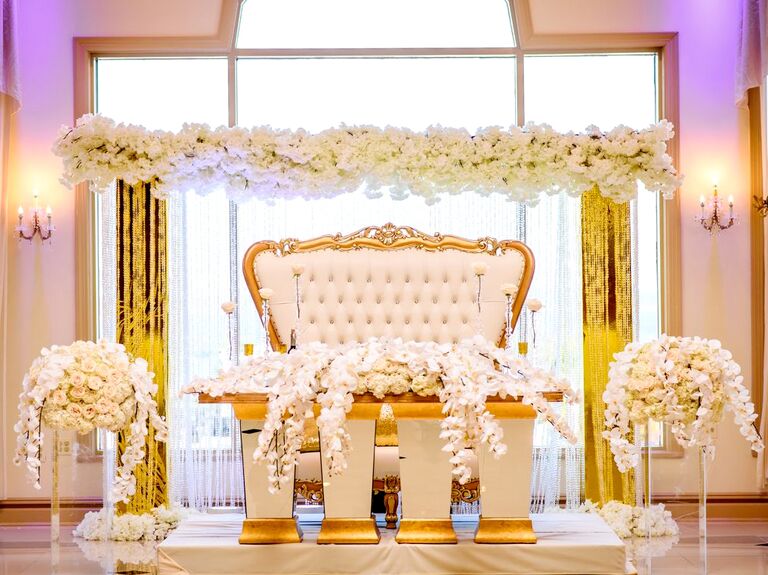 Put out all the stops (and opt for a few private moments) with a gilded sweetheart table complete with flower arrangements and cascading ivory orchids. (Bonus points if you want a gold arch decked out in full white blooms hanging overhead too.) 
​
10. A Rose Petal Cannon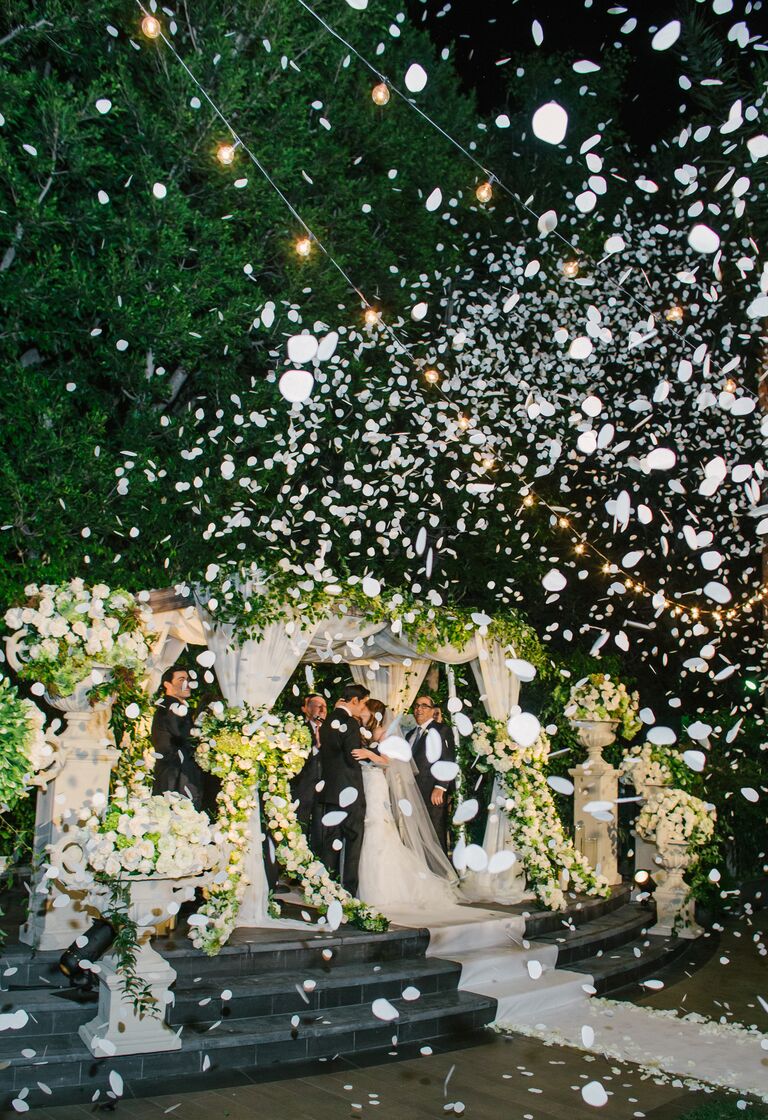 Pretty cool, right? By swapping out colorful paper for white rose petals, you can give the confetti cannon a seriously romantic update for a ceremony. 
11. Hanging Framed Mirrors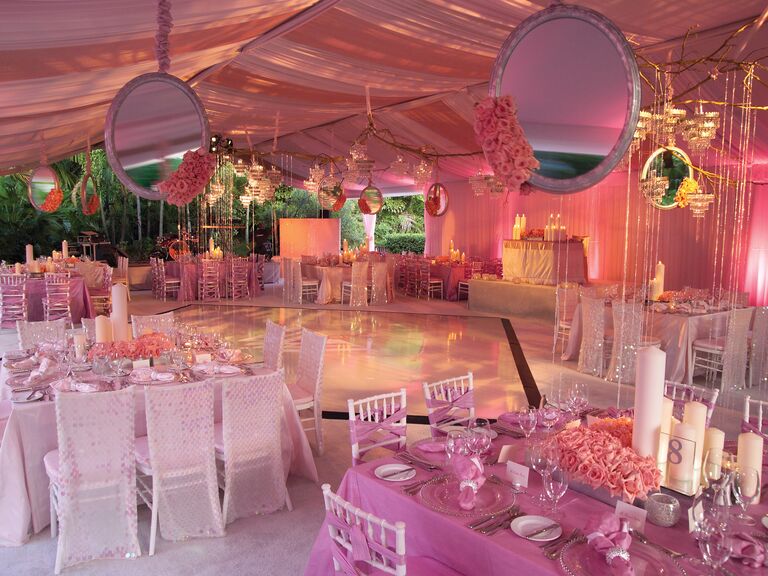 With a few fresh pink flowers, the silver-framed mirrors added depth to the pinked-out space and made a creative alternative to chandeliers to add sparkle to the ceiling.
12. A Flower-Filled Dance Floor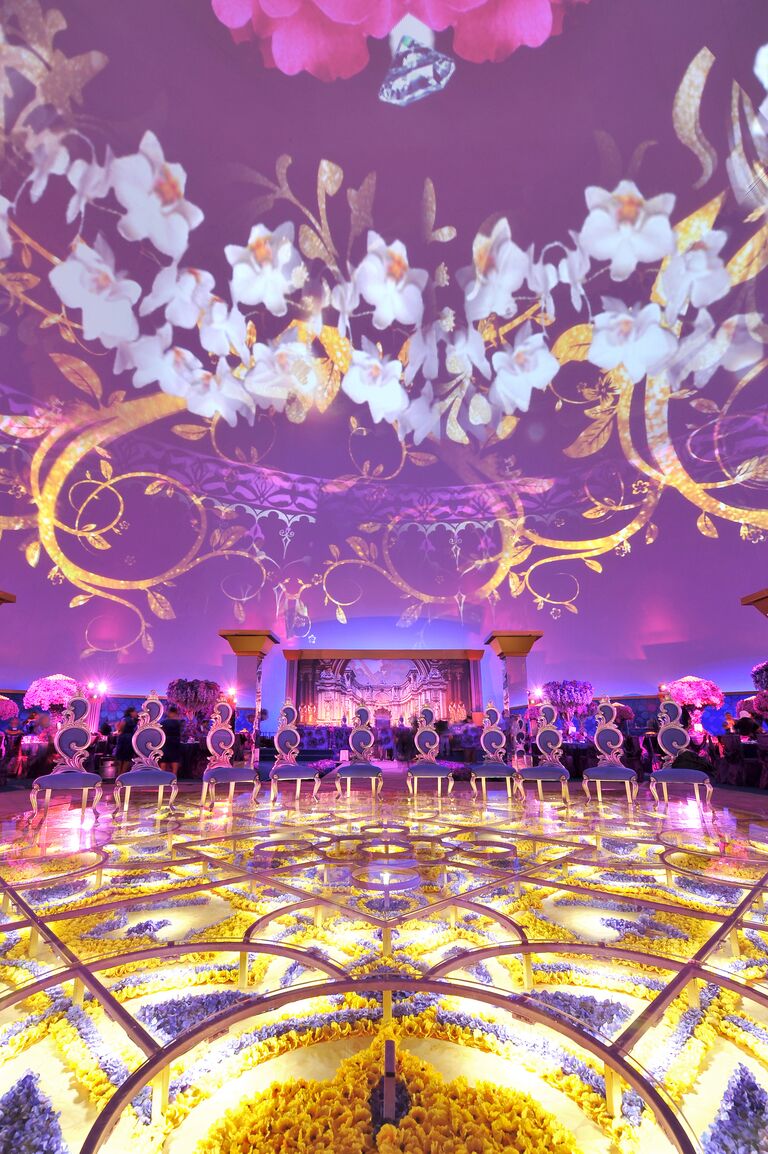 It's like the elegant wedding version of a disco dance floor. This dance floor lit bright yellow and purple flowers from underneath to create a serious pop in the middle of the (completely transformed) room.
13. A Curved Ceremony Aisle With Beach Ottoman Seating
Every beach is a blank canvas to design something beautiful (and that's why we love weddings on the water). Let the natural beauty of the ocean take center stage by setting up low ottomans and a winding shape of the aisle to work with, and not against, the sandy landscape. 
14. Secret Garden Banquette Reception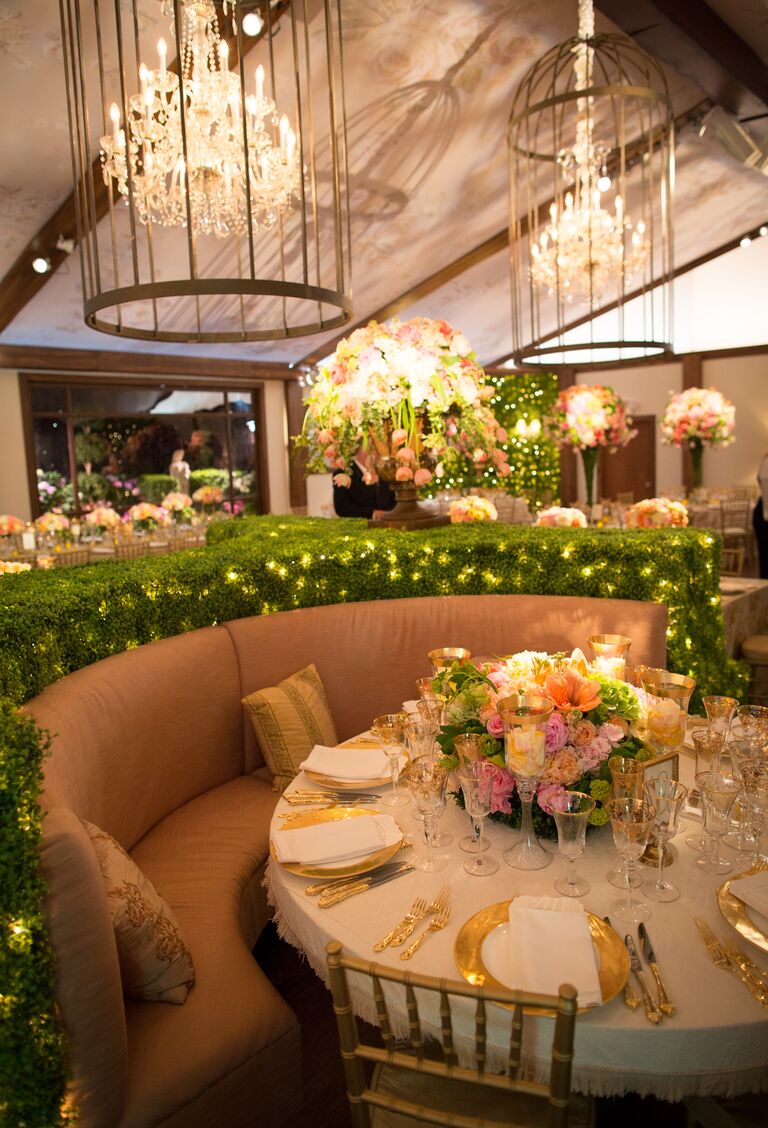 It's one thing to create a beautiful reception, but it's another to make it look as natural and effortless as this greenery-and-twinkle-light-covered banquette, complete with birdcage chandeliers.
15. A Modern Mirrored Reception Entrance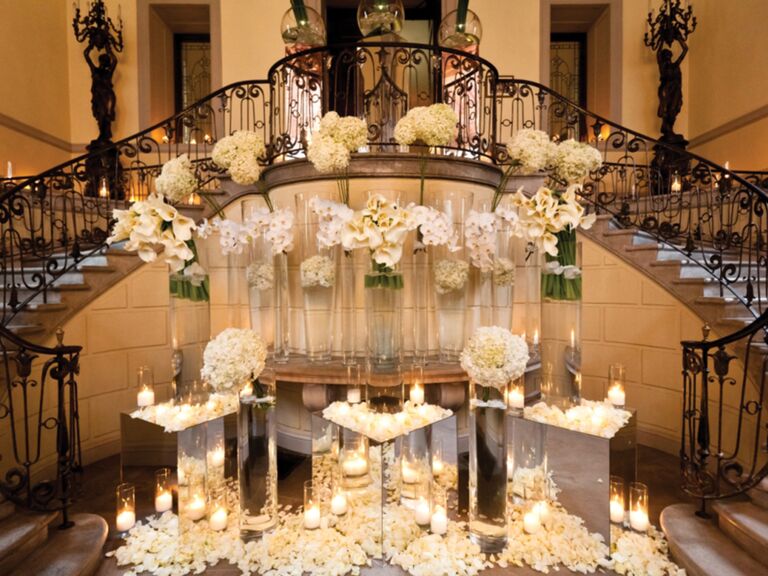 Glamorous is the perfect adjective to describe this vignette of flowers, mirrored pedestals and votive candles at this reception. The mirror effect creates a warm glow from the candlelight and the illusion of tons of white flower petals.
16. A Ceremony With a Hanging Garden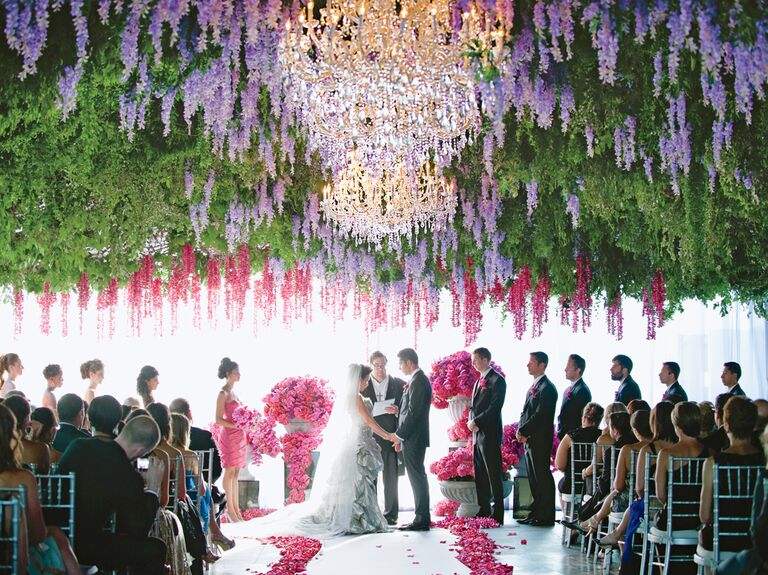 Talk about a total room transformation. This wisteria-and-chandelier-covered ceiling takes the idea of a garden wedding to a whole new level. 
17. White-Rose-Covered Trees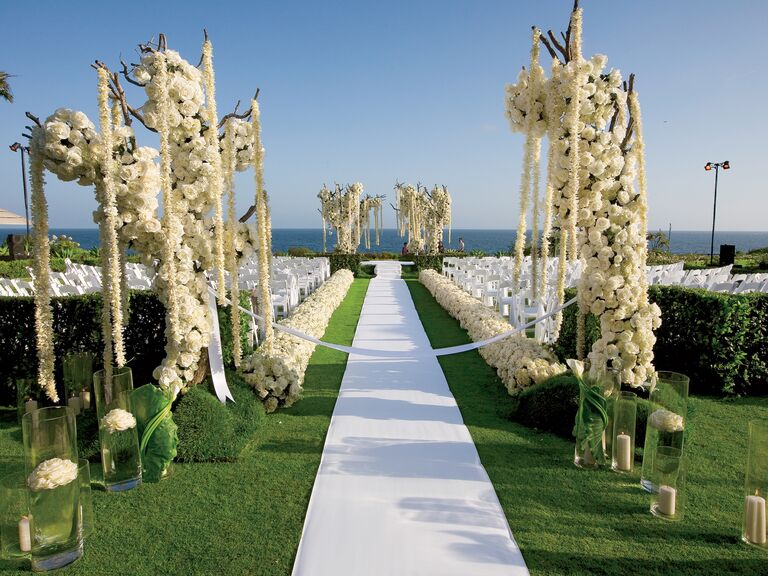 Height equals high impact in this ceremony entrance at the Montage Hotel in Laguna Beach, California, flanked by trees covered in white flowers. 
18. A White Floral Archway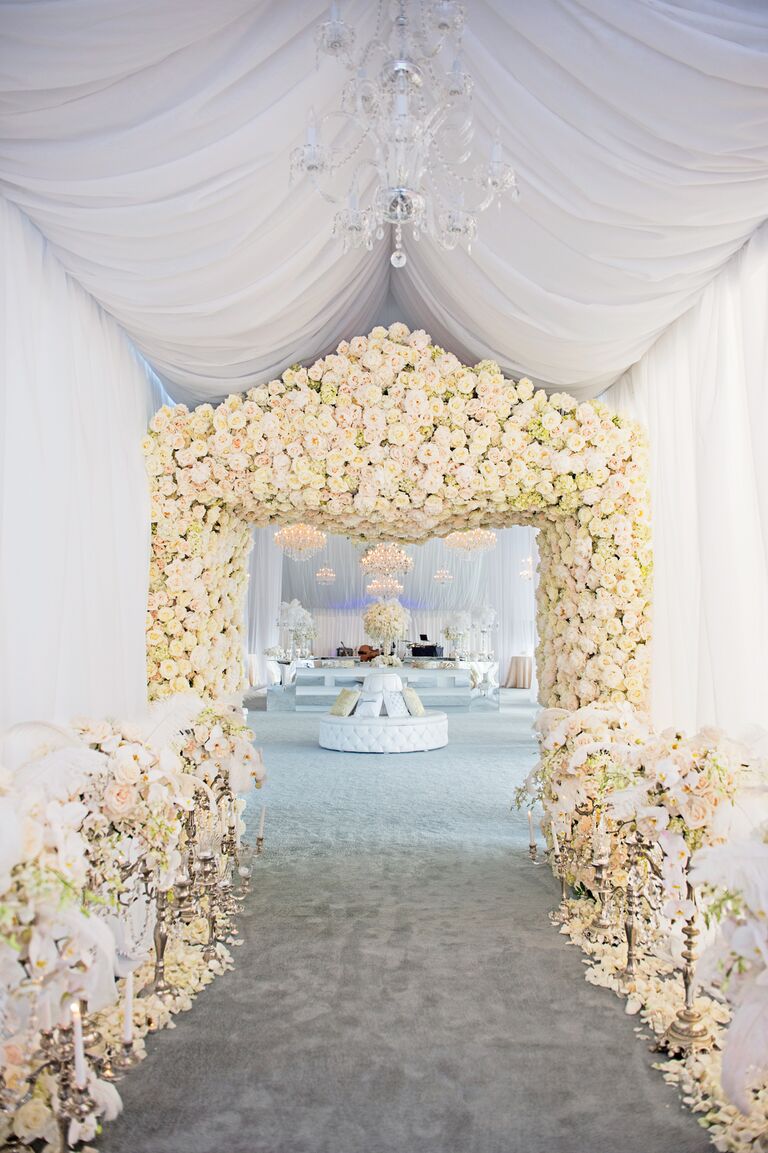 Part architecture, part floral arrangement, this archway is the perfect introduction to an all-white reception. It's a subtle-yet-stunning way to seamlessly connect one space to another.